Australind Steam Shipping Co. Ltd. And Avenue Shipping Co. Ltd.
Trinder is an old English surname for the profession of spinner or braider. Oliver Jones Trinder (1843-1913) was born as the son of William Henry Trinder and Sophia Hubbard, and may have had spinners or braiders in the family history. However, Oliver Jones Trinder and his partner J. R. Anderson were destined to become important pioneers of the Australian trades, after first working as young men in the offices of Anderson, Anderson & Company, managers of Orient Line. They left in 1874 to form their own company of Trinder, Anderson & Company and acted as loading brokers, passenger and transported convict agents for a large number of three masted sailing ships in the Australian emigrant trades.
These included Alexandra of 1863, Arafura (ex Bertha Marion) of 1864, Arabella of 1876, Ascalon of 1868, Atma of 1877, Barunga (ex Apelles) of 1863, Duncan Coupland of 1877, East Croft of 1875, Gwalla of 1869, Helena Mena of 1876, Harold (ex Hornby Castle) of 1877, Kooringa of 1874, Kapunga of 1875, Kingdom of Saxony of 1864, Lamorna of 1867, Minero of 1866, Morialta (ex British Consul) of 1866, Niola (ex Times) of 1868, Oriana of 1864, and Wasdale of 1881. Trinder, Anderson & Company acted as loading agents for many famous lines including Elder Line, Blue Anchor Line, Devitt and Moore, and others, with four ships, Atma, Kapunda, Oriana and Suffolk, clearing the Thames in March 1881 for Australian ports, particularly Adelaide. The last sailing ship that Trinder, Anderson & Company loaded as outwards agents for Australia was Wasdale when she sailed from London in 1907, and they back loaded her with wool at a very profitable freight rate.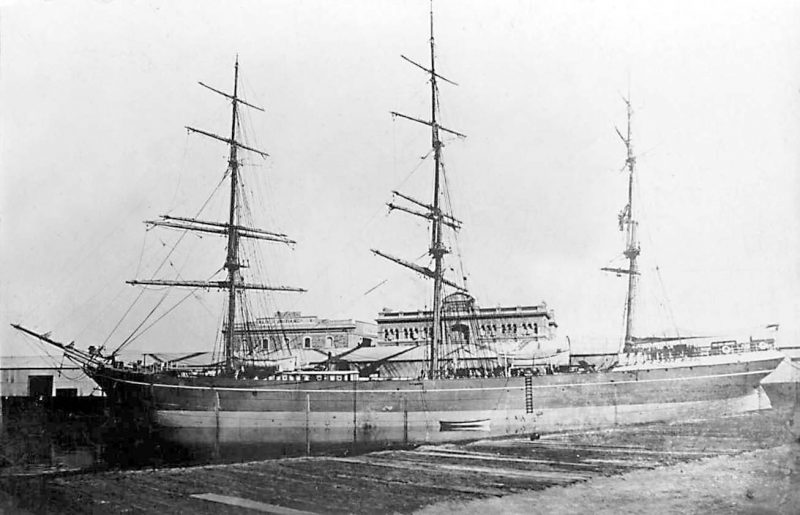 Oliver Jones Trinder made a business trip to Australia in 1885, and in Fremantle in March of that year he was elected a Fellow of the Royal Colonial Institute along with Sir Frederick Napier Broome, who gave his name to the port of Broome, and Colonel E.C. Sim. He then acquired the business of Oliver & Wilson of Fremantle to enter the trade from Western Australia to Singapore, and later in that year set up the West Australian Steam Navigation Co. Ltd. in 1886. The first vessel of the new company was the new steamer Australind of 1,018 grt built by Blackwood & Gordon on the Clyde at Paisley and powered by a triple expansion steam engine. She was registered at Fremantle for owners W.D. Moore, Shenton and Bethell, but transferred to the W.A.S.N. in 1887. She served the Fremantle to Singapore route for many years in a passenger and cargo capacity taking in many of the smaller Australian ports along the way. She had accommodation for forty First Class passengers in cabins extending from the engine room to the poop, and with the Dining Room placed across the ship in front of the cabins. Twenty steerage class passengers were accommodated in the fo'c'stle, and eighty horses were accommodated in stables in the holds. She had a length of 225 feet, beam of 32 feet, with a depth to the Main Deck of fourteen feet.
In 1892, Charles Bethell formed a partnership with Walter J. Gwyn as Bethell, Gwyn & Company, and became joint managers of the W.A.S.N. along with Trinder, Anderson & Company. Charles Bethell and Trinder, Anderson & Company had also earlier begun a twice monthly service of their own from Fremantle and Albany to the U.K. from 1886.

Subscribe today to read the full article!
Simply click below to subscribe and not only read the full article instantly, but gain unparalleled access to the specialist magazine for shipping enthusiasts.