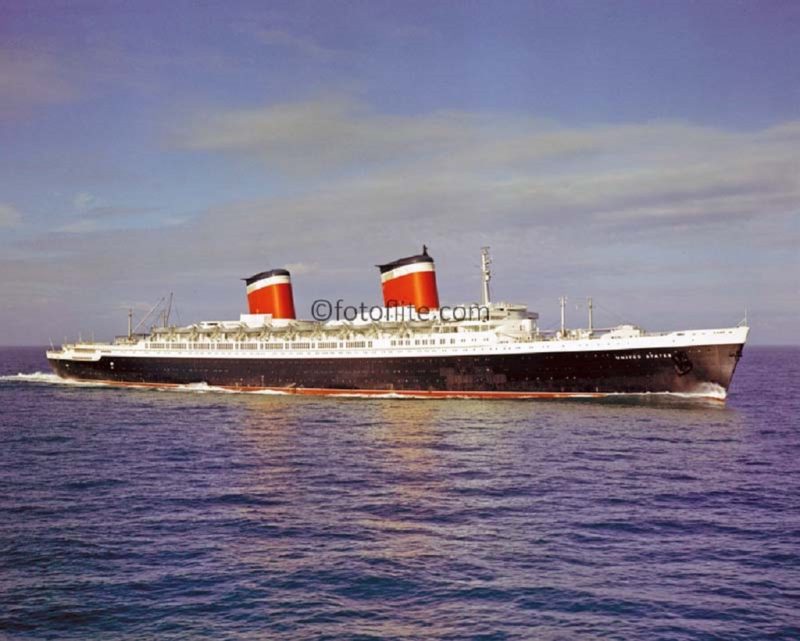 Maiden voyage. Two words that conjure up a unique sense of excitement and anticipation. Add the prospect of a record-breaking passage on the most prestigious Transocean crossing of them all and it is easy to imagine the thrilling atmosphere that surrounded SS United States and adjacent Pier 86, on the morning of Thursday 3rd July 1952.
Even as New Yorkers hastened to work on their early morning commutes, final preparations were in hand to welcome 1,660 passengers onboard William Francis Gibbs' 'big ship'. Many experienced travellers pointedly avoid maiden crossings, prudently they point out that crew, guests, and machinery are all novices and that 'teething troubles' are almost inevitable. Nevertheless, the novelty of an eastbound first leg and persistent rumours about the liner's extraordinary performance on trials off the Virginia Capes, had whetted the appetite of potential travellers and the American public alike.
As the morning wore on harassed crew members were inundated with the demands of not only embarking passengers but also a veritable army of 8,000 visitors. Many were attending 'bon voyage' parties, others had simply paid their 50 cent donation to the seaman's charity with the sole intention of snooping around those freshly completed interiors. Short of booking passage to Europe it was the next best badge of honour.
Amongst the mass of humanity clogging the pier that morning were mounds of trunks and baggage sporting the US Lines distinctive, colour-coded labels designated Baggage Room and Stateroom, the latter with the time-honoured imperative 'Wanted on Voyage' on the reverse. Meanwhile, mixing with the echoing chatter and hustle and bustle of people on the move, were the upbeat ditties of the New York Department of Sanitation band, serenading embarking passengers with a stream of unapologetically patriotic tunes.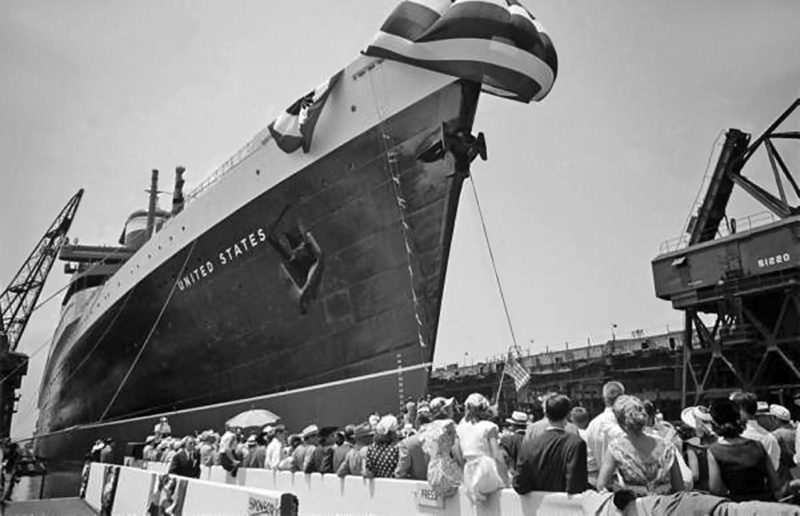 Also passing from pier to ship that morning were greetings and final provisions, those statistics so beloved by publicity departments, the media, and the public. Subsequently it transpired these included 10,000 parcels and items of mail as well as 12,000 telegrams. There was 123,000lb of meat, 12,000 quarts of milk, almost 8,000 quarts of ice cream and, inevitably on the publicists list, 500lb of caviar.
At 10:30am all eyes were focussed on the First Class gangway where the guest of honour, Margaret Truman, escorted on board by her mother (First Lady, Bess Truman) and their entourage, walked through those gleaming shell doors and were ushered to the capacious Main Deck suite (Cabin M66), that she would share with friends John and Dulcie Horton. Shortly afterwards the first chorus of gongs and accompanying calls, 'All ashore that's going ashore', resounded down the huge ships' corridors and companionways. These generally unheeded warnings became progressively more intense and persuasive as sailing time approached, ultimately prompting even the tardiest interlopers to meander ashore, leaving exasperated cabin stewards to clear away detritus in their wake.
Maiden voyages are great levellers. Those remaining onboard, whether seasoned travellers or transatlantic newcomers now tried to get their bearings and the ship's telephone operators were inundated with calls from lost passengers (and crew!), disorientated in the unfamiliar labyrinth.
Subscribe today to read the full article!
Simply click below to subscribe and not only read the full article instantly, but gain unparalleled access to the specialist magazine for shipping enthusiasts.