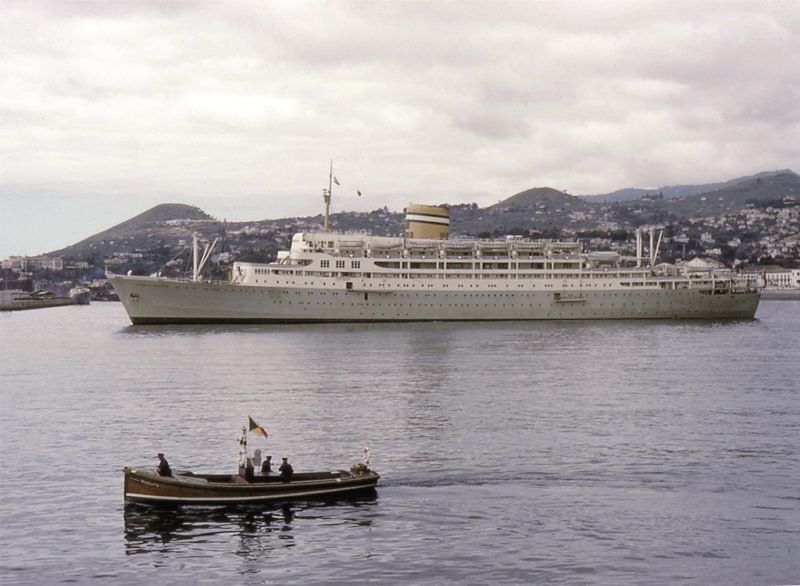 Shipping companies, like people, often crave publicity, to increase their popularity, prestige and crucially in the case of the former, passenger numbers. Sometimes however the publicity is unwanted. Santa Maria will always be associated with the hijacking in January 1961 and perhaps inevitably that single episode dominates a career spanning twenty years. Nevertheless, irrespective of this infamous event, Santa Maria and her older sister Vera Cruz were noteworthy ships, fully deserving their place in the annals of ocean liner history.
The new vessels were part of a government driven initiative formally called the 'Naval Trade Renewal Plan' but generally referred to as 'Despacho 100' (Dispatch 100). This was a program devised by the Portuguese Naval Minister Amérigo Thomás to rebuild and expand the nation's merchant marine in the aftermath of the Second World War. As a neutral country, Portugal and it's shipping lines had built up significant financial reserves during the conflict and Thomás' ten year plan was a conduit for this investment. Ultimately the plans resulted in the construction of 56 new vessels of various types (mainly freighters), slightly fewer than the intended 70 target. At over 20,000grt the two new liners were the largest individual units included in the initiative. They were ordered by the nation's principle transoceanic shipping line, Companhia Colonial de Navegação (C.C.N.) in August 1949 and contracted to the Société Anonyme John Cockerill shipyard at Hoboken, Belgium, which duly allocated them yard numbers 748 and 749. The keel of the first ship was laid on 13th May 1950 and she was launched as 'Vera Cruz' by Gertrude Thomás into the River Scheldt just over a year later, on 2nd June 1951. Much of her superstructure carcass was already installed at the launch and indeed this facilitated her rapid completion, being commissioned by C.C.N. on 23rd February 1952.
After expending 86,000 man hours John Cockerill delivered a magnificent looking vessel, the largest to have been built in Belgium. With a length of 185.9m (610ft), breadth of 23.1m (75.8ft) and draught of 8.44m (26.4ft) the 21,765grt Vera Cruz was the largest Portuguese passenger ship to date when she sailed up the Tagus to be greeted by government dignitaries on 2nd March 1952, departing Lisbon on her maiden voyage to Buenos Aires eighteen days later. Amongst her passenger list was a trade delegation including the navigator, cartographer, historian and naval officer Admiral Gago Coutinho, fellow officer and politician Rear-Admiral Henrique Tenreiro, former colonies minister Teófilo Duarte and the actress and singer Hermínia Silva. Not for the first or last time a national flagship was used as a prestigious extension of the country she represented, in this case a potent symbol of Portuguese confidence. Her arrival in Rio de Janeiro on Saturday 29nd March 1952 is remembered as amongst the greatest ever afforded any ship of any nationality. With thousands lining the shore and a myriad of ships, boats and almost anything that floats escorting her in, Captain Hilário Filipe Marques exchanged greetings with the huge flotilla as celebratory rockets and fireworks exploded overhead. Once the early fog had dissipated Vera Cruz docked in the early afternoon. In the course of her stay she hosted a dinner for the Brazilian president Getúlio Vargas, before sailing on for an equally overwhelming welcome at Santos before calling at Montevideo and ultimately Buenos Aires.
Six months later the 20,906grt Santa Maria was launched at the same Hoboken yard, joining Vera Cruz on the South America service in September 1953. Although they shared the same dimensions there was one notable difference between the ships, the Santa Maria's open promenade on A deck wrapped around the First Class Smoking Room, whereas the same room extended across the whole width on her sister. As a result Santa Maria's forward facing bulkhead was broken up and more distinctive than that on Vera Cruz.

Externally the ships had a rather noble demeanour, concealing well their most distinctive feature, the heightened superstructure. The use of aluminium with its weight saving properties was only just gaining prominence in mercantile ship construction, most famously with the Blue Riband winning United States. So proud were C.C.N. of their ships' innovative construction that slithers of the alloy were included in publicity advertising packs. In other respects the ships featured a typical post-war silhouette, a solitary mast was positioned atop the bridge, a central, well proportioned oval funnel and two sets of kingposts, one forward and one aft, which serviced the four cargo holds via associated booms. The open promenades and 'stepped' lifeboats on each flank helped to lessen the superstructure's dominance, with the majority (seven) stationed on Sun Deck but individual one's on A and B deck exaggerating the tiered aft deck arrangement. The bold yellow, green and white funnel livery, yellow cargo gear and mid-grey coloured hull helped to provide a distinctive, fresh and harmonious overall appearance.
The extensive use of aluminium (some 150 tons) allowed for very spacious interiors, particularly in First Class. On Vera Cruz accommodation was provided for 1,242 passengers, 198 first, 200 second and 844 third class in cabins and dormitories. Santa Maria's complement and configuration was slightly different, totalling 1,296. They were looked after by a crew of around 300. Facilities were arranged over eight passenger decks, from the lofty and self-explanatory Boat and Sun Decks, down to emigrant dormitories in the bowels on F deck.
Boat deck primarily comprised the bridge, officers accommodation and radio and communications rooms, although there was a First Class games area aft of the funnel. Sun Deck had further crew space forward then the First Class and Second (also referred to as 'Cabin') Class children's rooms, the gymnasium and First Class outdoor pool and lido furthest aft. A deck introduced the general alignment of First Class accommodation and public rooms forward with Second Class aft. The smoking room furthest forward and main lounge for the top tier passengers was then reversed for Second Class heading aft, with their smoking room overlooking a Lido, associated pool and the ship's wake. The reading and card rooms occupied the central area between class divisions.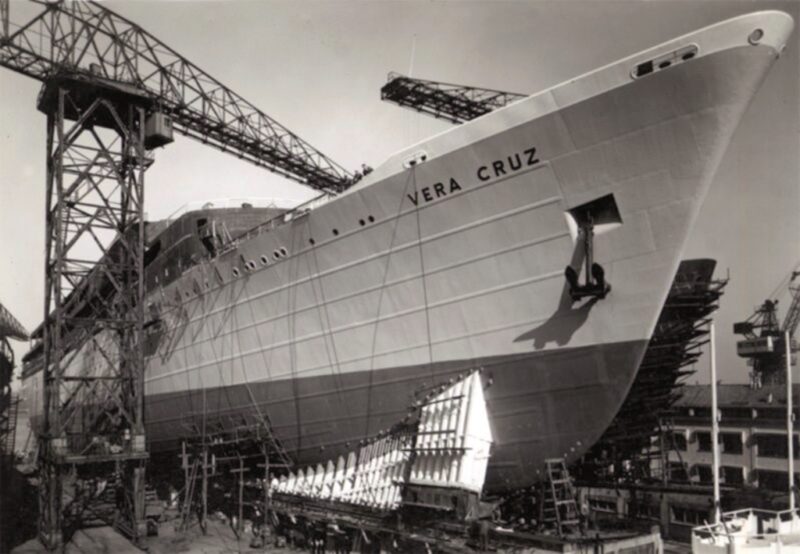 Subscribe today to read the full article!
Simply click below to subscribe and not only read the full article instantly, but gain unparalleled access to the specialist magazine for shipping enthusiasts.