If ever there was proof that size really doesn't matter it was Lloyd Triestino's Victoria. At 164.60 metres (540 feet) long and a little over 13,000grt she was a minnow compared to many of her contemporaries, especially those grand and opulent super liners plying the Atlantic trade. Nevertheless, in terms of external and internal design and character her impact and legacy was far-reaching, certainly exceeding those relatively modest dimensions.
The new ship was ordered as a replacement for the veteran sisters Helouan (named after a suburb of Cairo) and Vienna (originally Wien), which had maintained the Italy-Egypt service since 1911. The second ship betrayed Lloyd Triestino's heritage, when commissioned the two ships sailed from the then Hapsburg governed port, under the Lloyd Austriaco house flag.
The decision to order just a single vessel was taken after considering several circumstances. First the Austro-Hungarian Empire's defeat in 1918 robbed Trieste of its role as the principal conduit from Middeleurope to Africa and Asia. Having been ceded to Italy the great port found itself on the fringes of its newly adopted homeland, relegated in significance behind Genoa, Naples and Venice. Inevitably there was a consequential drop in passenger numbers. Furthermore the ship was ordered against a backdrop of economic uncertainty in the wake of the Wall Street crash and perhaps most significantly, technical advances allowed the prospective new liner to operate a 20.5 knot service speed, a full 3 knots faster than her quadruple expansion powered predecessors. Coupled with her greater size and capacity this allowed the solitary ship to accommodate almost the same annual passenger numbers as the earlier duo.
Unsurprisingly Lloyd Triestino commissioned the local Cantiere San Marco shipyard to build their new vessel. It was a propitious decision. Responsibility for the hull and external design of the new vessel was allocated to a talented young naval architect called Nicolò Costanzi, who had come to prominence creating Cosulich Line's highly reputed Saturnia and Vulcania in the mid-1920s. The first keel plates of yard number 782 were laid on 3rd May 1930, forming part of a cellular double bottom which extended from the fore to the stern peak. From the rounded bow to the rakish cruiser stern the 540 ft long by 70 ft wide hull possessed a particularly fine entry at the waterline. As one of the first vessels to comply with the new SOLAS 1929 regulations, number 782 also incorporated eleven watertight compartments as well as the aforementioned double bottom.

To the backdrop of a watery winter sun, a large crowd gathered at San Marco on 6 December 1930 to witness Donna Carolina Ciano, wife of the incumbent Minister of Communications, bestow the name Victoria on the new ship (Alessandrina and Cleopatra had also been considered). Amidst customary cheers the svelte hull slipped down the ways and into the calm waters of the Adriatic.
Less than five months after that celebrated launch, on 30th April 1931, the completed Victoria left the yard and entered the large floating dry-dock at Pula, along the Istrian coast. A 1930 artist impression had provided a first glimpse of the new ship, sporting the company's original black hull and funnel livery. However when Victoria finally emerged from the shipyard she looked quite different, introducing a new, fresh, more practical and pleasing all white livery, complemented by a blue sheer band and boot topping and buff coloured funnels, masts and cargo gear. Having completed preliminary trials Victoria sailed out into the Adriatic on 20th June for official speed runs. Original projections were that the new ship would achieve a maximum speed of around 21 knots, allowing some reserves over the 20.5 knot service speed. With excited, if apprehensive engineers in attendance, Victoria's four 4,250hp two cycle CRA Sulzer 8ST68 engines (built at the local Fabbrica Macchine Sant'Andrea workshop) worked up to their maximum 18,600hp power output, turning her quadruple screws to achieve an astonishing 23.26 knots. Not only did this easily meet the yard's contractual obligations but Victoria became the fastest motor liner afloat.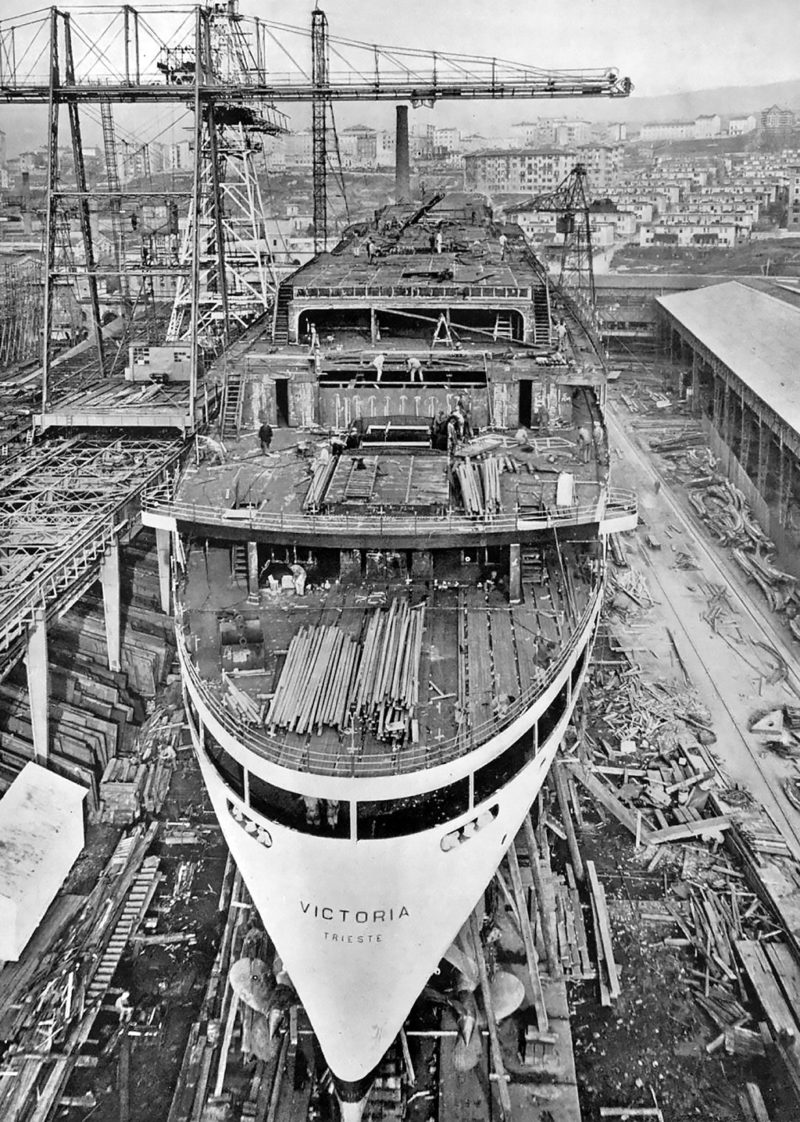 The following day Lloyd Triestino proudly took delivery of their new flagship. Externally she presented a singularly elegant and harmonious profile, with a subtly curved, glazed forward superstructure and gently tiered aft decks. A journalist invited to look over the vessel prior to her entry into service commented whimsically, "This ship is so sleek and subtle that she is clever at hiding her bulk, or, to be more precise, it is her designer, the engineer Nicolò Costanzi, who was able to conceive a living being whose visual impact is of movement and whose substance is comfort".
Subscribe today to read the full article!
Simply click below to subscribe and not only read the full article instantly, but gain unparalleled access to the specialist magazine for shipping enthusiasts.