Shaw, Savill's 'W' and Improved 'W' Classes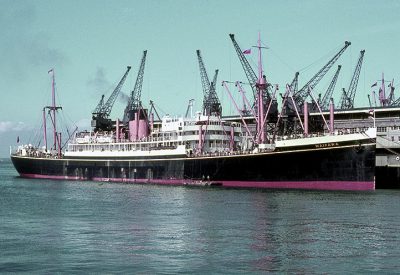 Three large capacity refrigerated cargo-liners were completed by Harland and Wolff Ltd. in 1934/35 of 558,000 cubic feet refrigerated space and a total of 803,500 cubic feet capacity for Shaw, Savill and Albion Ltd. as Waiwera (Yard 922), Waipawa (Yard 923) and Wairangi (Yard 924). The shipbuilder was also building at the same time three large refrigerated cargo-liners for Blue Star Line, completed as New Zealand Star, Australia Star and Imperial Star, with the same amount of refrigerated space but slightly less total space in 750,000 cubic feet, all six ships having six holds and 'tween decks, and were prototypes for the later war built 'Empire Food Ships'. The Shaw, Savill and Albion Ltd. 'W' class trio, were followed by eight very similar Improved 'W' class built between 1938 and 1945, and this total of eleven big cargo-liners made a great contribution to the World War II effort in bringing food into war beleaguered Britain from her colonies.
Design and Specification
In 1933, Shaw, Savill and Albion Ltd. had just extricated itself from the Kylsant financial debacle to operate as an independent shipping company outside its former owner of Royal Mail Line. It owned fifteen cargo-liners with refrigerated capacity varying from 240,000 cubic feet to 423,490 cubic feet, the latter size being that of four sisters built in 1928, with Coptic and Zealandic from Swan, Hunter and Wigham Richardson Ltd. on the Tyne and Karamea and Taranaki from Fairfield Shipbuilding and Engineering Co. Ltd. on the Clyde. The refrigeration system of the quartet was a brine and air circulation with granulated cork insulation system for ten cargo chambers. The directors of the company now wanted to greatly increase the refrigerated capacity up to 558,000 cubic feet, and accordingly placed an order for a trio of 'W' class ships from Harland and Wolff Ltd. at Belfast.

The 'W' class trio were of the shelter deck type with a fo'c'stle, long Bridge Deck structure, and a small deckhouse aft with a docking bridge over. The bridge superstructure consisted of a Bridge Deck, Boat Deck and a navigating bridge above. They had straight stems and cruiser sterns, and a semi-balanced rudder was fitted. The overall length was 535.6 feet, length between perpendiculars of 515.0 feet, moulded beam of 70.0 feet, depth to Upper Deck of 43.4 feet, draft of 29.8 feet, gross tonnage of 10,732, and deadweight of 13,200 tonnes with a service speed of sixteen knots. The fo'c'stle was of length 66 feet, with the bridge deck structure of length 196 feet, and a poop deck of length 64 feet.
The uppermost continuous deck was the Shelter Deck, below which were the Upper Deck and Main Deck. The Main Deck was raised in number three hold, where a Lower Deck was also fitted. There were six main cargo holds and eight 'tween deck spaces. Some 2,620 tons of fuel oil were carried in deep tanks arranged at the forward end of the machinery space, and between and at the sides of the shaft tunnels, as well as in the double bottom under the machinery spaces and cross bunkers. This large amount of bunker space was very necessary for their intended trade to New Zealand, without bunkering en-route. The double bottom was specially strengthened under the main and auxiliary machinery. As an alternative to water ballast, the double bottom tanks under number three hold could also be used for oil fuel.
Subscribe today to read the full article!
Simply click below to subscribe and not only read the full article instantly, but gain unparalleled access to the specialist magazine for shipping enthusiasts.