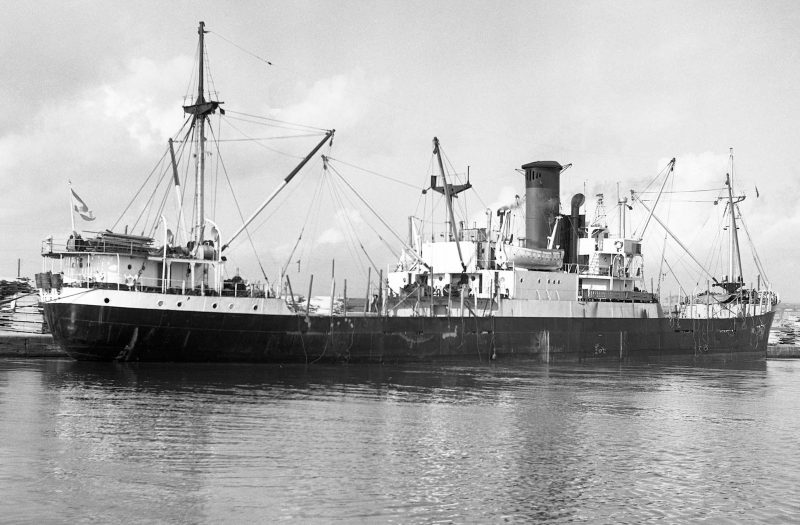 In an earlier article by this author ('To sleep, perchance to dream'), recounting the misfortunes of two 'Scandinavian' type small cargo ships, serves as a reminder that many of the hazards of seafaring of yesteryear are just as valid today, whether in war or peacetime conditions.
This led to consideration that many earlier generations might recall the larger wartime built 'Empires', their North American built counterparts, the 'Forts, Parks' and 'Oceans' and, of course the 'Liberty' and 'Victory' ships solely of U.S. build, together with the associated privations of their war. Such ships may however be better remembered by post war generations in their peacetime guise, with many ultimately operating as tramps under flags of convenience.
The War Standard 'Scandinavian' type, was designed by Wm. Gray of West Hartlepool as a somewhat smaller general purpose steam tramp and all as laid down, accorded an 'Empire' prefixed name, to the order and ownership of the U.K. Ministry of War Transport. Whilst referred to by some as 'The Hartlepool Jeep', this class was rather less well known than the collectively superior numbers of its larger sisters as referenced above.

38 units of the class were constructed by six U.K. shipyards, including Ailsa SB. Co., Troon (6), Caledon SB & Eng. Co., Dundee (1), The Grangemouth DY. Co. (2), Wm. Gray & Co. (24), Sir J. Laing & Sons, Sunderland (1) and Lithgows Ltd., Port Glasgow (4).
Inelegant slow speed workhorses, they were without glamour, but proved to be a particularly effective three island design ideally suited to the vagaries of wartime operations. With a deadweight capacity of 4,700 tons, unobstructed welldecks, high substantial bulwarks and all cargo handling equipment set above and clear of the main deck, they were as their type description suggests, particularly suited to the carriage of timber cargoes and the bulk trades.
They were however quickly to prove highly amenable after minor modifications including the addition of a range of deck mounted eyebolts, to the carriage of military stores, crated or partially assembled aircraft and heavy deck cargoes including tanks, earthmoving equipment and the like. Indeed, during the era of the North Russian war supply convoys, ports such as Archangel, Murmansk and others, were found to be poorly served in terms of shore based cargo handling facilities. A solution was devised where a number of 'Scandinavians' were adapted, per builders' description as 'craneage ships', to incorporate specially strengthened and heavily built mid well deck located masts, initially supporting two 50 ton (SWL) heavy lift derricks and later 1 x 50 ton and 1 x 80 ton plus 2 x 15 ton and 4 x 5 ton SWL derricks, or on several vessels, 2 x 80 ton and a mix of load capacities for lesser derricks. For extra 'reach' purposes, several vessels including the Caledon built Empire Bard for example, were equipped with extended length derricks, the dimensions of which almost equalled the overall length of the well decks they served, with one serving hold #1 and foredeck mounted cargoes via a fo'c'sle located specially strengthened kingpost and the other serving hold #4 and afterdeck cargoes via a similarly strengthened poop mounted kingpost. Such vessels were then positioned alongside at Russia's northern ports, often for periods extending to many months, for the specific purpose of transferring cargoes whether heavy, outsize or otherwise, between outboard moored larger inward supply vessels and the quay, particularly those with no or limited heavylift capability, or on many occasions to quite simply otherwise shorten the port turnrounds of such inbound ships, thereby reducing their risks attached to frequent, almost constant German aerial bombing sorties.
Subscribe today to read the full article!
Simply click below to subscribe and not only read the full article instantly, but gain unparalleled access to the specialist magazine for shipping enthusiasts.