A Bergen Shipowner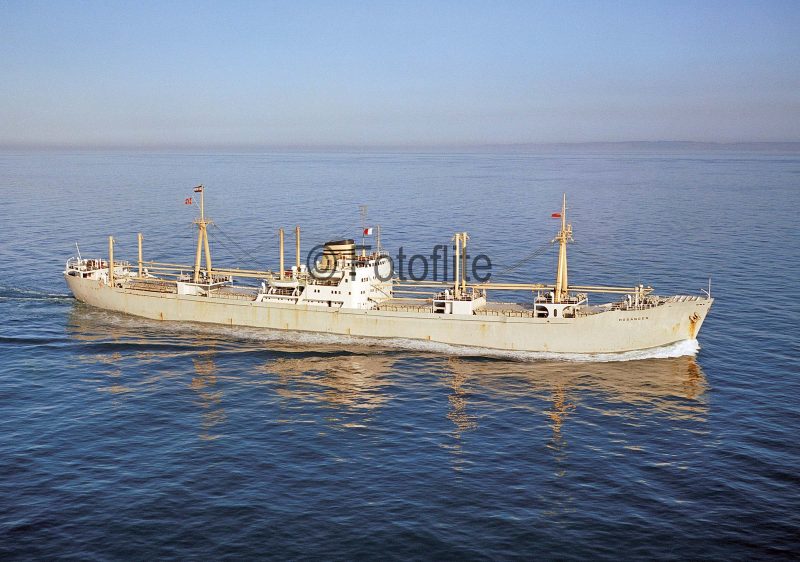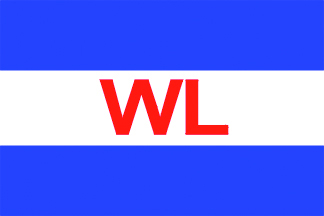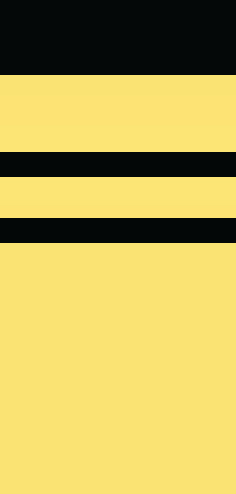 Hans Westfal-Larsen founded his own shipping company in 1905, the year of Norwegian independence from the Norwegian-Swedish Union, a democratic alliance that ended with hostility between the two countries. Christian Michelsen, a shipowner from Bergen with a fleet of six ships, was Prime Minister of Norway at this time and the main architect of Norwegian independence. A vast total of 357 ships were registered in the port at this time including those sailing on the famous 'Hurtigruten' coastal liner service to Northern Norway.
Hans Westfal-Larsen had been born in Bergen in 1872 and was employed in the shipping company of Rasmus F. Olsen for 16 years prior to 1905, and he had also attended business and engineering courses in Bergen. He signed a contract on 27th February, 1905 for a steamer of 1,500 dwt with the local Bergens Mek Verksted yard to be employed in the North Sea timber and coal trades. He personally took 11/100 ths shares in the ship, with the shipbuilder taking five shares, and there were 37 other part owners from the Bergen area. Hardanger was launched at Bergen on 26th September, 1905 and delivered on 6th October, 1905.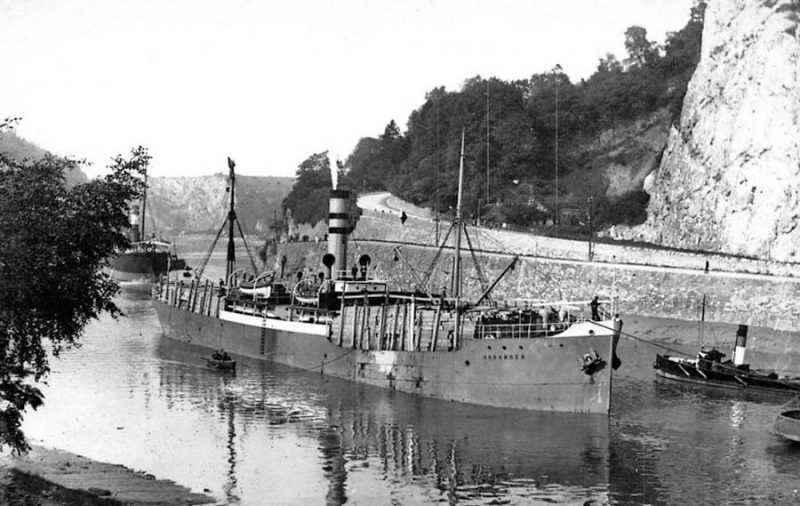 Hans also took over the management of the steamer Venezia in 1905, unfortunately she was wrecked soon afterwards, and the steamer Garibaldi of 768grt built at Stavanger in 1902. Further new steamers of 1,500 dwt followed in 1906/07 from a Stavanger yard in Mauranger and Geiranger, and Malmanger of 2,000dwt in 1910 from Sunderland Shipbuilding Co. Ltd., and Hosanger of 2,500dwt in 1911 from Bergens Mek Verksted. Similar second hand steamers were also purchased e.g. the French steamer Loiret was purchased in 1912 and renamed Evanger. Ships continued to be managed for other Norwegian owners e.g. Ole Bull, named after the Norwegian musician, and Jamaica, both for C. Mathisen of Bergen, and the tramp steamer Prosper III for Hans Kier & Company A/S of Drammen. Hans was managing a fleet of a dozen steamers on the outbreak of war in August, 1914, eleven of which were lost to enemy action or marine causes during the war:-
1.1.1915 Jamaica (built 1892) wrecked in a storm off Oporto
14.6.1915 Davanger (built 1888) sunk by German submarine while on a voyage from Liverpool to Archangel
7.8.1915 Geiranger (built 1907) sunk by a German submarine while on a voyage from Petschora to Southampton
6.7.1916 Prosper III (built 1912) mined and sunk in the Bay of Biscay with the loss of 29 lives.
13.12.1916 Kaupanger (built 1890) sunk by submarine off Cartagena while on a voyage from England to Italy
12.1916 Mauranger (built 1906) disappeared without trace while on a voyage from Pomeron to Goole
11.1.1917 Ole Bull (built 1901) sunk by torpedo or mine while on a voyage from Hartlepool to Rouen
14.3.1917 Davanger (built 1916) sunk by German submarine while on a voyage from New York to Rotterdam
22.3.1917 Malmanger (built 1916) sunk by torpedo or mine off the south coast of Ireland while on a voyage from New York to Avonmouth
8.5.1917 Leikanger (built 1916) sunk by torpedo near Machichoco Light House
11.10.1917 Lovli (built 1916) sunk by torpedo near Savona
The first tanker Malmanger was one of the above losses, she was sunk by torpedo or mine near the Fastnet at the end of her maiden voyage from New York, having been completed at Chester (Pennsylvania). The war period was a hectic time of inflated ship prices, and Hans bought 13 ships for resale at high profits, and he ended the war with six ships with three on order at shipbuilders.
A large fleet of a dozen tankers was then built up during the inter-war years, with a new Malmanger in 1920 from the Laing yard at Sunderland, followed by the Davanger, Langanger and Storanger from the Clyde, with Dutch yards building Nordanger, Finnanger, Hallanger and Varanger, a French yard at Le Trait built Orkanger, and Spinanger came from the Schichau yard at Danzig. These tankers were all in the range of 11,000dwt to 14,600dwt and were on charter to the oil majors such as Shell and Esso. The motor tanker sisters Eidanger and Sandanger of 14,700dwt were completed during 1938 at the Laing yard at Sunderland, and their design was later chosen by the Admiralty as one of the three standard tanker designs of World War II. The 'Norwegian' type of 14,700 dwt were constructed by two yards, the lead Laing yard at Sunderland and the Haverton Hill yard of the Furness Shipbuilding Co. Ltd.. Empire Opal was the first of 21 examples of this design when she was launched at Sunderland on 28th April 1941 and this class made a big contribution to the final victory, with some survivors used by Norwegian shipowners after the war.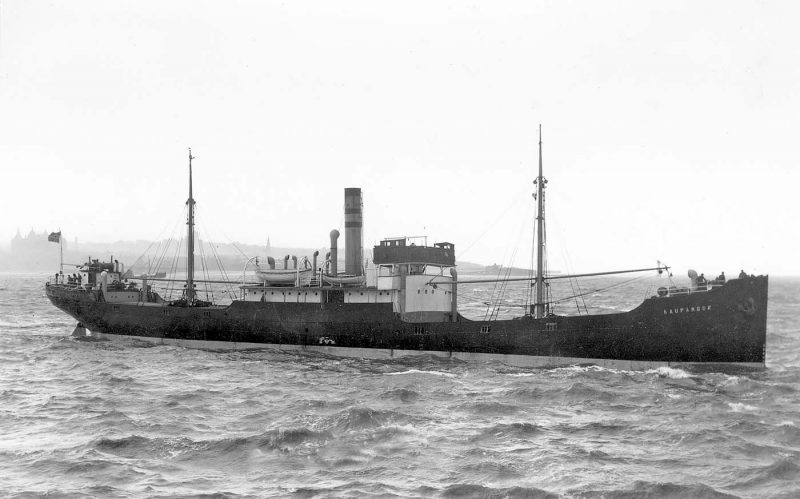 Tramping was continued throughout the inter-war period, with the steamer Hosanger dating from 1910, and the war construction Porsanger, Samnanger, Ravnanger and Torvanger sailing the world with a wide variety of cargoes. However, a big thrust into the liner trades was also made at this time using new motorships:-
County Line Canada Steamship Lines (CSL) began in 1921 a service from the St. Lawrence to European ports. Several ships were chartered from Westfal-Larsen including Evanger built in 1920, while Tananger purchased from Swedish owners in 1924 received a 'County' name in 1929 as Labelle County, named after a Canadian county. The service was discontinued in 1961.
Westfal-Larsen Line In 1925 a service was established between West coast U.S.A. and Canadian ports with timber and fruit southwards around South America, returning with coffee and sugar via the Panama Canal to west coast ports. The service was discontinued in 1982, having used chartered ships in the last years.
Interocean Line In 1930 a service was established between West coast U.S.A and Canadian ports to European ports. A wide variety of timber, fruit and vehicle cargoes were carried until the service was discontinued in 1970
Southern Cross Line In 1939 a joint service was established between North and South America in conjunction with J. Ludwig Mowinckels of Bergen, and ran until discontinued in 1960. All of the cargo-liners used on these four services had accommodation for 12 passengers.
Subscribe today to read the full article!
Simply click below to subscribe and not only read the full article instantly, but gain unparalleled access to the specialist magazine for shipping enthusiasts.