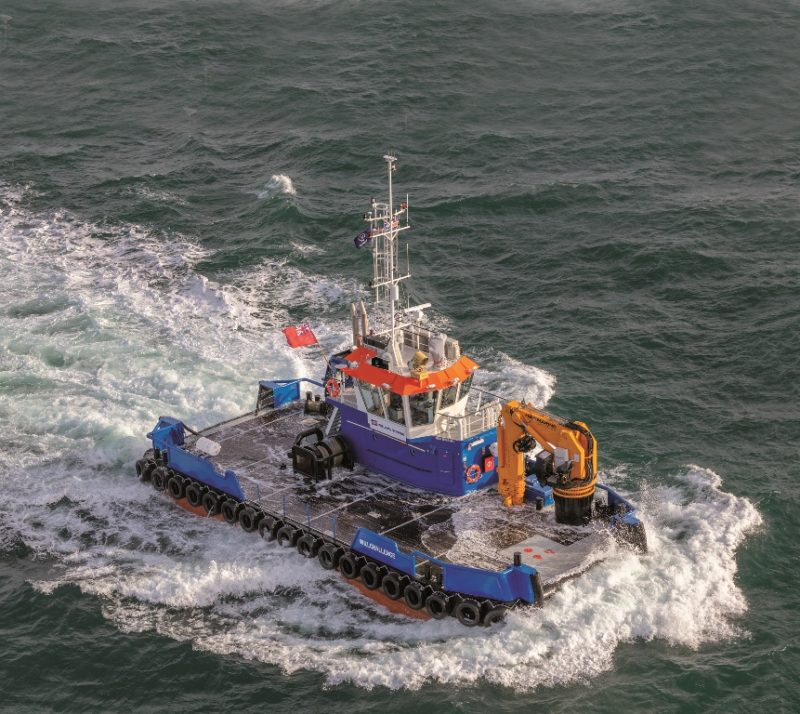 The working craft that bustle around our harbours, ports and waterways are often overlooked compared to the larger sea-going vessels that share these environments. However, work vessels perform a vital role within all sectors of the shipping industry. One such ubiquitous workboat is the EuroCarrier, a market-leading, robust multi-purpose craft for marine operations. Roles fulfilled include general supply, maintenance and support operations aquaculture operations (including net cleaning and pen towage), offshore wind operations (including subsea cable repairs, supply of materials and maintenance), marine civil construction (including supply of materials and dredging support), anchor handling and much more. A true Swiss Army Knife of the working vessel world. The EuroCarrier family presently consists of the Eurocarrier 1206 (12.60m long/7t bollard pull), EuroCarrier 1908 (19.50m long/10t bollard pull), EuroCarrier 2209 (21.60m long/15t bollard pull), EuroCarrier 2495 (24.45m long/ 22t bollard pull), EuroCarrier 2611 (26.48m long/35t bollard pull), EuroCarrier 2712 (27.00m/35t bollard pull) and the EuroCarrier 3413 (34.00m long/36t bollard pull). With fully customisable designs and a wide range of options, EuroCarriers offer the ultimate in versatility and reliability and represent just one aspect of the great variety of shipbuilding in The Netherlands. The EuroCarrier family is the result of years of ongoing co-operation with workboat operators, offering adaptable solutions for owners that seek vessels capable of undertaking the full spectrum of support activities. The EuroCarrier was spawned by Neptune Marine, a company that can trace its routes back to 1972 when the yard opened in Aalst, The Netherlands, as a builder of luxury yachts. That activity was soon joined by the manufacture of workboats where the expertise gained thus far plus the culture of working to the highest standards reaped rewards. Such was the success of the workboat division that, in 2001, the two activities were separated into Neptune, focussing on workboats, and Elling Luxury Yachts. Over the years the company has expanded, gaining additional facilities in Hardinxveld and Groningen. In 2005, Neptune Marine started its marine services activities. By offering charter equipment, including pontoons and deck equipment, to operators and contractors, the company can deliver solutions for any kind of project. The scope of services has expanded over time in response to customer demand so the range of workboats has been supplemented by pontoons, high speed and offshore vessels of various types. In 2010 a successful repair, conversion and mobilisation service was added to the portfolio.
From Speculative Beginnings
Subscribe today to read the full article!
Simply click below to subscribe and not only read the full article instantly, but gain unparalleled access to the specialist magazine for shipping enthusiasts.