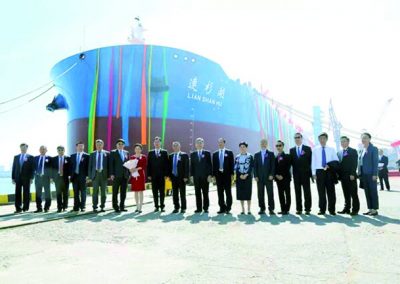 COSCO Shipping Tanker (Dalian), a tanker division of China COSCO Shipping took delivery of the 43,687gt/72,000dwt Lian Shan Hu (above) on 17th September the Dalian Shipbuilding Industry facility. The 220m long/36m beam vessel is the fourth in the series of wide-body, energy-saving LR1 oil tankers, tailored by Dalian Shipbuilding Industry for COSCO Shipping Tanker (Dalian) and with an endurance of over 18,000 nautical miles. The next day the new 165,511gt VLCC named Cosnew Lake was christened and delivered at the same yard. This 332.5m long, 60m beam, 20.5m draught and 319,000dwt VLCC can carry 2,500 barrels of crude oil via the Straits of Malacca.

Damen Shipyards Group and the parent company of Eesti Gaas (Estonia's leading energy company) has signed a contract for the construction of the first of a series of short-sea LNG bunker vessels to operate in the Baltic Sea. The LGC 6000 LNG class vessel, scheduled for delivery in September 2020, will help accelerate the wider adoption of LNG in the Baltic Sea by providing a mobile and efficient ship-to-ship distribution service for the first time. The 100m vessel will be built at the Damen Yichang Shipyard in China and will carry 6,000m³ of LNG in two type-C tanks at -163° C.
Erik Thun Group of Sweden took delivery of the third 17,999dwt LNG-fuelled tanker, the product/chemical tanker Thun Venern at China's AVIC Dingheng Shipbuilding on 27th September after completing sea trials in August. The 12,770gt Thun Venern is the third vessel in a series of six identical dual fuelled tankers ordered by the company and alliance partners Furetank Rederi AB and Rederi AB Älvtank.

Sign-up today to read the full article!
Simply click below to sign-up and read the full article, as well as many others, instantly!