Wessels Reederei's10,585gt/2011 built and 1,000 TEU capacity container vessel Wes Amelie (above), claimed to be the world's first container ship retrofitted with an LNG engine, underwent initial bunkering at the Kuhlhauskai in the Port of Bremerhaven in August The vessel had undergone an LNG engine conversion at Gennan Dry Docks in Bremerhaven and the bunkering was conducted using four trucks of LNG delivered to the port and then transferred to the vessel.
Bahri has placed a $120m order at Hyundai Mipo Dockyard (HMD) for a quartet of bulk carriers. The Saudi shipowner ordered four 80,000dwt bulkers for delivery in 2020.
Mitsui Engineering & Shipbuilding Co., Ltd. (MES) delivered the 60,000dwt bulk carrier Cyclades (Hull No. 1958) on 17th August, 2017, becoming the 25th member of MES's "neo60BC" class of ship and the third member of the "neo" Eco-Ship series. The 199.99m long, 32.25m beam., 18.50m moulded depth and 34,094gt ship was built for Eastern Mediterranean Maritime Limited in Greece. The ship can achieve 14.50 knots, powered by a MitsuiMAN B&W 6S50ME-B9.3 diesel engine. The vessel has four cranes, five cargo holds and is designed for loading various cargoes like coal, ore, grain, as well as lengthy/heavy cargo.
Nippon Yusen Kaisha (NYK) has ordered four VLCCs at the Japan Marine United and Namura Shipbuilding yards in Japan for delivery in 2019 & 2020.

Rickmers Maritime Trust of Singapore was officially wound up in late August. The spin-off of now insolvent German shipowner Rickmers Group ran into trouble last year when bondholders rejected a proposed financial restructuring on which the trust's refinancing was dependent. The bankrupt trust sold its fleet of 14 containerships to Navios Partners Containers for US$113 million.
Tropical Storm Harvey in late August sparked concern over possible shortages of aviation fuel. French Oil Company Total booked the 26,911gt/2008 built Maersk Misumi and 26,913gt/2005 built Butterfly to each load 37,000 tonnes of kerosine in Europe for transatlantic transportation. Total also placed a provisional booking of the 30,01Bgt/2004 built Seaways Alcmar to load 37,000 tonnes of aviation fuel in Malta on 4th September, with delivery options to the U.S. Gulf or U.S. Atlantic Coast. Royal Dutch Shell and other traders were also seeking tankers along the route. Traders were also hurriedly seeking to buy other refined products from around the world to move to the USA to cover any supply shortages.
Vale and nominees of Bank of Communications Finance Leasing Co., Ltd. (Bocomm) concluded the sale and purchase of two very large ore carriers (VLOCs) of 400,000 tonnes owned and currently operated by Vale on 8th August. The transaction totalled approxi­ mately US $178 million, an amount paid to Vale upon the delivery of the vessels. Vale is also negotiating the sale of its remaining two VLOCs, which is consistent with its strategy of strengthening its balance sheet and focussing on core assets.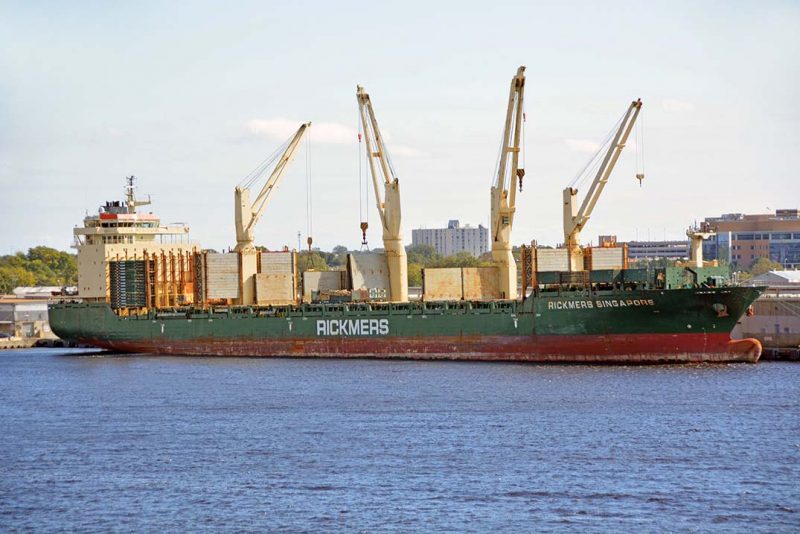 Zeaborn Group, which acquired Rickmers-Linie in April 2017, has purchased five 30,000dwt heavy lift vessels from Rickmers Group. The ships, 23,119gt/2003 built Rickmers Singapore (above), Rickmers Jakarta, Rickmers Seoul, Rickmers New Orleans and the 23,119gt/2004 built Rickmers Dalian, are equipped with four cranes with a combined lifting capacity of 640 tonnes. The five vessels are sisterships of the 23,119gt/2002 built Rickmers Hamburg that Zeaborn already owns. The price of the transaction was not dis­ closed and the company has a combined fleet of around 50 multi­ purpose vessels.