APL announced on 31st May that it was enhancing its exclusive Eagle Express X (EXX) service to provide a more expeditious delivery of import cargo with same-day cargo availability at the Global Gateway South (GGS) Terminal in Los Angeles. The EXX service is a weekly China-U.S. West Coast ocean freight product with an expeditious 11-day transit from Shanghai to Los Angeles. Ports of call are Ningbo, Shanghai, Los Angeles, Dutch Harbour, Yokohama and Busan. The first sailing of the EXX service will depart Ningbo on 2nd August and Shanghai on 3rd August, and arrive in Los Angeles on 14th August.
CMA CGM, Maersk Line and ONE were among the first shipping operators to reintroduce Bunker Fuel Surcharges in May to counter the rising price of crude oil and fuel prices. CMA CGM took delivery of the 20,600 TEU capacity CMA CGM Jean Mermoz from the Hanjin Subic Bay shipyard in Philippines yard on 25th May. The 400m long and 59m beam ULCV follows on from sister vessel CMA CGM Antoine de Saint Exupery and the third vessel is expected to be delivered in September 2018.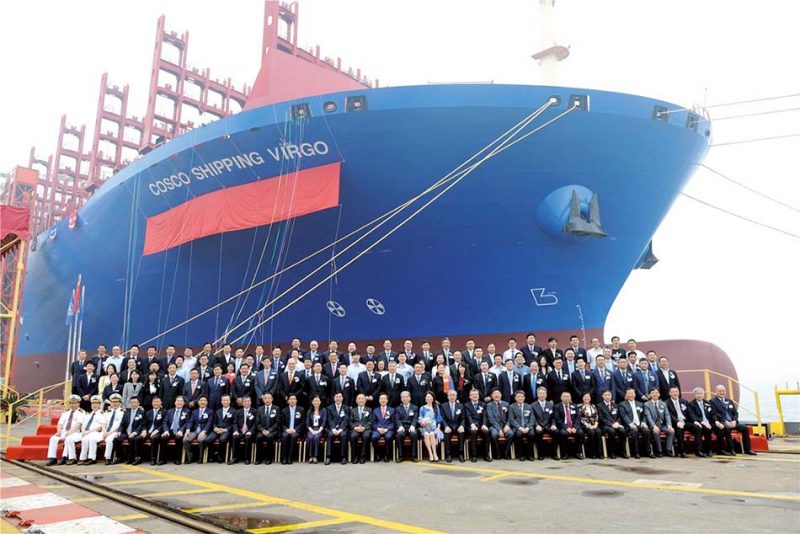 The CMA CGM Jean Mermoz has been deployed on the French Asia Line 1 which connects Asia to Northern Europe. In 2018, CMA CGM is celebrating its 40th anniversary having commenced operations in 1978. To celebrate the milestone a striking 40th logo has been unveiled. Another feeder vessel has been acquired by the company in the form of the 16,162gt/2007 built and 1,350 TEU capacity Magari. The ship had previously been operated by HMM.
COSCO Shipping's fifth 20,119 TEU capacity containership Cosco Shipping Virgo was named on 29th May aat the Shanghai Waigaoqiao Shipbuilding Co. Ltd. shipyard (above). Wife of the managing director of Hutchison Ports, Ms. Kanako Ip, named the vessel. Together with other sister ships, the 399.8m long and 58.6m beam vessel will serve on the Far East-Northwest Europe loop (AEU3) in a joint effort to boost the growing fleet capacity on the European routes.
Crowley Maritime Corp. announced on 17th May that they had launched a new direct, weekly shipping service from Puerto Plata to Port Everglades to better serve customers shipping from the Dominican Republic to South Florida. This fast, two-day northbound containerised cargo sailing complements the company's existing freight transportation services connecting Santo Domingo and Rio Haina, Dominican Republic, with South Florida, Central America and the surrounding Caribbean. Making the service possible are two container ships that will alternate carrying cargo northbound from Puerto Plata on Mondays, with arrival in Port Everglades on Wednesday mornings. A few days later on 29th May, and to better serve customers shipping in the Caribbean Basin and beyond, Crowley Maritime Corp.'s liner services group announced that it had launched a new feeder shipping service connecting San Juan, Puerto Rico, Rio Haina, Dominican Republic; and St. Croix and St. Thomas in the U.S. Virgin Islands (USVI). With the new service, vessels depart Rio Haina on Sundays and arrive in San Juan on Tuesdays. After departure on Thursdays, cargo arrives in St. Thomas and St. Croix on Fridays, before the vessel moves to the Dominican Republic again for Sunday operations.

Subscribe today to read the full article!
Simply click below to subscribe and not only read the full article instantly, but gain unparalleled access to the specialist magazine for shipping enthusiasts.