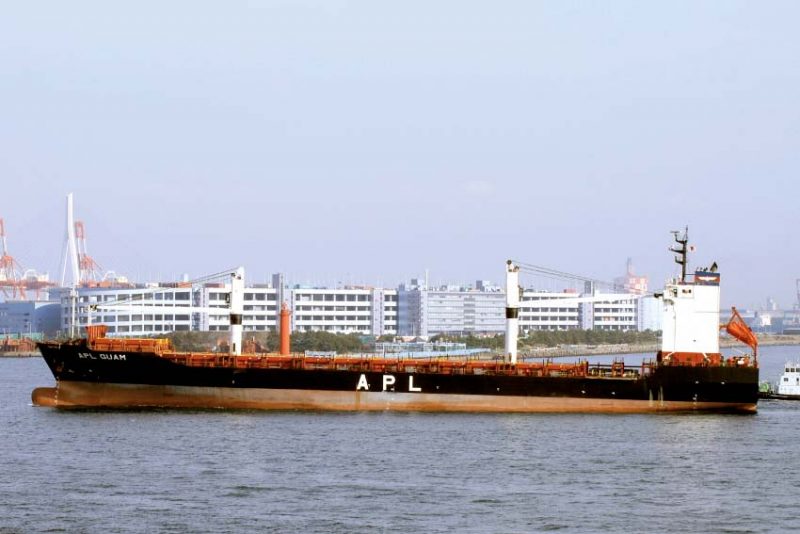 APL, part of CMA CGM, plans to add a second vessel to its Guam Saipan Express (GSX) service, thus upgrading it from fortnightly to weekly. The first sailing of the weekly service commenced in late December 2016 from Yokohama, Japan. The service had employed a 1,100 TEU containership, the 13,764gt/2001 built APL Guam (above), and she was joined by the 1,600 TEU APL Saipan. On 18th November APL revealed a new India East Coast Express (IEX) service, a weekly service which directly connects the North Asia markets of Korea and China to Chennai, India. Designed with competitive transit times, the new IEX service offers a comprehensive coverage of the China market with 3 port calls in Qingdao, Shanghai and Shekou. The IEX service will call at the ports of Busan, Qingdao, Shanghai, Shekou, Singapore, Port Klang (West), Manila and Chennai and the first sailing commenced from Busan on 15th December 2016.
CMA CGM had paid off its $1.7 billion NOL acquisition loan by 21st November through sale and leaseback deals involving both ships and containers. The French company revealed that the money had been fully repaid ahead of maturity when posting a net loss of $268 million for the third quarter of 2016 as freight rates remained under pressure. Excluding the contribution of newly acquired NOL, the group recorded a $202 million loss, against a small $51 million profit a year earlier. The full reorganisation of CMA CGM and APL services will be completed next April when the new Ocean Alliance starts up with the enlarged French line teaming up with Cosco Shipping, Evergreen and OOCL. That will replace the existing Ocean Three consortium as current member UASC becomes part of the Hapag-Lloyd group and joins The Alliance, which will also begin joint operations from April.

On 17th November CMA CGM announced the new REX3 service connecting Djibouti, Saudi Arabia, Egypt, Jordan, Singapore and China. In addition to the calls offered by the REX2, MEX1 and EPIC lines, CMA CGM now operates an additional stop on the REX3 service. Djibouti is the entrance port to the Ethiopian market and will now be directly connected with Asia and Jeddah, a strategic port for exports to the U.S.A. The service is operated in partnership with APL through a swap agreement and will offer the following port rotation: Shanghai, Ningbo, Nansha, Shekou, Singapore, Djibouti, Jeddah, Sokhna, Aqaba, Djibouti, Singapore, Ningbo and Shanghai.
On 22nd November CMA CGM and CNAN NORD Spa, the Algerian National Shipping Company, announced that they had signed a co-operation agreement on 8th November. The agreement focuses on 3 strategic axes: Operational co-operation for a common shipping line linking Northern Europe to the Algerian ports; Operational and logistic co-operation between CMA CGM and CNAN NORD Spa (space allocation aboard oceanic CMA CGM vessels, provision of containers etc) and sharing of expertise between CMA CGM and CNAN NORD Spa regarding the training of seafarers and executives. The following week CMA CGM announced an improved service directly connecting North Europe with Central America. The enhanced ECS service will provide one of the shortest transit times on the market, linking Rotterdam from Costa Rica in only 14 days and adding London as a port of call in 15 days. Offered in co-operation with Hapag-Lloyd, the service will be operated by five state of the art CMA CGM vessels with a 2,300 TEU capacity and 550 reefer plugs and one Hapag-Lloyd vessel. The first vessel arrived at London Gateway on 6th January 2017. The new rotation will be: Puerto Limon, Kingston, Rotterdam, London, Hamburg, Antwerp, Le Havre, Caucedo, Kingston, Santo Tomas de Castilla, Puerto Cortes and Puerto Limon.
Subscribe today to read the full article!
Simply click below to subscribe and not only read the full article instantly, but gain unparalleled access to the specialist magazine for shipping enthusiasts.