APL announced on 17th July its highest recorded fleet carbon dioxide emissions reduction of 48% in 2016, compared to its base level in 2009. Verified by Lloyd's Register Group according to the Clean Cargo Working Group verification protocol and ISO14064-3:2006 standard, this achievement marks APL's seventh consecutive year of improvements. APL aims to reduce carbon dioxide emissions per container transported by 30% between 2015 and 2025, a target set by the CMA CGM Group.
Bernhard Schulte Ship Management (BSM) of Germany has taken on the management of the 210,678gt/2017 built and 20,146 TEU capacity MOL Tribute, one of the newest vessels in Mitsui O.S.K. Lines' fleet. The newbuilding was handed over to BSM's Hong Kong ship management centre in July. The 400m long and 58.8m beam MOL Tribute was joined at BSM by the MOL Tradition in August.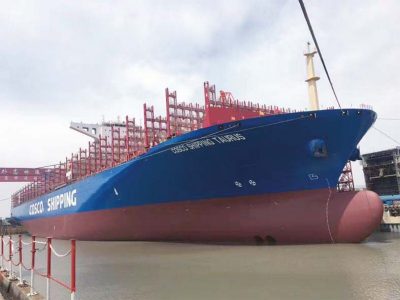 Cosco Shipping Corporation's largest container vessels to date will take to the water equipped with High Efficiency Rudders delivered by Dutch company Van der Velden Marine Systems. In 2015, Van der Velden Marine Systems, part of the Damen Shipyards Group, was nominated to supply rudders for five 20,000 TEU capacity containerships ordered by Cosco Shipping Corporation Limited at Dalian Shipbuilding Industry Co. and Shanghai Waigaoqiao Shipbuilding. The delivery of the rudders will take place this year and the vessels are expected to enter service in 2018. As announced in July 2017, Van der Velden is supplying its largest Atlantic rudders with ART™ (Asymmetric Rudder Technology) design and bulb, each having an area of approximately 100 m2 and weighting over 250 tonnes. The rudders are specially optimised for minimum cavitation at high speed, as well as ensuring first-class course-keeping and manoeuvrability. Their water-lubricated synthetic bearings are long-lasting and require little maintenance. The rudders are designed for easy dismounting when inspections and repairs are needed. In June 2017 the first of these ships, the Cosco Shipping Taurus (above), was launched by Shanghai Waigaoqiao Shipbuilding.
Diana Containerships has entered into a time charter contract with Maersk Line for one of its Post-Panamax vessels, the Puelo, and has agreed to extend the present time charter contract with French container carrier CMA CGM for a Panamax ship, the Centaurus. The charter for the 73,934gt/2006 built Puelo, for 8-18 months, commenced on 2nd August. The 6,541 TEU capacity ship was constructed by Hyundai Heavy Industries and previously served MSC. The charter of the 36,087gt/2010 built and 3,426 TEU capacity Centaurus is being extended for 8-12 months. She was built at the Nordseewerke Emden shipyard and the charter extension was due commence on 23rd August. Diana Containerships's fleet currently comprises eleven containerships, including six Post- Panamaxes and five Panamaxes. Hudson Shipping Lines has also chartered the company's 40,570gt/2001 built bulker Alcyon.
Hyundai Merchant Marine Co., South Korea's leading container carrier, was to allocate more vessels to meet rising demand on routes to the USA. The shipping company expected a shortage of carriers on the peak traffic routes from August to October as U.S. customers import more products from China and Southeast Asia. Hyundai Merchant, which currently operates 110 vessels, consulted with its alliance partners, including Maersk Line & MSC, to make the final decision on whether to increase the number of ships.

Sign-up today to read the full article!
Simply click below to sign-up and read the full article, as well as many others, instantly!