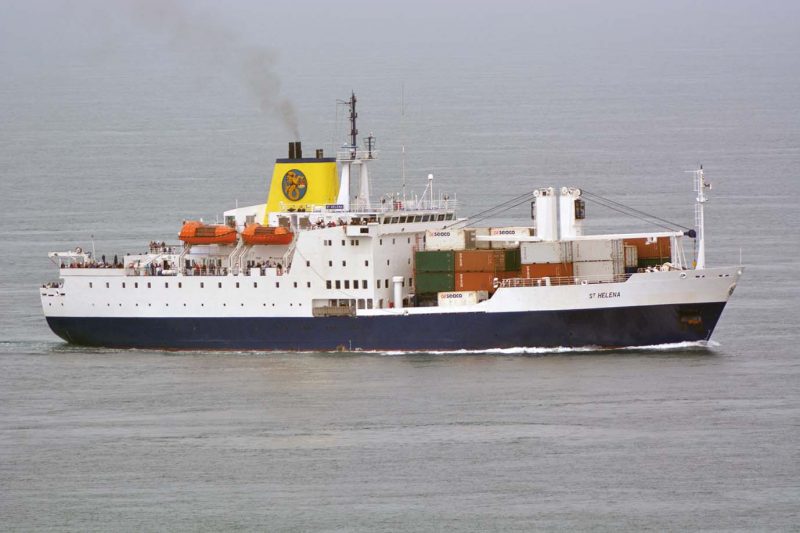 On 5th June the 6,767gt/1990 built St. Helena, operated as St.  Helena Line by Andrew Weir Shipping Ltd., made her debut on the  River Thames when she arrived at Tilbury's London International  Cruise Terminal (LICT) on voyage 242 as the first stage of her  Farewell events.
The ship was the last to be built by A&P Appledore  in Aberdeen and accommodates a maximum of 156 passengers, 56  crewmembers and 3,000 tonnes of cargo. The St. Helena had  departed Cape Town on 7th May and called at St. Helena (12th-  14th May), Ascension Island (17th May), St. Helena (20th-22nd  May), Ascension Island (24th May) and Tenerife (31st May).
Although registered in London, the ship had never visited the  Capital in 26 years of service, her previous UK ports of call generally  being Cardiff and Portland. On 6th June the ship unloaded  cargo in Tilbury Docks and sailed up the River Thames to berth  alongside HMS Belfast in the Pool of London on 7th June. Various  functions were held aboard, including a visit by HRH Princess  Anne, before she sailed back to LICT on the evening of 10th June.  Invited guests were able to tour the ship at LICT on 11th June.

Another visit to Tilbury Docks followed on 12th June to load cargo  including two fire engines and 38 cars. It was then back to LICT in  readiness for her farewell party on 14th June, the day upon which  she departed on voyage 243 back to Cape Town via the same call  pattern as voyage 242 with stop-overs at St. Helena 28th June-1st  July and 6th-10th July, reaching Cape Town on 15th July.
Since the  farewell events were planned the new airport on St. Helena has  been certified, but a wind shear problem affecting aircraft was identified  during trials when using the northern runway. As a result, the  St. Helena's schedule has been extended to include voyages 244-  246 with departures from Cape Town on 18th July, 20th August and  9th September.
The final arrival in Cape Town is now 27th  September, but this is subject to change of course as the airport  could become operational earlier or later. The withdrawal of the  vessel will see the loss of the last genuine Royal Mail Ship, i.e. a  vessel taking mail by sea as the sole means of transportation.Voyage 243 is also conveying mail from school children in Cardiff,  the city from where the ship made her first UK departure.
A number  of shipping lines have expressed an interest in acquiring the St  Helena as well as the Chamber of Commerce on the Island of  Alderney. The Channel Island has no dedicated all-weather passenger  service of its own and the ship would be ideal to serve the  Island from both France and the UK. Plans for the ship would also  include mini-cruises in addition to the lifeline duties. The vessel  deviated from its course to Tilbury on 4th June to do a close sail-by  of Alderney (above).