Asian Marine Transport Corporation's 17,884gt/1980 built Super Shuttle Roro 9 was attacked by Aby Sayaf militants in the Moro Gulf some 19 nautical miles southeast off Sibago island, Philippines in March. The vessel was en-route from Cebu to General Santos when she was approached by two motor skiffs with armed men, who crossed the path of the ship and managed to board her. The armed militants took control of the vessel and kidnapped four of the ferry's crew, including the Master and Chief Engineer. The pirates fled to the shore on their skiffs with the hostages. The ship headed to the nearest port of Zamboanga with reduced speed and reported the incident to the local authorities. Other crew on board were unharmed and in good health. The circumstances around the incident are unclear but it appears that adequate actions to prevent boarding by the pirates were not taken. The vessel has a high freeboard and thus such a ship is usually a difficult target for hijacking. The Super Shuttle Roro 9 is better known to readers as P&O Ferries' Norqueen.
BC Ferries' second of three new liquefied natural gas (LNG)-powered Salish Class vessels, the 8,728gt Salish Eagle, arrived at its British Columbia home on 20th March. The 107m long vessel took 38 days to sail 10,440 nautical miles from Gdansk-based Remontowa Shipbuilding, where she was constructed. The third such vessel, the Salish Raven, departed Poland for Canada in April 2017.
Cobelfret's 25,593gt/2009 built and 196m long Ro-Ro vessel Palatine collided with a quay at Santander, Spain around 25th March. The Palatine was attempting to berth at Santander when she struck the quay suffering an 11m gash in the hull above the waterline. The ship was escorted to a shipyard at Astander to undergo repairs.
DFDS Seaways' 28,833gt/1992 built Calais Seaways returned to service on 31st March following an extensive refit at the Damen shipyard in Dunkerque. The ship has undergone a multi-million pound renovation which was carried out by UKbased marine interior refit firm Trimline. Trimline's objective was to produce the same quality and high standards that were achieved in 2016 aboard the Cote Des Flandres & Cotes Des Dunes.

Finland's Port of Helsinki officially opened its new passenger ferry terminal, West Terminal 2, which features an automated mooring system from Cavotec, in mid- March. West Terminal 2 is the largest single investment project undertaken by the port in a decade and included the construction of new berths, a terminal building, passenger bridges and access roads. Cavotec has installed its vacuum-based automated mooring MoorMaster units that eliminate the need for conventional mooring lines. The remote-controlled vacuum pads on the quayside will moor and release Tallink's Shuttle ferries Megastar and Star in seconds. This is much quicker than conventional mooring systems with a similar system currently being installed by Wightlink on its Portsmouth-Fishbourne service.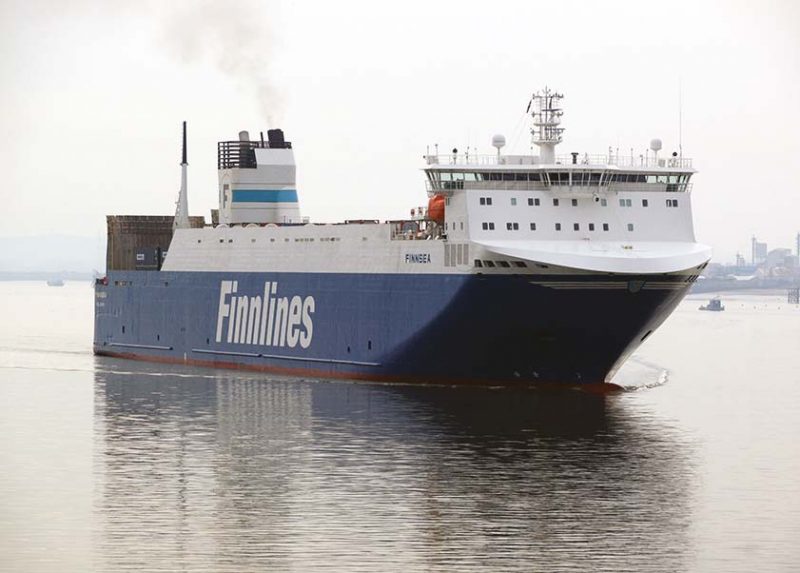 Finnlines of Finland will lengthen four of its 28,002gt Breeze Class Ro-Ro ferries constructed from 2011 (Finnsea above), with an option for two additional vessels, in response to increased demand. The company has signed a contract with Remontowa S.A. shipyard in Gdansk, Poland where the actual work will commence in mid September 2017. The yard is committed to perform this work in less than two months for each vessel and the entire lengthening programme will be completed in May 2018, increasing vessel capacity by around 1,000 lane metres per ship.
Sign-up today to read the full article!
Simply click below to sign-up and read the full article, as well as many others, instantly!