Second Incident For DFDS Ro-Ro Ship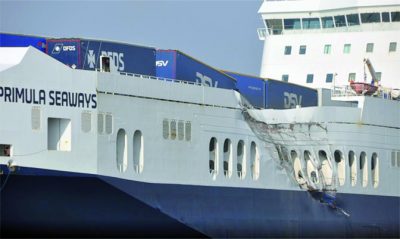 In the early hours of 3rd March the 61,870gt/2011 built containership MSC Madrid collided with the 37,985gt/2004 built Ro-Ro ship Primula Seaways while heading towards Antwerp, Belgium, from Hamburg. The collision occurred in the vicinity of Vlissingen, while the containership was inward bound from an anchorage and the Ro-Ro ship was outward bound for Brevik/Gothenburg from Ghent. The 5,500 TEU capacity containership appeared to turn towards the ferry and sustained damage to her bow while the Ro-Ro ship suffered a major bow-shaped blow to her port side. After the incident, the MSC Madrid continued her voyage to Antwerp, whilst the Primula Seaways (above) made her own way back to Ghent. An investigation is ongoing and the ferry will be repaired at the Fayard Shipyard at Odense. The Primula Seaways was previously involved in a collision with the car carrier City of Rotterdam on the River Humber on 3rd December 2015. After that mishap, the pilot and the captain of the car carrier both received suspended sentences of four months in prison, which was suspended to 18 months subsequently. To mitigate the effect of the incident on its customers, DFDS is leveraging the extensive route network and a larger ship from another route will be swapped with a ship on Gothenburg-Ghent. This will add capacity to Gothenburg-Ghent. In addition, the 15,375gt/1986 built Ro-Ro ship Maestro Sea has been chartered short-term and arrived in Gothenburg on 6th March. The 32,523gt/2004 built Petunia Seaways has joined the Ghent service from Immingham-Gothenburg with the 33,314gt /2014 built Ark Germania being moved from the Ghent route to Immingham-Gothenburg.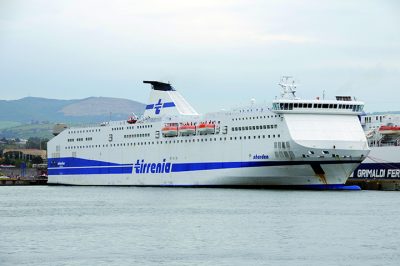 Around two weeks earlier, on 14th February, the 39,798gt/2005 built Tirennia ferry Sharden (above) hit a quayside at the port of Genoa, Italy whilst attempting to berth. The ship sustained a large gash in her hull just above the waterline, disembarked her passengers and vehicles and received attention in dry dock two days later. The following day the 14,398gt/1994 built Ro-Pax ferry Drujba collided with the 22,456gt/2012 built and 180m long bulk carrier Dvadesetprvi Maj at Bourgas, Bulgaria. The Drujba had arrived from Batumi when she struck the port side of the bulk carrier, which sustained damage to her deck equipment and hull.

Subscribe today to read the full article!
Simply click below to subscribe and not only read the full article instantly, but gain unparalleled access to the specialist magazine for shipping enthusiasts.