Fjord1 Recharges Its Fleet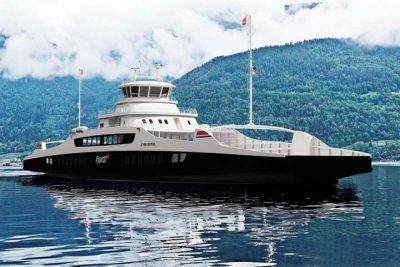 Norwegian ferry owner and operator Fjord1 has signed a newbuilding contract with Turkey-based Tersan Shipyard for two battery- powered ferries that will be solely powered by batteries. The two new craft are expected to commence service from 1st January 2018 on the E39 that links Anda and Lote on the west coast of Norway. This will be the first ferry connection in Norway where the Road Administration requires use of zero-emission technology. The new ferries are therefore an important step towards more environmentally friendly public transportation. Charging the batteries is accomplished through fully automatic charging stations at the quayside. Battery capacity will be sufficient to continue operations for several hours without charging, e.g. during maintenance on the national grid or at charging stations. In addition, the ferries will also be equipped with biodiesel generators, which enable potential operation as plug-in hybrids on other fjord crossings in the future. The capacity of each ferry will be 120 cars, 12 trailers and 349 passengers and construction begins in October 2016. The design has been developed by the Norwegian ship design company Multi Maritime, in co-operation with Fjord1.

Incat Crowther Newbuild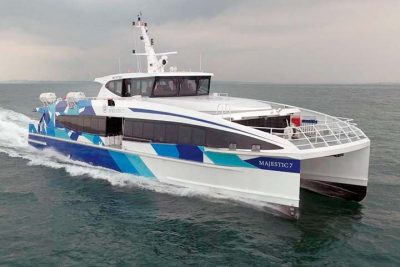 The Majestic 7 (above) was launched in June and is the first of four HSC catamaran passenger ferries designed by Incat Crowther to be delivered to Majestic Ferries in Singapore. The Majestic 7, part of a multiple- vessel order which has been further expanded to include a pair of larger capacity vessels due to be launched in late 2016, was built at PT Cahaya Samudra Shipyard in Indonesia, and will operate between Singapore and Batam. According to Incat Crowther, the 33m vessel gives the operator increased capacity and speed at a fraction of the typical fuel consumption. Powered by a pair of MAN D2862 LE463 main engines, rated at 1,029kW, driving fixed pitch propellers, the 200-passenger capacity craft performed well in sea trials, reaching a loaded speed in excess of 30 knots. The service speed will be 28 knots at a reduced MCR. Passenger access is via midship doors and the seating is forward-facing. In addition, there are four seats for crew members. At the aft end of the cabin is a six-person crew room and kiosk. The upper deck features just the wheelhouse with excellent all-round visibility. The 33m long and 8.5m beam vessel is built to the HSC 2000 code under Bureau Veritas survey.
Subscribe today to read the full article!
Simply click below to subscribe and not only read the full article instantly, but gain unparalleled access to the specialist magazine for shipping enthusiasts.