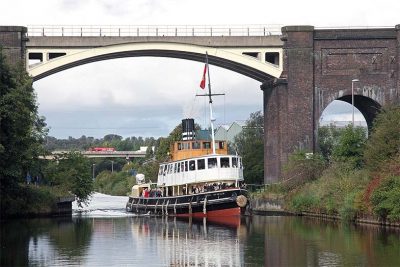 On 30th September the 173gt/1903 built canal tug/tender Daniel Adamson undertook her first public cruise having been lovingly restored, largely thanks to a £3.8m lottery grant in February 2015, once the Daniel Adamson preservation Society (DAPS) had raised £175,000. The MCA granted a passenger certificate in September to permit the landmark cruise along the River Weaver.

The vessel had also been open to the public on static display since May 2016. She is unique in being the last surviving steam-powered tug to be built on the Mersey and is believed to be the oldest, operational Mersey-built ship anywhere in the world. The DAPS secured the vessel in 2004 so to fully restore her in just 12 years is quite an achievement. If only the tug/tender Calshot at Southampton could find such fortune. The 'Danny' was built at Cammell Laird shipyard in Birkenhead for the Shropshire Union Canal and Railway Company and named the Ralph Brocklebank after a former chairman of the Mersey Docks & Harbour Board and member of shipping dynasty T. & J. Brocklebank
The steam vessel was originally built to tow barges laden with goods from the inland towns of Cheshire and the Potteries to the port of Liverpool. The combined passenger carrying and towage service continued until 1915. The Manchester Ship Canal Company acquired the three vessels in 1921. Following the 1936 refit, the vessel was renamed to her present identity in honour of the Manchester Ship Canal Company's first chairman. From 1936 to 1984 the vessel operated both as a tug and as the company directors' inspection vessel and a venue for corporate hospitality functions but in 1986 she was laid up at Ellesmere Port and found preservation just as the scrap man was about to come calling.

When not in operation the vessel can be found at Albert Dock (Canning Half Tide, next to the Merseyside Maritime Museum) in Liverpool. For further details see www.thedanny.co.uk