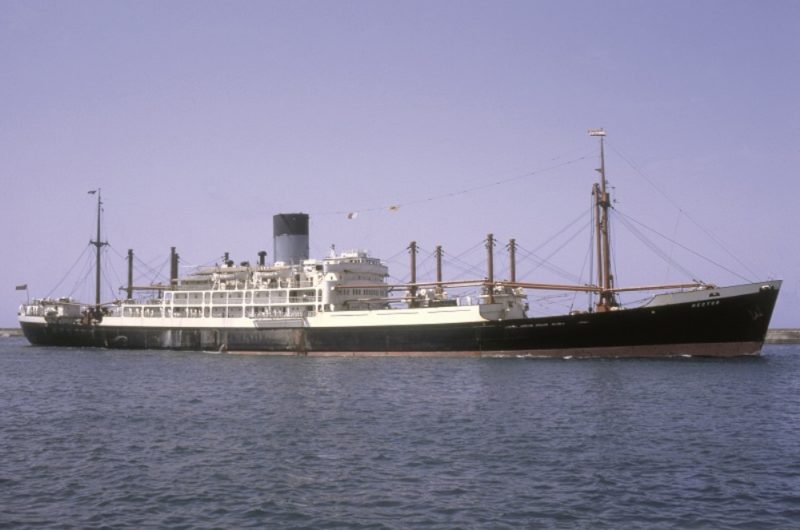 Blue Funnel Line was one of the finest British shipping lines to sail for, with training ships and the 'Aulis'shore training school at Liverpool, and a structured study and learning system on board for cadets that was unrivalled in other companies. My own memories come from my uncle Robert Middlemiss, a sea going engineer with the company, and the procession of inward bound ships arriving at the Gladstone Dock and its branches to discharge part of their cargo, and sign on a coasting crew to Dublin, Glasgow, Rotterdam, Antwerp and Hamburg, before returning to the Vittoria Dock in Birkenhead near the Clan Line berths and the overflow Cathcart Street berths to load for the Far East, with the Odyssey Works base of the company also at Birkenhead.
The huge losses of 41 vessels and 324 lives of brave crews suffered by the company during World War II necessitated a very big new building programme to make up these losses, with the 'A' class of 21 cargo-liners plus another fifteen later similar ships, three cargo-liners taken over on the stocks from Silver Line and renamed Ulysses, Telemachus and Teucer, and eight 'P' and 'H' class passenger and cargo ships, with the quartet of the 'P' class for the Far East run, and the quartet of the 'H' class for the Australian run. The 'A' class and later similar ships comprised Calchas, Anchises, Aeneas, Agapenor, Achilles, Astyanax, Clytoneus, Cyclops, Autolycus, Antilochus, Automedon, Laertes, Bellerophon, Ascanius, Atreus, Alcinous,Laomedon, Eumaeus, Adrastus, Elpenor, Lycaon, Nestor, Neleus, Theseus, Demodocus, Diomed, Dolius,Antenor, Achilles (the previous Achilles had transferred to the Dutch 'Oceaan' subsidiary), Ajax, Menelaus,Menestheus, Machaon, Memnon, Melampus and Maron. These diesel powered cargo-liners had service speeds of fifteen to sixteen knots, the fastest that could be built at that time, but Lawrence Durning Holt, the owner of Blue Funnel Line and nephew of founder Alfred Holt (1829-1911), wanted Blue Funnel Line to have the fastest post-war ships on the Far East and Australian runs, and so the 'P' and 'H' classes were steam turbine propelled with speeds approaching twenty knots when 'flat out' at full speed.
The homeward cargo trade to Liverpool in 1950 of Blue Funnel Line was 453,000 tons, and the outward cargo trade from Birkenhead was 625,000 tons, so there was plenty of work for this new fleet. The 'H' class had accommodation for thirty First Class passengers and four children, with the 'P' class having accommodation for 35 First Class passengers plus four children, but the 'H' class sailed on the joint service of the Blue Funnel Line and Shaw, Savill and Albion Co. Ltd., a noted passenger and cargo carrying company with much experience to Australia.
DESIGN and SPECIFICATIONS
The orders for this octet of fine passenger and cargo-liners was spread around the great shipbuilding companies of Britain, with three going to the Belfast yard of Harland & Wolff Ltd. (Helenus, Hector andIxion), two to Cammell, Laird & Co. Ltd. at Birkenhead (Peleus and Pyrrhus), two to the Walker Naval Yardon the Tyne of Vickers-Armstrong Ltd. (Patroclus and Perseus), and one to the Wallsend yard of Swan,Hunter and Wigham Richardson Ltd. (Jason). They had a full scantling design with transverse bulkheads,widely spread tubular deck pillars, and multi tubular cellular double bottoms. The 'P' class had dimensions of overall length of 515.8 feet, moulded beam of 68.4 feet, and a loaded draft of 25.3 feet as an open shelter decker and 30.9 feet as a closed shelter decker. The 'P' quartet had two decks with a third lower deck in the forward holds, ten bulkheads, six holds and six hatches. The latter consisted of two steel hatches with dimensions 32.5 feet by 24.0 feet and 24.0 feet by 16.0 feet, and four wooden hatches with dimensions of two at 27.0 feet by 24.0 feet, and two at 27.25 feet by 18.0 feet. The fo'c'stle varied in length from 54 to 59 feet, the Bridge Deck was of length 221 feet except for Peleus where it was 235 feet, and the poop deck varied in length from 25 feet to 55 feet.
There were 26 derricks to serve the six holds, consisting of one 50 tonne heavy lift derrick on the foremast to serve number two hold, one 20 tonner, eight 10 tonners and sixteen five tonne derricks, all operated by 26 Laurence Scott winches varying from three to eight tonne capacity. The hulls were of rivetted and welded construction and carried insulated compartments for refrigerated cargo, and a deep tank was fitted 'midships for the carriage of latex and vegetable oils with a flashpoint above 150 degrees Fahrenheit.
The 'H' class steel hulls were seven feet longer and one foot wider than the 'P' class and were subdivided by nine bulkheads into seven holds and seven hatches. The latter measured 29 by 22 feet, 27by 24 feet, 27 by 22 feet, two of 26 by 22 feet, one of 18 by 12 feet, and one of 14 by 12 feet. The foc'stle of all of this quartet measured 47.0 feet, the Bridge Deck was of 265.0 feet in length, and the poop deck was 26.0 feet in length. The hulls were of riveted and welded construction and carried insulated compartments for refrigerated cargo, and a deep tank was fitted 'midships for the carriage of latex and vegetable oils with a flashpoint above 150 degrees Fahrenheit. The cargo handling gear consisted of a heavy lift derrick of 50 tons capacity on the foremast to serve number two hold, four ten tonners, fours even tonners, and sixteen five tonne derricks, a total of 25 derricks, all operated by 25 Laurence Scott winches varying from three to eight tons capacity.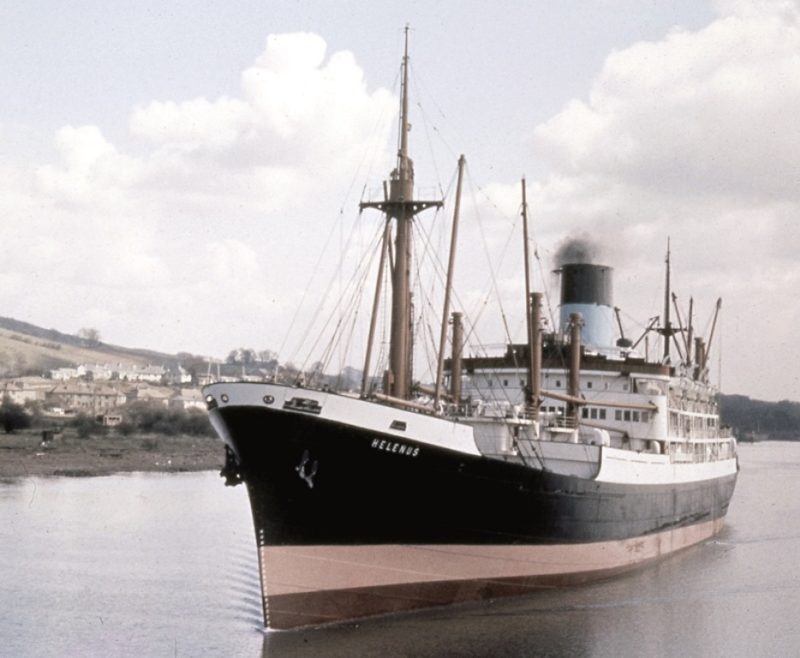 The 'P' and 'H' classes were completed to the highest classification of Lloyd's Register, and their propelling machinery was built and classed to British Corporation Rules under the supervision of Lloyd's Register. Fortunately, the propelling machinery was identical for all eight ships, and consisted of three Parsons steam turbines of 15,000 shp at 106 rpm, double reduction geared to a single screw shaft, taking steam from two Foster Wheeler water tube boilers operating at 570 pounds/sq. inch and 850 degrees Fahrenheit to give a service speed of 18.5 knots and a 'flat out' speed of over 20 knots. The turbines either had impulse blading or reaction blading depending on use for ahead or astern steaming, and the boilers had air heaters and economisers, together with the necessary fans for forced and induced draught. The boiler room floor was slightly above and directly accessible from the turbine manoeuvring platform.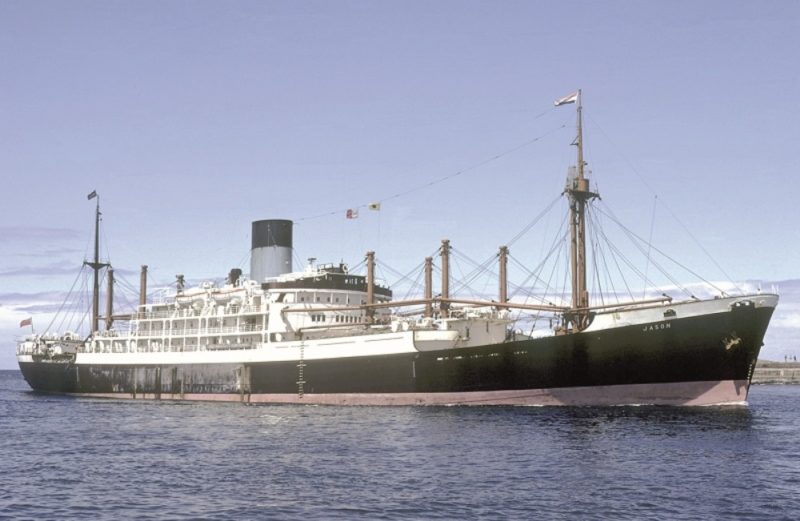 The solid four bladed propeller was made of brass, and the thrust block was of the Michell type, and was fitted immediately aft of the gear case. The gears were of the interleaved type, and the lower portion of the gear case was incorporated in the structure of the ship. The main condenser was of there generative type and suspended beneath the low pressure turbine casing, and was designed to maintain a vacuum under service conditions. Oil fuel double bottom tanks, side compartments and settling tanks carried between 2,190 and 2,396 tons of fuel, and the water ballast carried in several compartments including the fore peak and aftpeak totalled around 3,500 tons. Three DC generator sets of 350 kW and 240 volts were driven by four stroke cycle diesel engines and produced electricity for use throughout the ship, and there was an auxiliary steam driven generator set for emergency use.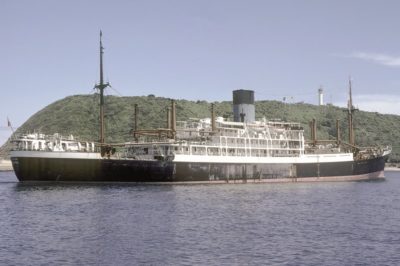 All eight vessels of these two classes had well raked and rounded bows, cruiser sterns, two masts and an elliptical funnel. The slots on the top of the forward side of the funnel were designed to clear smoke away from the aft decks and the docking bridge on the poop, and were later removed.
The gross tonnage of the 'P' class was 10,093 with a deadweight tonnage of 11,250 as a closed shelter decker, and the measurements for the 'H' class were 10,125 grt and 11,500 dwt, with more refrigerated compartments, including all of numbers 3 and 4 holds, in the 'H' class to reflect the importance of food exports from Australia. A distant reading thermometer installation was fitted for the refrigerated compartments.
All of the octet carried big crews of 83 people consisting of Master, 7 navigating officers, 7 engineer officers, purser, radio officer, doctor, nurse, 22 deck ratings, 22 catering ratings, and 18 Chinese engine room ratings and two cadets.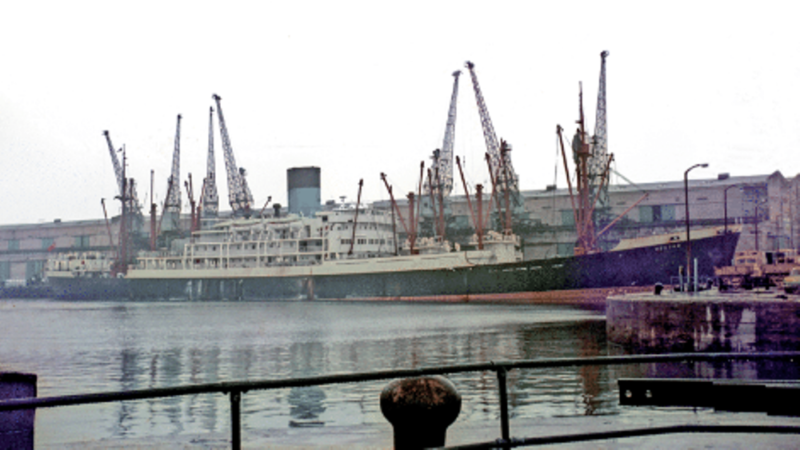 The Master had his cabin, day room and bedroom on the Boat Deck, together with the cabins for the radio officer and navigating officers, and there was also a cabin for the owner or his guests on this deck. There were six lifeboats provided on each ship of the 'P' and 'H' classes of length 26 feet, with one motor driven, and carried on mechanical davits.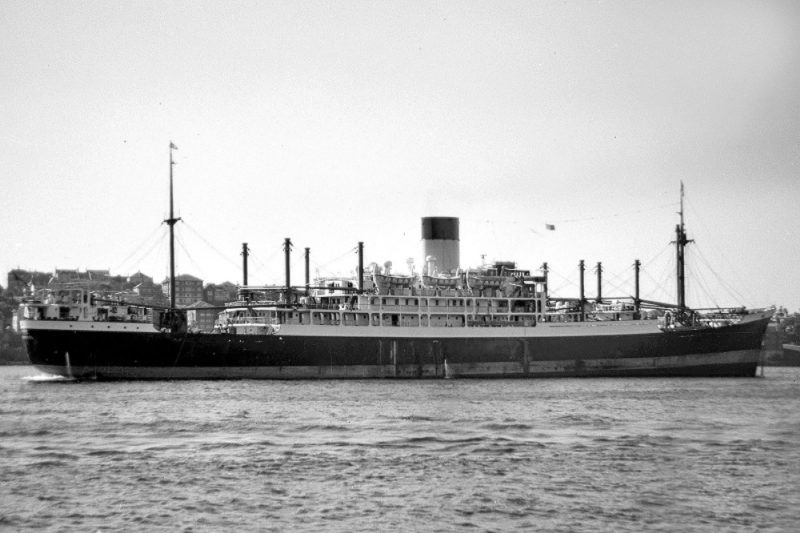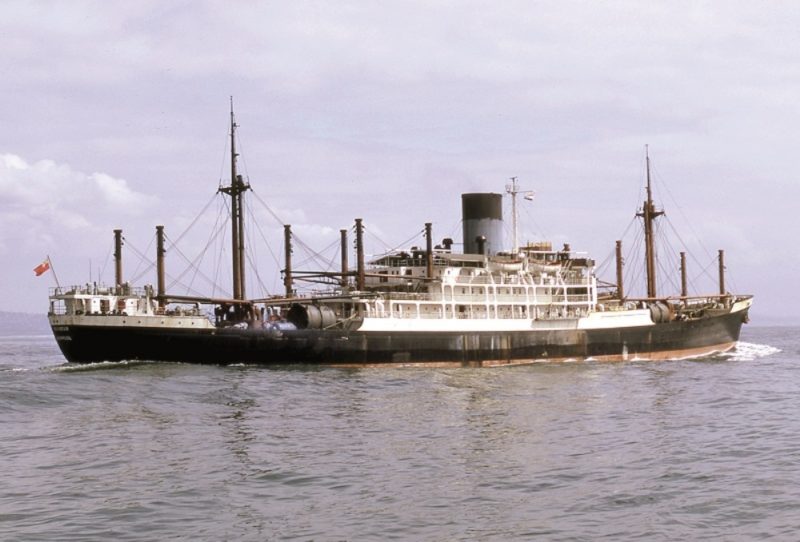 Subscribe today to read the full article!
Simply click below to subscribe and not only read the full article instantly, but gain unparalleled access to the specialist magazine for shipping enthusiasts.