Versatility by Design
The F-900 Ecolift class of ship first appeared on the scene in 2018, classed by DNV GL with its development being based upon operational experience gained from the day-to-day deployment of the earlier F-800 series, of which Intermarine's 12,810gt/2011-built Industrial Faith was the first. This vessel currently operates as the BBC Opal for Jungerhans Maritime Services. Flexibility, efficiency and reliability are key to a successful heavy-lift/Multipurpose Vessel (MPV) design with the F-900 coming at a time when a considerable number of ships in this segment were becoming long in the tooth. New environmental regulations were also driving up the cost pressures on older fleets. The first in a series of eight new 13,300dwt F-Class 900 vessels was delivered in November 2018 to Intermarine, equipped with two cranes with a combined lifting capacity of 900 tonnes. DNV GL provided pre-project support, annotating the specification documents and provisional designs to ensure operational flexibility and flawless interaction of the entire on-board ecosystem of cranes, holds, hatch covers, tweendecks and fastening equipment. The vessels were built at CSSC shipyards in Hudong and Huangpu Wenchong. The F-900, officially classed as a Heavy-Lift Box-Hold MPV Tweendecker, was designed for maximum efficiency and cargo flexibility, whether handling break-bulk, dry bulk, project or heavy-lift cargo.
The F-Class focusses on maximising cargo space and, as such, a design requirement of the F-900 was that the ship could load and unload cargo without using stabilisation pontoons. This equipment occupies valuable cargo space on such a vessel, plus handling the pontoons consumes precious loading/unloading time. The aforementioned flexibility of the F-900 is further enhanced by the hatch cover-less class notation. Break-bulk and project cargo, such as electrical transformers, wind turbine blades/nacelles and tower sections, cable drums, newbuild vessels and other floating cargo, port equipment, dockside cranes etc, is typically shipped in modules or sized as big as the available means of transport will allow. This can require a ship's cargo hold to remain open at sea but even this method of transportation for plus-sized loads is limited by the size of the hold.
The Tanktop has a deckload of 16t/m2 with this capacity on each Tweendeck being 5t/m2. The combined cargo area in the box-shaped holds is 3,870m2 and the capacity is 25,127m3 without the Tweendeck and 23,600m3 with the Tweendeck. The cargo hold can cater for wind turbine rotor blades of up to 105m in length on the Tweendecks, but longer examples need to be stowed on the unobstructed weather deck, possibly extending beyond the ship's stern. So, to avoid additional class or flag state conditions being imposed upon the F-900 fleet for open-hatch operation or overlength cargo, it was agreed to place the deckhouse at the bow. This was a logical move as the layout avoids visibility and navigational blind spots whilst conveying tall cargo that would require an additional fore mast radar unit.
The 5-level deckhouse was designed to feature integrated lateral wave bays and to double as a breakwater. Within the superstructure can be found the crew facilities that include the Crew and Officer cabins, mess and dayrooms, galley, stores and recreational area. A precise layout of the accommodation, and number of crewmembers catered for, was requested but not supplied. The Navigation Bridge is of course the uppermost level. To expedite cargo loading, the designers of the F-900 opted in favour of a combined hatch cover system by TTS. The forward and aft cargo holds employ hydraulic folding covers with the tandem-lift working area situated amidships being equipped with reinforced pontoon covers that can support up to 8t/m2. The other pontoon-type hatch covers each have a deckload of 5t/m2 with this design of hatch covers also offering the advantage of low-weight and ease of maintenance. The cargo area on the weather deck is 2,990m2 with Hatch No. 1 measuring 7.50m x 20m and Hatch No. 2 measuring 105.45m x 20m. The cargo capabilities also include a nominal capacity for containerised freight of 1,001 TEU. The hold areas can accommodate 471 TEU with 540 TEU carried on the weather deck. There are also 100 Reefer Sockets on deck. The ability to carry a mixture of project/bulk cargo guarantees to keep the F-900 Ecolift busy for whichever company such a ship serves. The bulk shipments could include bagged minerals, aluminium ingots or grain.
The cargo can be loaded/unloaded by two 450 tonne SWL electro-hydraulic cranes with a 900 tonne combined lifting capacity that gives the ship operational independence and the capability to collect/deliver freight at ports, harbours or anchorages. The pedestal-mounted cranes are located on the port side of the ship (as is the funnel), supplied by MacGregor who had custom-developed them with an extended jib for the new F-Class to maximize the accessible stowage area and enable the more flexible placement of cargo. The cranes have a 17m outreach under maximum load and can operate across the entire deck area. Whilst en-passage, the crane jibs can be stowed upright (also known as being "topped") to maximize the usable deck area. The cranes can also be operated in master-slave mode by a single operator, plus an option exists for a remote-control system for the crane outfit on these ships.
Sometimes the importance of a ship's machinery in optimising the cargo space can be overlooked in terms of general discussion, but this was another key criterion when selecting the propulsion system for the F-900. The machinery space is located aft with this class of ship being powered by a M.A.N Energy Solutions two-stroke 7S40 ME-B9.5 main engine, which was chosen for its efficiency and its lower overall height. Certified by DNV GL, with the latest B9 version in production since 2017, the 7-cylinder 7S40 ME-B9.5 produces 4,800kW at 105 rpm at 85% of maximum continuous rating (MCR).
The ME-B engine concept consists of a hydraulic mechanical system for activation of the fuel injection. The actuator is electronically controlled by a number of control units forming the complete Engine Control System. The engine stroke is 1,770mm and the engine unit is 5,142mm long, 2,337mm high, 1000mm wide with a dry weight of 11.4t. Three 6DEM-18 Daihatsu Diesel Mfg. Co., Ltd. diesel generators provide the on-board power with propulsion provided by a mono-block Wärtsilä propeller with a diameter of 7.20m. The fully balanced twisted leading-edge rudder and propeller cap installed was developed and customised by Wärtsilä specifically for this vessel type. The maximum service speed is 15 knots with manoeuvrability in port assisted by a single 900kW KT-88B3 Kawasaki Heavy Industries, Ltd transverse tunnel bow thruster. It is also worthy of note that the hull of the F-900 Ecolift was redesigned from previous versions to provide entirely new lines that optimise the assumed operating profile with trim optimisation, stability and stowage software being part of the standard package on each newbuild. DNV GL also created a global finite-element (FE) model of the vessel to analyse the structural integrity of the ship under the high and complex loads acting on the hull and long cargo hold. This assisted with the identification of areas in the structure that would require structural reinforcement.
New Start
On 23rd January 2020 the Hamburg-based multipurpose shipping company United Heavy Lift GmbH (UHL) announced that it had taken over a heavy lift fleet of nine Zeamarine eco-friendly F-900 newbuilds with immediate effect. The 2018-2019-built vessels were chartered to Zeamarine under a leasing deal with CSSC Shipping before being added to the UHL fleet. The Ecolift ships in question became the UHL Falcon (ex Zea Falcon/Industrial Falcon), UHL Flash (ex-Zea Flash), UHL Fortune (ex-Zea Fortune), UHL Future (ex-Zea Future), UHL Fame (ex-Zea Fame/Industrial Fame), UHL Fast (ex-Zea Fast/Industrial Fast), UHL Focus (ex-Zea Focus), UHL Frontier (ex-Zea Frontier/Industrial Frontier) and UHL Fusion (ex-Zea Fusion/Industrial Fusion). The 16,729gt Industrial Fame (UHL Fame) was the first of these nine F-900 ships delivered to Intermarine on 2nd November 2018. Zeamarine later purchased Intermarine, retired the brand and migrated the vessels to Zeamarine at which time all nine were renamed with the Zea prefix. So, in the space of 3 years the ships were subject to 3 different names and operators although records suggest that some of the younger ships may not have physically carried the "Industrial" name when delivered. UHL is part of the Hamburg-based United Group that also includes United Wind Logistics, United Engineering Solutions, and United Heavy Transport.
Another partner is Hammonia Reederei, who were involved with this initial batch of F-900s along with Intermarine. UHL was formed in April 2015 by Lars Rolner and is one of the leading providers of ocean transportation for heavy lift, breakbulk and project cargoes with services including chartering, cargo operations, technical supervision, and engineering solutions. A team of more than 120 highly skilled employees are located in 12 offices around the globe. With an operating fleet of around 28 highly specialised vessels, with capacities ranging between 10,000dwt-82,000dwt and a combined lifting capacity of up to 900t, UHL offers the full bandwidth from standard transportation to custom made engineering and transport solutions.

The F-900 ships had passed to UHL due to financial strife being encountered by Zeamarine that triggered a major restructuring exercise in what turned out to be a not entirely successful attempt to stave off bankruptcy. Zeamarine had been a joint venture with Rickmers Line, owned by Zeaborn, and Intermarine. Although Zeamarine was part of the Bremen-based Zeaborn Ship Management Group, the latter was unaffected by the funding storm that hit its subsidiary.
The Intermarine brand was sold as part of the restructuring and relaunched in February 2020 with operations handled from its existing New Orleans and Houston offices. These include weekly and bi-weekly container services from the U.S Gulf to the Caribbean, Mexico, Central America, and the west coast of South America. Events then went full circle in April 2020 when United Heavy Lift appointed Intermarine as its exclusive commercial agent in North America as the company already operates heavy-lift and breakbulk liner services there.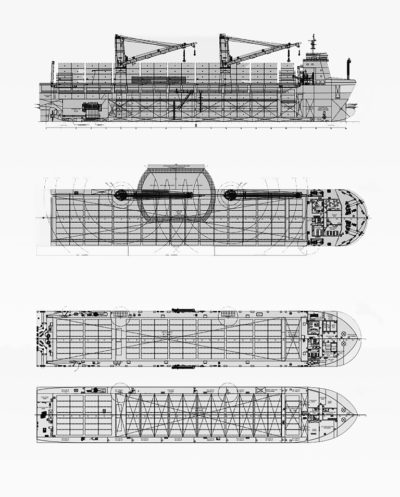 Building on Success
Following the popularity of UHL's F-900 fleet, delivery of a second series of 8 Ecolifters commenced on 18th January 2021 when the 16,729gt/2021-built UHL Faith was handed over by the Hudong-Zhonghua Shipbuilding (Group) Co., Ltd at Hudong in China. Having built all of the F-900s thus far, this shipyard group was founded in March 2001 and is one of the major shipbuilding enterprises within the China State Shipbuilding Corporation (CSSC). The Company consists of one headquarters in Pudong, Shanghai, and three shipyards, namely in Pudong plus Shanghai Shipyard Co. Ltd. and Shanghai Jiangnan-Changxing Shipbuilding Co. Ltd. The production is mainly carried out in Pudong, Puxi, Changxing Island and Chongming Island, Shanghai. Hudong-Zhonghua boasts shipbuilding and marine equipment manufacturing bases that have a total area of 4.8m2, 7,300m of quaysides, 19 quays, five 300,000dwt VLCC class dry docks, eight gantry cranes of 600t capacity or above plus state-of-the-art production lines. Hudong-Zhonghua succeeded in building the first LNG carrier in China and this has brought much success since. The Company has also maintained its position as a fore-runner in designing and building container ships, including 8,530 TEU, 9,400 TEU, 13,500 TEU and 14,500 TEU capacity newbuilds, and designed its own 20,500 TEU ships. A further 5 F-900s will be delivered in 2021 with 2 more following in 2022. All 8 sisterships are chartered to UHL by CSSC Leasing, China via a 14-year time charter and were originally ordered by the now defunct Zeamarine in 2015. The F-900 remains one of the most economic MPVs available and is 149.99m long with a beam of 25.60m, a summer draught of 8.30m, a hull depth of 10.65m and a ballast capacity of 8,871m3.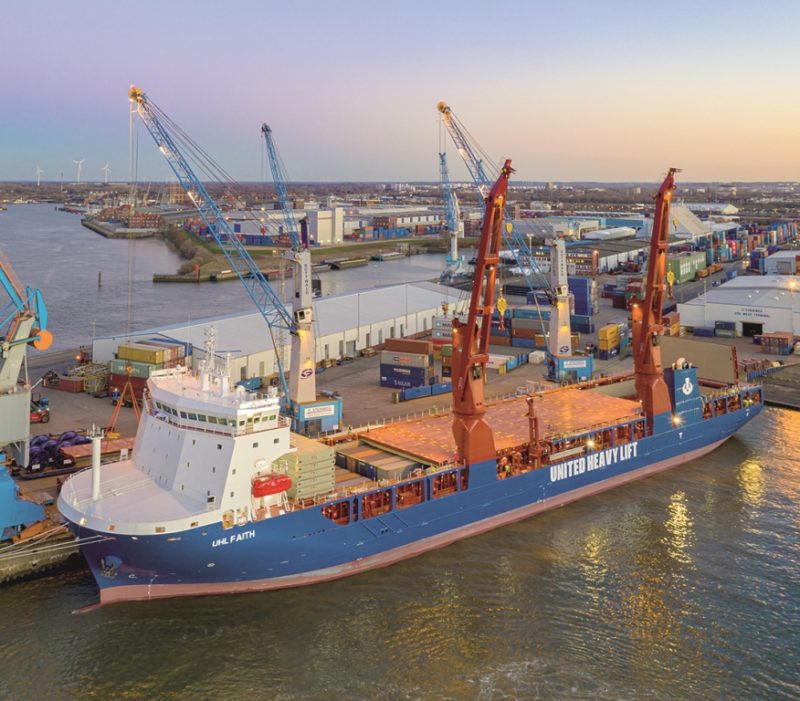 After delivery the UHL Faith loaded 435 FEUs at Shanghai for her maiden voyage of 12,277 nautical miles from towards Europe and the port of Hamburg, where she arrived on 4th March (above). The ship had been chartered by freight forwarder Geodis to ease the Far East backlog however, chartering containerships is almost unheard of, given the frequency and regularity of liner services in normal times. But, disruption to container services caused by the pandemic and other issues, coupled with soaring freight rates, had prompted shippers to look at alternatives. Further such shipments, from around 10th February onwards, were scheduled if and when demand dictated.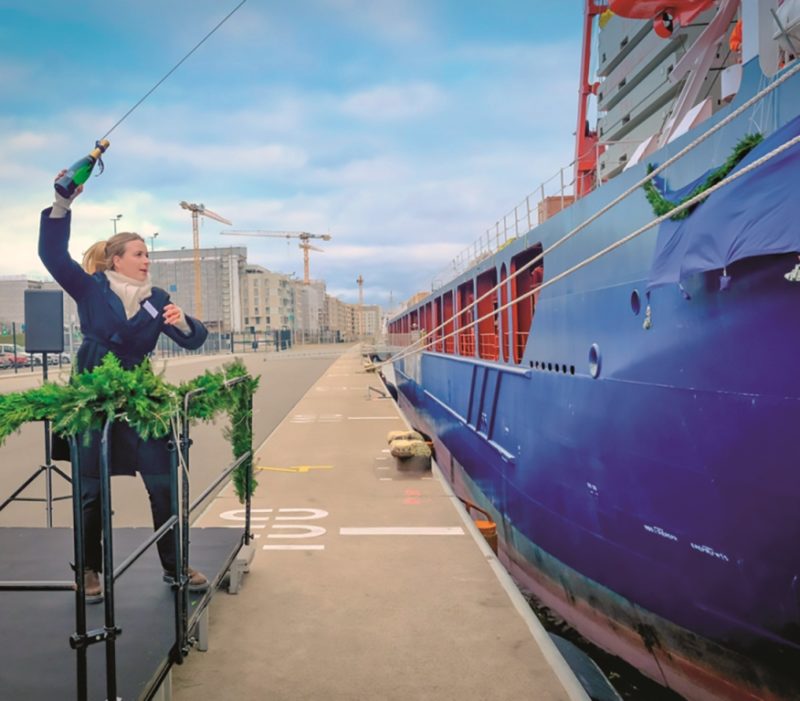 Once in Hamburg, the UHL Faith discharged her cargo on 4th/5th March and then had her naming ceremony on 6th March at the SWT Terminal. This was the first christening of a heavy-lift vessel in Hamburg in 10 years and had been postponed slightly from the original plan.
Naturally, due to Covid-related restrictions, the naming ceremony was held for a small group only but many tuned in to watch the live stream and the bottle of champagne smashing against the bow (above). United Heavy Lift's headquarters is located in Hamburg's HafenCity, directly on the riverfront and opposite the assigned discharge terminal. The christening was undertaken by the ship's Godmother, Romy Zech whilst the other formalities were carried out by Andreas Rolner & Lars Rolner.

After the celebrations, the UHL Faith sailed again for the Far East for her next shipment. At the time of writing, the UHL Force and UHL Freedom were scheduled for May 2021 delivery followed by the UHL Flair (June 2021), UHL Fierce (July 2021), UHL Finesse (October 2021), UHL Fighter (January 2022) and UHL Felicity (April 2022).