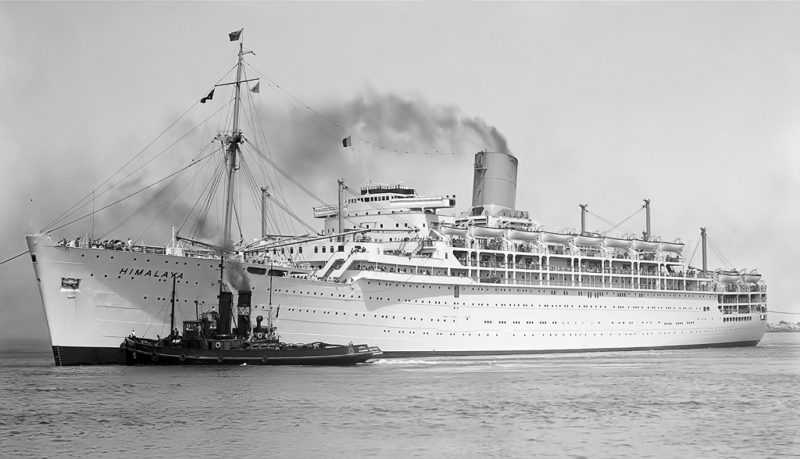 During the Second World War the P&O Group suffered heavy losses, with a total of 19 ships being lost. In addition to freighters, those losses included seven passenger liners and the custom-built (11,279grt/built1938) troopship Ettrick. The German U-boat U-155 torpedoed this vessel on the 15th November 1942, 150 miles west of Gibraltar.
In order to replace these losses and to resume the regular Far Eastern and Australian trade, two new, modern, passenger/cargo liners were ordered from Vickers Armstrong & Co. Ltd., at Barrow in Furness. These would be the Himalaya, intended for the UK to Australia service and the Chusan for the Far Eastern service.
Although very similar in appearance, Himalaya at 27,898 grt was slightly larger than Chusan at 24,215 grt. Himalaya had the same hull dimensions and mould as the Orient Liner Orcades, although when completed, they would present a different appearance. They were consecutive builds in the shipyard, Yard No. 950 being Orcades and 951 Himalaya.
Chusan was intended to supplement the three 'Far East Sisters', Corfu (14,251grt/built 1931), Carthage (14,304grt/built 1931) and Canton (15,781grt/built 1938) all of which had served with distinction as Armed Merchant Cruisers and then troopships during the Second World War. Fortunately all three survived and entered service after the war being refurbished to a high standard. Chusan was also a replacement for Viceroy of India (19,648grt/built 1929, which was lost on the 11th November 1942 after being torpedoed by U-407.
Of the three other, but older, 'C' Class ships on the pre-war Far Eastern service, Comorin (15,116grt/built 1924), Cathay (15,104grt/built 1925) and Chitral (15,248grt/built 1925) the first two were lost during the war, and after surviving the war the third was converted to an immigrant carrier for the increasing UK to Australia immigrant trade. She was not refitted to a very high standard and was scrapped in 1953.

HIMALAYA
Himalaya was the third ship in the P&O fleet to carry the name, and was ordered from Vickers Armstrong at Barrow in Furness in January 1946. Her keel was laid in April 1946 and she was intended to be the elite ship for the route.
Lady Currie, the wife of the P&O Chairman, Sir William Currie, launched her on the 5th October 1948, and her trials took place on the 24th August 1949. Over the measured mile off the Island of Arran Himalaya logged a speed of 25.13 knots. Sir William Currie was also a passenger on the ship's maiden voyage to Australia.
Himalaya had cost just under £3.5 million to build and was handed over on the 1st September 1949, about 18 months late and £1 million over budget. The ship was intended for the service to Australia from Tilbury, calling at Gibraltar, Marseilles, Naples, Port Said, Aden, Bombay, Colombo, Singapore, Fremantle, Adelaide, Melbourne and Sydney.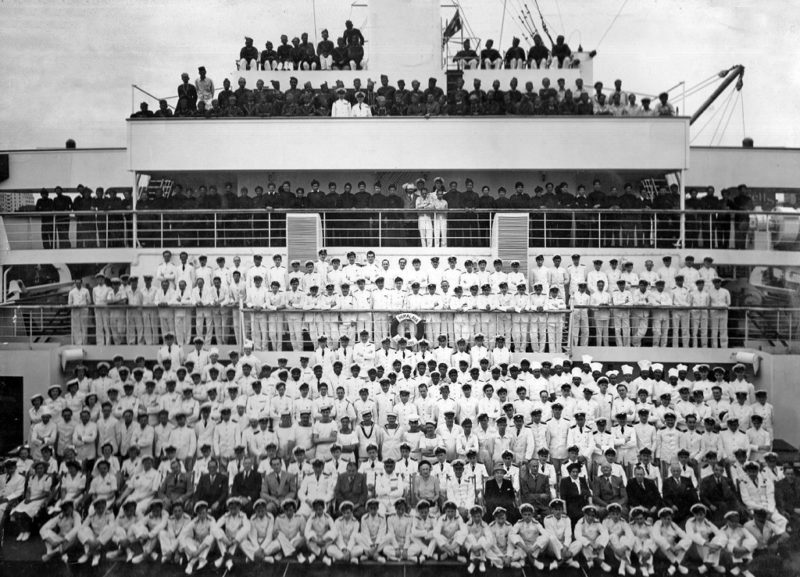 Details of Himalaya
Gross Tonnage (as built) 27.898, 15,443 net, 9,659 deadweight, (1963) 27,989 grt, (1969) 28,047 grt.
Length 708 ft. 6 inches, beam 90 feet 6 inches, draught: 31.2 feet.
Subscribe today to read the full article!
Simply click below to subscribe and not only read the full article instantly, but gain unparalleled access to the specialist magazine for shipping enthusiasts.