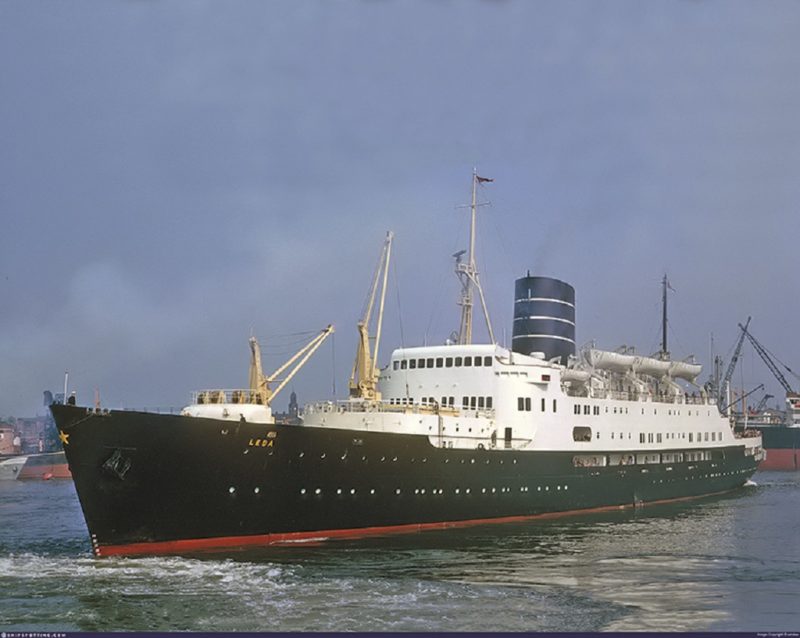 The Port of Tyne Authority was formed on 31st July 1968 as a Trust Port with a shield crest of four blue and red quarters representing South Tyneside, North Tyneside, Newcastle and Gateshead, and with the Latin motto of 'Servat Vigilantia Concors' or 'United Vigilance Preserves Us'. It was constituted by an Act of Parliament with no owners or shareholders and is governed by an independent Board of up to four executive directors, and up to eight non – executive directors whose appointments are confirmed by the Secretary of State for Transport. The port receives no Government funding and is run on a strictly commercial basis, and reinvests all profits back into the port for the benefit of all its stakeholders, who are customers, employees, business, government, and the communities of South Tyneside, North Tyneside, Newcastle and Gateshead. The primary duty of the Port of Tyne Authority is to manage, maintain, develop and improve the port, with the role of the Board and its directors to ensure that the Port of Tyne fulfils this primary duty. The duties of non-executive directors are comparable to those of company directors with the additional obligations, responsibilities, and statutory duties specific to a large Trust Port.
The main Trust Ports in the U.K. are the Port of London Authority, Milford Haven Port Authority, Harwich Haven Authority, Dover Port Authority, Shoreham Port Authority, Poole Harbour Commissioners, Port of Sunderland Authority, Blyth Harbour Commission, and over forty very small ports governed by Trustees or Commissioners. The U.K. ports that have commercial shareholders and a different structure of management belong to Associated British Ports (ABP) or International Container Groups.
The major inquiry into the ports of the U.K. took place between 1961 and 1964 and was published as the Rochdale Report, from which the Port of Tyne Authority took Trust Port status in 1968.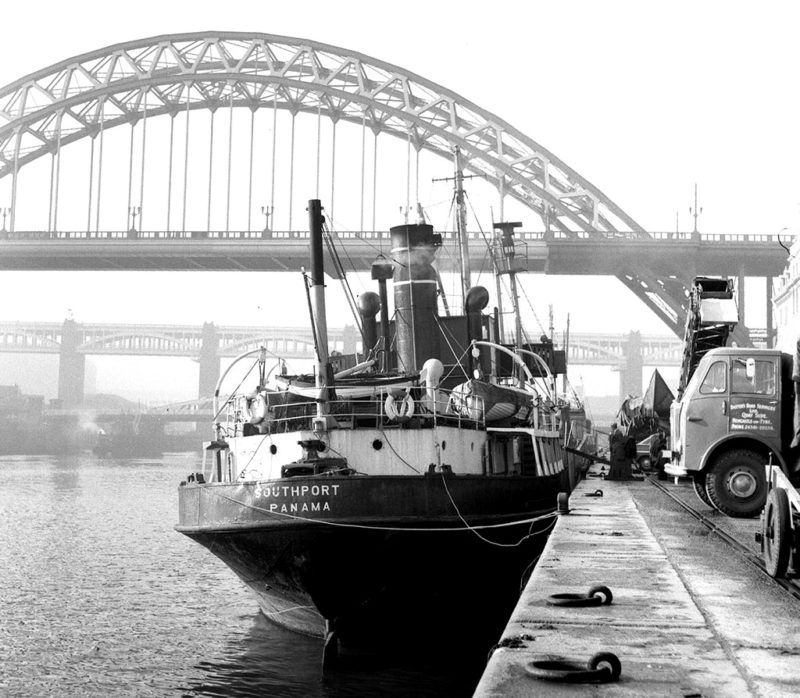 A PORT THAT HAS UNDERGONE MANY CHANGES
During my 77 years, I have seen enormous changes on the river of my birth. A predominantly coal exporting and timber and iron ore importing port has been replaced by a slimmer port importing biomass, specialist bulk cargoes, and containers, and exporting two thirds of one million cars per year. The former shipbuilding and shiprepair workforce of 200,000 men have been replaced by specialist workers employed in wind turbine manufacture and high technology:-
Offshore Repair and Conversion Yard of A. & P. at Hebburn, the centrepiece of which is an 850 feet long dry dock and formerly used as a building dock by Swan Hunter Shipbuilders Ltd.
Offshore Technology Park at Walker producing flexible pipe for undersea oil fields, the hammer head crane of this former Vickers Armstrong Ltd. High Walker shipbuilding yard is still in use to lift the heavy reels of flexible pipe weighing up to 500 tonnes into heavy lift ships.
The Hadrian Offshore yard at Wallsend manufacturing subsea structures and subsea leg extensions to wind turbine foundations. The yard was recently sold for £15 million and has a long history of maritime engineering on the Tyne in the same one kilometre of quay occupied by the former North Eastern Marine Engineering Co. Ltd. and Wallsend Slipway Co. Ltd. The Belgian firm of Smulders has leased the yard for £1.5 million per year, with the 75 acre yard having a long jetty with cranage, warehouses, industrial accommodation plus a 25 acre re-inforced concrete assembly pad for foundation work, with power of 5,000 kw generated through ten substations. The subsea leg extensions of wind turbines are towed out on barges bound for the East Moray Offshore Wind Farm.
Ten Tyneside companies with long experience in the manufacture of cable, flexible pipe, umbilicals and ropes, as well as the ploughing and laying of undersea cable, seabed operations and undersea construction, specialist marine engineering and general engineering services. This represents a very profound change in the nature of new jobs available on the river, moving away from manual forms of working in heavy industries such as shipbuilding and ship-repair into digital computer controlled high technology work.
PORT OF TYNE HISTORY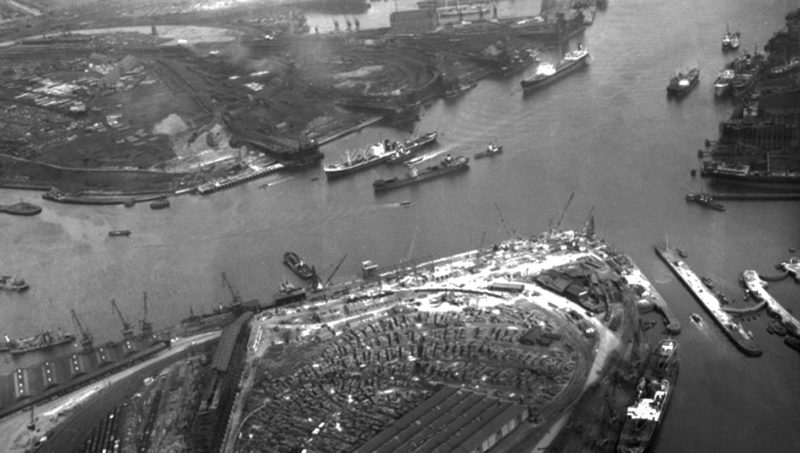 The Port of Tyne Authority took over the work in 1968 of the Tyne Improvement Commission, established on 15th July 1850 when given stewardship of the Tyne from the City of Newcastle, and which four years later began a massive programme of development and improvement of the river that continued well into the 20th century. This laid the foundations of what was to become one of the largest Trust Ports in the U.K. In 1859, direct rail links consisting of six bridges over the outer road of Tyne Dock opened that year to give later shipments of seven million tons of coal per annum with a loading rate of 500 tons per hour and the highest daily record of 34,975 tons of coal. The depth of water over the sill entrance at Tyne Dock was 33 feet at high water.
The Tyne was deepened from 1.83 metres in 1850 to 9.14 metres by 1920 with well over 150 million tons of silt dredged from it. The very long North and South Piers were built to form the only Harbour of Refuge between the Humber and the Forth. Northumberland Dock was opened in 1857, Tyne Dock (opened in 1859) and Albert Edward Dock (opened in 1888) were opened to great fanfares of the Victorian era, and dozens of coal staiths lined both sides of the river as far inland as Dunston and Elswick in Gateshead and Newcastle. The results of these endeavours were 23.0 million tons of cargo handled in 1910, and 23.5 million tons of coal alone handled in 1923. The Tyne Commission Quay was opened in 1928 to develop the passenger and cargo trades to Norway.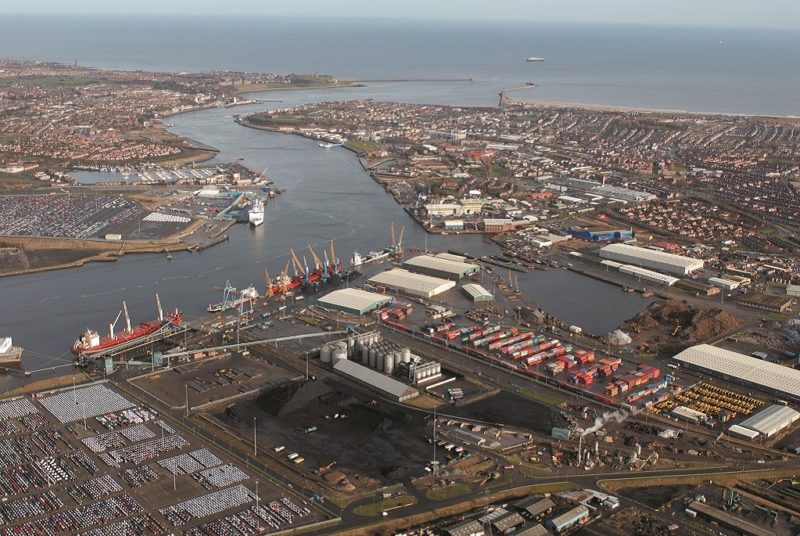 Setbacks did occur however, such as the destruction by fire of the new Commissioners No. 5 staith on 3rd March 1905, and it was then rebuilt and re-opened in 1908. A miners' strike of two months duration from February to March 1912 reduced the total for that year, and shipments during the Great War fell by almost one half with coastwise shipments mostly transferred to rail as that was considered the safer option.
Another miners' strike in 1921 from 4th May to 1st June delayed the post war recovery of the industry, but was inconsequential compared to the severe drop in coal shipments of the six months miners' strike of 1926 from 1st May to 2nd December, shipments for that year being only six million tons.
The buoys and tiers on the river were overflowing with laid up ships during the Great Depression, the long lines of ships moored side to side almost stretched across the full width of the river. Stag Line of North Shields had all of their tramps laid up for extended periods of years, and the engines 'midships tanker Gloxinia of 5,542 dwt, and built on the Tyne in 1920, was laid up at Stanhope Buoys from 14th October 1930 to 26th January 1937. Freight rates began to improve during 1937 with 165 ships in the river on 31st October 1938, including Gloxinia laid up again at Felling Tiers. Colliers were also laid up for long or short periods waiting for coal, as the average freight rates for coal from the Tyne to London in 1930 were only £2-48s per ton. The average rate for coal on this trade for all of the seven years from the start of 1930 to the end of 1936 was only £2-80s per ton, however freight rates increased rapidly during 1937/38 and had almost quadrupled during 1939 at £9-10s per tonne for coal to London.
The Head Office of the Port of Tyne Authority was in Bewick House in Newcastle and near the great Central Railway Station opened in 1849 until it was moved in 1997 to Maritime House at Tyne Dock. Bewick House had a large board room with semi-circular benches of sufficient size to hold 36 representatives called Commissioners in addition to the Chairman and the Deputy Chairman.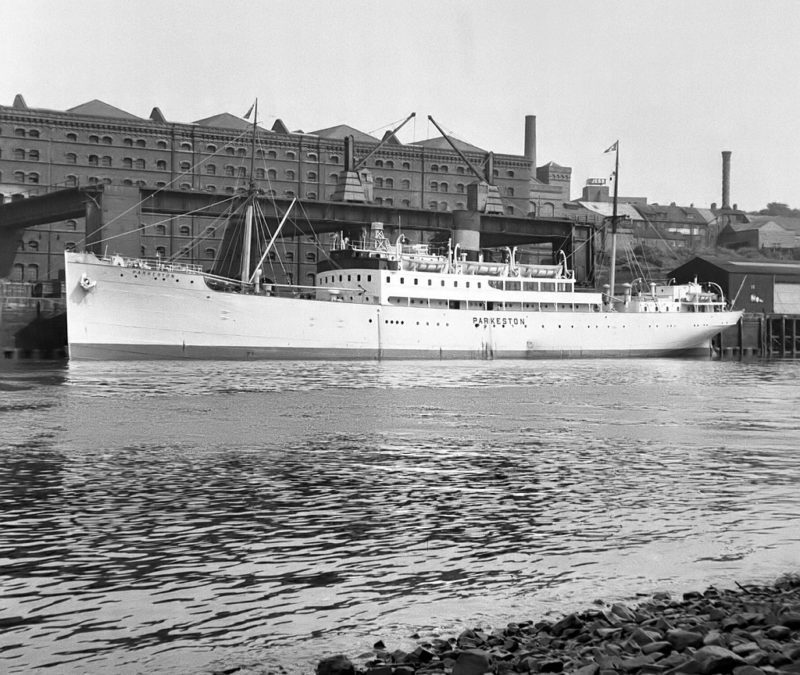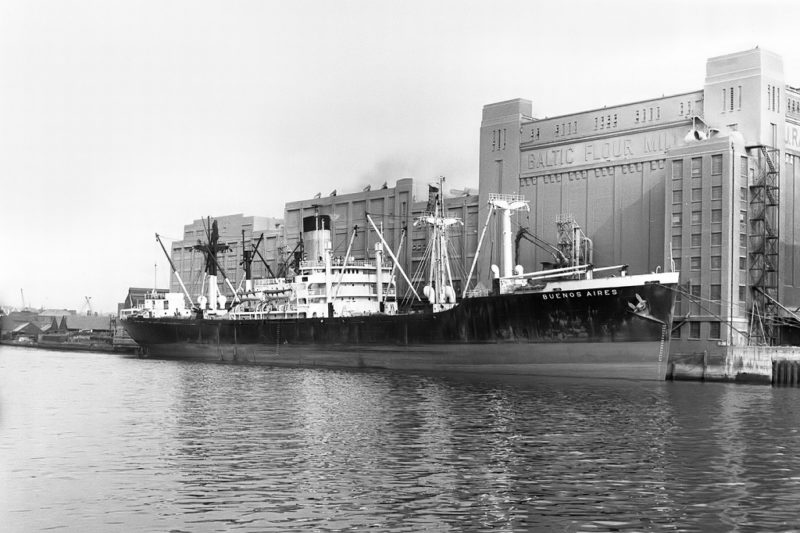 The 7,604grt Buenos Aires of Empresa Lineas Maritimas Argentinas was built in 1945 by Bethlehem-Fairfield at Baltimore as the Smith Victory for the U.S. Government. She became Buenos Aires in 1947. In 1963 she joined Southwind Shipping of Liberia and was renamed Fairwind. On 11th February 1968 she ran aground on the Grand Bahama Bank, near Andros Island. She was a total loss and was towed to Bilbao to be broken up by Hierros Arbulu. She is seen here at the Baltic Flour Mills at Gateshead which closed in 1981. (Armstrong Railway Photographic Trust)The Commissioners were composed of a dozen drawn from shipowners and traders (the fee payers of the port), five from the National Coal Board, and 17 appointed by the Corporations of Newcastle, Gateshead, Tynemouth, South Shields, Jarrow and Wallsend, with two nominated by the Minister of Transport.
The Harbours Act of 1964 requires all Trust Ports in England and Wales to deliver their accounts annually to the Secretary of State for Transport.
The accounts must show the performance indicators of:-
FINANCIAL Profitability Return on Capital Employed, Weighted Average Cost of Capital (WACC) and the Gearing.
OPERATIONAL Labour Productivity, Profitability of Land Holdings, Channel Depth Management and Berth Utilisation.
WIDER COMMUNITY Gross and Net Value Added to the Local Community, in 2015 the Port of Tyne added £710 million to the regional Gross Value Added of the area and supported 14,490 jobs in the North East of England.
The Port of Tyne had the following docks and berths when established in 1968:-
NORTH SHIELDS FISH QUAY 995.0 metre quay, alongside depth 3.0 metres, fleet of a dozen deep sea trawlers, modern facilities for gutting and freezing of fish.
ALBERT EDWARD DOCK entered through a lock 105.0 metres long, 18.3 metres wide, depth over sill 10.9 metres. Warehouse Quay on south side 356 metres long, alongside depth 7.9 metres, 5 electric cranes of up to 5 tons capacity, transit shed of 2,000 m2. Two ro-ro berths fitted for heavy lift loads on transporters up to 510 tons, 3 electric cranes, 19 forklifts, and 10 trailers on east side. The dock was closed down in the 1990s and transformed into a marina.
TYNE COMMISSION QUAY and EXTENSION 335.0 metre quay plus 118.0 metre extension, alongside depth 7.1 metres, 8 electric cranes of up to 6 ton capacity, one crane for containers of 42 tons capacity, transit sheds of 6,172 square m2.
CAR FERRY TERMINAL Two Ro-ro berths with adjacent modern passenger facilities, car and lorry park, transit sheds and trailers and opened in 1966.
TYNE DOCK entered through a tidal entrance 21.3 metres wide with gate depth of 10.3 metres, vessels could enter up to 152.0 metres overall length, 19.8 metres beam, 8.5 metres in depth. North West Quay of 243 metres in length, 8.2 metres alongside depth, nine electric cranes, transit shed of 1,858 m2. East Quay of 196.0 metres in length, 7.0 metres alongside depth, 4 cranes including 2 mobiles, 24 forklifts. The high level coal staiths closed down in 1967 with the German coaster Atlantis taking the last cargo of 500 tons.
RIVERSIDE QUAY known as the Iron Ore Quay in 1968 until renamed in 1974 of 264.0 metres in length, 10.5 metres alongside depth, 2 transit sheds each of 3,000 m2, 5 electric cranes of 12 tons capacity.
SUTHERLAND QUAY built in 1942, 137.0 metres in length, alongside depth of 6.5 metres, transit shed of 1,000 m2.
NEWCASTLE QUAY long quay of 930.0 metres in length starting from below Tyne Bridge, alongside depths of up to 8.5 metres, 4 transit sheds, 4 mobile cranes, 13 electric cranes of up to 30 tons capacity, 11 forklifts. The Newcastle Quayside was closed for cargo operations in the 1990s and has since had housing built on it.
JARROW STAITH with 2 berths opened in 1936 with alongside depth of 7.1 metres owned by Port of Tyne Authority, maximum height of shipment 23.3 metres, loading rates of up to 1,000 tons per hour.
HARTON STAITH with one berth owned by National Coal Board, alongside depth 5.9 metres, maximum height of shipment 11.9 metres. The staith was closed in 1993 after the Siemens electric locos were retired in 1989 that hauled the coal from the mines to the staith.
DUNSTON STAITH with 3 berths owned by British Rail, alongside depth of 5.5 metres, maximum height of shipment 18.0 metres. The staith closed down in the early 1980s after exporting coal in larger ships to Canada and around the world during the last few years of operation.
WHITEHILL POINT STAITH Berth 'A' opened on 22nd November 1954 of alongside depth 9.0 metres, 2 modern tipplers with loading rate of 500 tons per hour. No. 5 Gravity Staith with hydraulic lift to increase the maximum height of shipment and a coal anti-break appliance was nearby, but closed down in 1963, and Whitehill Point Staith closed on the last day of 1974, after sending away well over one million tons of coal per year for 20 years.
ESSO PETROLEUM INSTALLATION Tanker berth of 274.0 metres in length at North Shields, alongside depth of 9.5 metres for tankers up to 26,600 dwt such as Esso Cambridge built in 1954, smaller berth of 167.0 metres in length, alongside depth of 6.2 metres for storage of oil and gasoline.
SHELL OIL INSTALLATION built in 1922 at Jarrow, new berth of 189.0 metres in length, alongside depth of 8.6 metres for storage of oil and gasoline from tankers such as the chartered Vestfonn of 19,808 dwt owned by Sigval Bergesen of Stavanger.
VELVA LIQUIDS oil berth at South Shields of length 170.0 metres, alongside depth of 7.7 metres, another oil berth at Howdon of length 248.0 metres, alongside depth of 7.1 metres
SPILLERS FLOUR MILL a berth at Newcastle Quay of 173.0 metres in length, alongside depth 8.0 metres, silo capacity of 34,000 tons, discharge rate 150 tons per hour.
RANK HOVIS FLOUR MILL berth at Gateshead of 198.0 metres in length, alongside depth of 8.0 metres, silo capacity of 22,000 tons, dischargeof 150 tons per hour.
TANKER CLEANING BERTH at North Shields to west of Whitehill Point Staith, berth of length 243.0 metres, alongside depth of 7.1 metres, with adjacent shore installation, all owned by Tyne Tanker Cleaning Co. Ltd. Tank washing, oily sludge separators working at 1,000 tons per hour, plus various treatment and storage tanks, steam boilers and pumping plant.
SHIPREPAIR FACILITIES with 27 dry docks, the largest of 217.9 metres in length, 32.0 metres wide entrance and depth on sill of 9.4 metres. Four slipways, the largest having a cradle of 94.5 metres in length. Deep water quays at all yards for repairs afloat.
GENERAL SERVICES Oil, food provisions and water at all berths. Medical services for all emergencies. International airport 10 kilometres north west of Newcastle City Centre.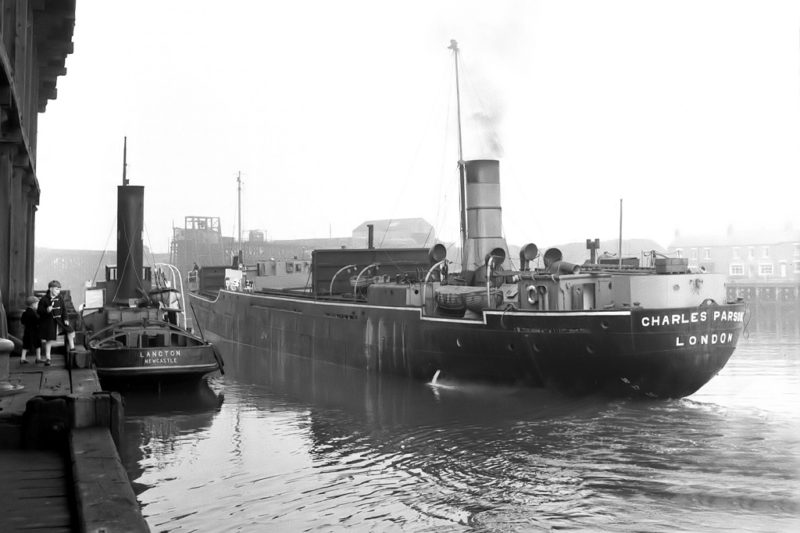 PORT OF TYNE IN THE 1960s
The annual traffic of the port in the 1960s was running at over 10 million tons of imports and exports before the creation of the Trust Port in 1968. This was composed of many commodities including coal, coke, containers, iron ore, manganese ore, zircon sand, silver sand, peat, aluminium hydrate, packaged timber, oil and petrol, vegetable and edible oils, grain, antimony, lead, aluminium, zinc concentrates, sulphate of ammonia, petroleum coke, foodstuffs including beer and spirits, tea, coffee, forestry products, slab steel, steel plates, steel pipes, and many types of vehicles including lorries, trailers, cars, buses, vans, diggers, agricultural and construction equipment, electrical equipment, and many other commodities:-
TYNE TRADE IN 1963 AND 1964 IN MILLIONS OF TONS
1963      1964
Coal and Coke                            6.583     4.973
Iron Ore                                      0.707     1.210
General cargo imports             2.786      3.453
General cargo exports              0.468     0.458
TOTAL                                         10.544   10.094
Timber imports in 1964 totalled 312,000 tons, while oil and petroleum totalled 1.161 million tons. Some 130,000 passengers embarked on the Bergen Line ferries to Stavanger and Bergen, and 50,000 on the Fred. Olsen service to Oslo, with 11,000 passengers embarked on the DFDS ferries to Denmark, and 8,000 cars were lifted onboard by the old fashioned method of 'skids' under the wheels, taking great care not to drop them into the river. The biggest cargo of iron ore had arrived in the port in July 1962 of 39,583 tons onboard the ore carrier Ore Prince. The Oil and Gasoline Storage facilities of Esso Petroleum at North Shields and the Shell Mex & B.P. at Jarrow had tankers of up to 26,500 dwt arriving with their liquid cargoes. The seasonal summer service of Dalgleish Line to Port Churchill on Hudson Bay lifted 'all terrain' vehicles, Belvedere helicopters, and heavy electrical equipment for the Squaw Rapids Power Station of the Saskatchewan Power Corporation in their owned vessel Warkworth, built in 1962, and chartered ships such as North Devon, built in 1958, of the North Steamship Co. Ltd. of Newcastle.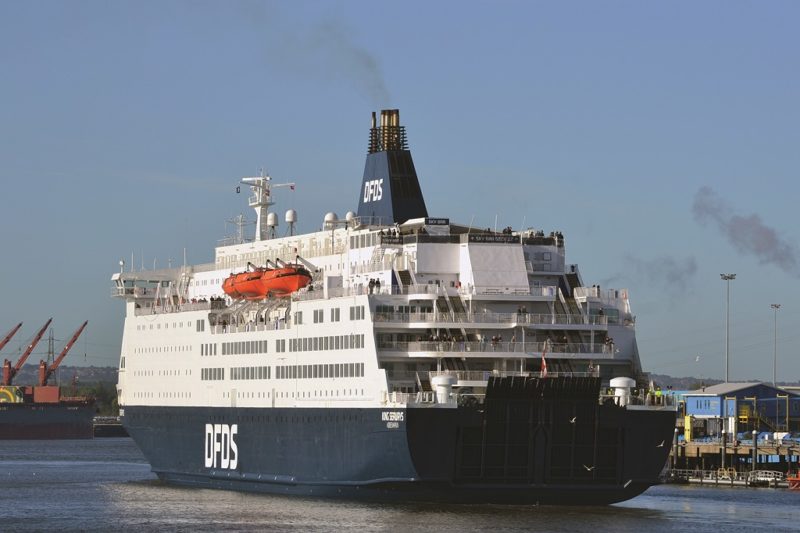 There were a large number of liner trades for general cargo served by the port to the Continent, East and West Coasts of North America, South Africa, West Africa, Mediterranean and the Middle and Far East, and Australia and New Zealand. These were:-
Shipping Co.                                       Route  Frequency
Tyne Tees Steam Shipping
London                                      Twice weekly
Rotterdam                                Twice weekly
Amsterdam                              Weekly
Antwerp                                    Weekly
Ghent                                        Weekly
Bremen                                     Weekly
North French Ports                By cargo inducement
Link Line Ltd.  
Rotterdam                                Twice Weekly Unit Load
Coast Lines Ltd.  
Belfast                                       Weekly
Leith                                          Weekly
Aberdeen                                  Weekly
Stornoway                                Weekly
Londonderry                            Weekly if inducement
Liverpool                                  Weekly if inducement
Worms Line, Paris
Dunkirk & Rouen                   Fortnightly
General Steam Nav. Co. Ltd.
Italy                                           Fortnightly
Spain, Portugal                       Monthly
Bergen Line
Stavanger/Bergen                  6 times weekly (summer)
Fred. Olsen & Company   
Oslo/Kristiansand                  3 times weekly (summer)
                                                    Twice weekly (winter)
DFDS
Esbjerg Twice                          Weekly (summer)
Copenhagen                             Weekly (summer)
Swedish Lloyd
Gothenburg                              Weekly
Rex Line, Sweden
Stockholm                                Weekly
Finland Line

Helsinki                                    Monthly
Icelandic Steamship Co. Ltd.
Reykjavik                                 As cargo offered
Cairn Line
Quebec/Montreal                 Fortnightly (summer)
Halifax & St. John                Fortnightly (winter)
Great Lakes                            As cargo offered
Dalgleish Line
Port Churchill                        Seasonal when port open
Furness Withy & Co. Ltd.
Great Lakes                            Monthly
Ellerman & Bucknall Line
South/East Africa                 Monthly
Union-Castle Line               
East Africa                              Every two months
Fjell Oranje Lines
St. Lawrence Seaway            As cargo offered
Blue Star Line
British Columbia                   As cargo offered
Prince Line
Mediterranean                       As cargo offered
Ellerman's Wilson Line
Mediterranean                       As cargo offered
Westcott & Laurance Line
Mediterranean                       As cargo offered
Palm Line
West Africa                             As cargo offered
Guinea Gulf Line
West Africa                            As cargo offered
Elder Dempster Line
West Africa                            As cargo offered
Nigerian National Line
West Africa                            As cargo offered
British India Line
India & Pakistan                   As cargo offered
P&O. Line
India & Pakistan                   As cargo offered
Scindia Line
India & Pakistan                  As cargo offered
Brocklebank Line
India & Pakistan                  As cargo offered
Ben Line
Far East                                As cargo offered
Strick Line
Persian Gulf                        As cargo offered
Port Line
Australasia                          As cargo offered
Shaw, Savill & Albion Line
Australasia                         As cargo offered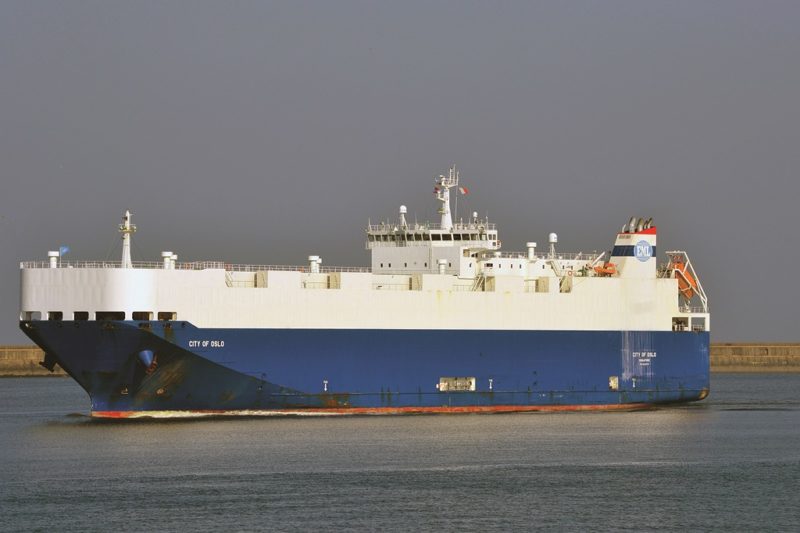 FIVE SUBSEQUENT DECADES OF THE PORT OF TYNE
PASSENGER TRAFFIC
Fred. Olsen began passenger sailings from Oslo, then called Christiania, to the Tyne in 1906 with old steamers that were replaced with a more modern passenger ferry, Blenheim of 1,807 grt, in 1923. After World War II, the first of two very stylish, almost yacht like sisters, was launched on 16th August 1950 at the Woolston yard of John I. Thornycroft & Co. Ltd. at Southampton as Blenheim (2) of 4,766 grt. She was fitted out and completed by the Oslo yard of Akers Mek Verksted in February 1951, and was joined by her sister Braemar in May 1953. Unfortunately, Blenheim (2) caught fire on 21st May 1968 in the North Sea about 220 miles east of Dundee, her passengers were evacuated to rescue ships and then transferred to Braemar with no loss of life. Blenheim (2) was a total loss and was sold for conversion into a car carrier, with Braemar sailing alone on the Tyne to Kristiansand and Oslo route three times weekly until her last sailing from North Shields on 2nd August 1975. She was replaced by Borgen of 5,330 grt four days later and by Bolero of 10,568 grt on 12th October 1976 until withdrawn in May 1978. Blenheim (3) of 10,427 grt completed on the Clyde by Upper Clyde Shipbuilders Ltd. in 1970 ran from the Tyne to Kristiansand and Oslo in the 1976 and 1978/81 summer seasons alongside Venus and Jupiter of the jointly owned 'Fred. Olsen/Bergen Line'. The revived Kristiansand and Oslo service from the Tyne, and another to Alesund and Molde, during 1989/90 were unprofitable and were terminated. Fred. Olsen funnel colours with their famous 'bone and biscuit' logo have today been seen since 2006 in their fleet of graceful cruise ships.
Bergen Line passenger services to Norway in the early 1960s were four times weekly in summer shared by the twin funnelled Venus built in 1931 and the turbine propelled Leda built in 1953 on the Tyne by Swan, Hunter & Wigham Richardson Ltd. The combined maximum passenger total of both ships for a week was 3,664 passengers, paying only £13 in First Class (excluding meals) and £7 in Tourist Class (excluding meals) for the full route from Newcastle to Stavanger, Haugesund and passing under a high level bridge to reach Bergen. Venus was hard aground on the Groyne rocks on 23rd May 1963 but six hours of hard pulling by the tug George V pulled her free, while Leda suffered intermittent turbine troubles. In Spring 1965, Venus was repainted with a white hull and yellow funnels and made two sailings per week to Stavanger with hydrofoil connection to Bergen. Leda increased her sailings to three per week during the same summer.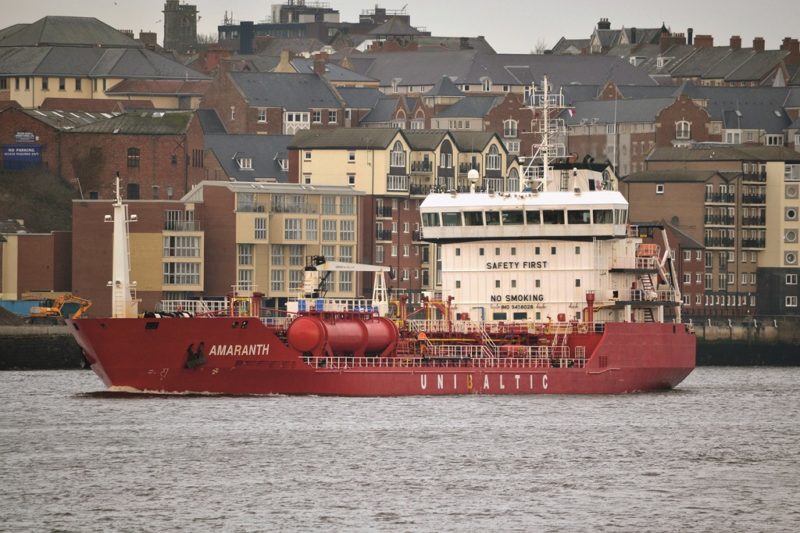 Passengers wishing to take their cars to Norway in 1966 were catered for by two new ro-ro passenger ferries, Venus and Jupiter, on the summer Bergen Line service to Norway, while a schizophrenic change of name to Black Prince and Black Watch respectively was made for a winter Fred. Olsen service from Rotterdam and London to the Canary Islands, loading up with full cargoes of fruit instead of fish on the Norwegian run. They were owned jointly by the two companies as 'Fred. Olsen/Bergen Line'. Passengers wishing to use the traditional passenger ferries could only use Leda from 1966 as Venus was transferred away to a Rotterdam to Bergen service and only reappeared in the Tyne on winter weekend sailings until she arrived for breaking up at Faslane on 19th October 1968. Passenger numbers were a very satisfactory figure at 600,000 in 1966, the combined total of the traditional and ro-ro ferries. In the early 1970s, Leda made only one winter sailing per week, and then became a victim of the steep increase in oil fuel prices made by the OPEC Middle East countries in 1973. Thus, she made her last sailing from the Tyne in the Autumn of 1974, and was replaced that winter by the DFDS ferry England, which had made her first appearance in the Tyne on the Esbjerg route in July 1974.
The joint operation of Newcastle to Norway services under the banner of 'Fred. Olsen/Bergen Line' came to an end in September 1984. The ownership of the two sisters was then clarified at the end of the 1986 season by Fred. Olsen taking Black Prince as their vessel for conversion into a cruise ship, and Bergen Line taking her sister Black Watch under her permanent name of Jupiter. Jupiter had a shorter refit to have extra cabins and couchettes fitted to increase her passenger total from 750 to 900. She carried good passenger totals in the 1987 summer season extended to mid December, and in the 1987 season her funnel was repainted to show the Anders Jahre of Norway white star on a black diamond as the route had been taken over by Norway Line, after Bergen Line had been taken over by Anders Jahre in October 1984. Jupiter continued on the Newcastle to Bergen Line service during the 1987, 1988 and 1989 seasons, but was sold in 1990 to Crown Line of Cyprus and renamed Crown M. She had long spells as an accommodation ship at Genoa, Dubai and Hammerfest in Arctic Norway before she eventually was beached at Chittagong on 25th September 2008 for breaking up. The name of Venus was revived on 30th March 1990 when the former Stena Scandinavica, built in 1974 as Prinsessan Birgitta, arrived in the Tyne to begin thrice weekly sailings per week to Norway, continuing until she was sold to DFDS in September 1994.
In 1994, the Newcastle to Bergen passenger service was taken over by Color Line of Norway using Color Viking, the former Wellamo built in 1975 at Nantes for ownership by Finland Line, later becoming Dana Gloria for DFDS in 1981, and Color Viking in 1994. In January 1999, Color Line were taken over by Fjord Line, owned by a group of Norwegian hotel owners, with Color Viking renamed Jupiter. She made her last sailing from the Tyne in November 2006 under the name of Jupiter and was then laid up at Hammerfest until sold to Asian interests in January 2007. Fjord Line then used the larger passenger ferry Peter Pan under the name of Fjord Norway until the famous Tyne to Norway sailings were terminated forever in 2008 after over one hundred years of sailings. Fjord Norway continued sailing from the Tyne after being sold to DFDS for the Ijmuiden route.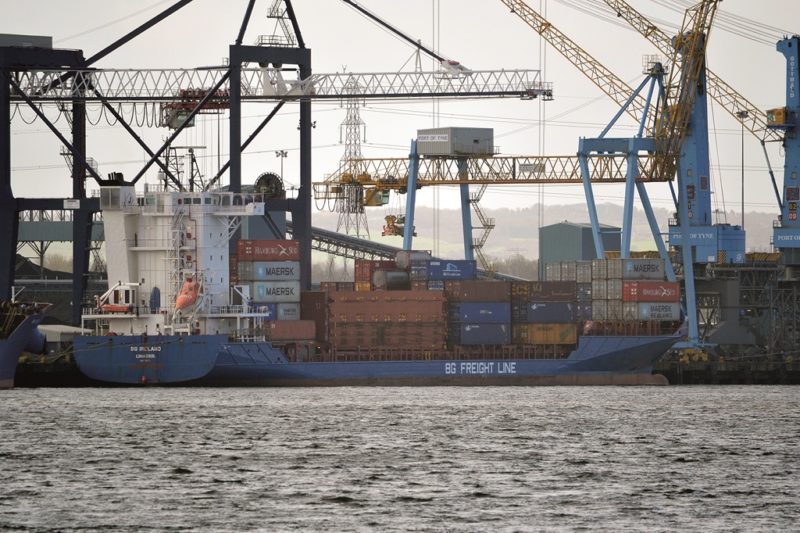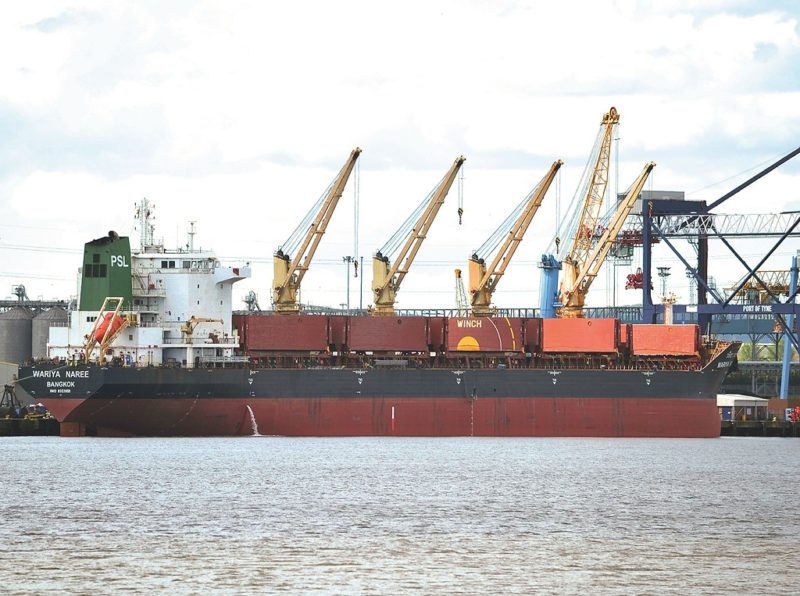 The DFDS service to Esbjerg was carried out by the old favourite passenger ship Parkeston, built back in 1925, from Newcastle Quay between 1949 and 1963, and then by Kronprins Frederik from North Shields between 1964 and 1974. The stern loader car and passenger ferry England of 8,221 grt, built at Helsingor in 1974, served the North Shields to Esbjerg run from the 1977 to 1982 summer seasons until sold to Cunard Line for extra troop capacity for the Falklands War campaign. The route, and that to Gothenburg, was taken over by the stern loader car and passenger Winston Churchill ferry of 8,657 grt built at Genoa in 1967, but she unfortunately grounded on 26th August 1979 on the small island of Vinga just outside Gothenburg at the start of a return voyage to the Tyne. She was returned to the Tyne to Denmark and Sweden services after extensive repairs in time for the 1980 summer season. She served the North Shields to Esbjerg service mainly from 1981 to 1991, when the service terminated, that to Gothenburg having also terminated a few years earlier.
A regular DFDS passenger service from the Tyne to Ijmuiden, eight miles from Amsterdam, had begun in 2001, and so far well over ten million passengers have been carried on this popular North Sea ferry route. Dana Anglia built in 1978 at Aalborg for the Harwich to Esbjerg service, and later used on the Copenhagen to Oslo route of DFDS, was used on this Tyne route from November 2003 until 2006 as Duke of Scandinavia. The current ferries used are the sisters Princess Seaways and King Seaways of 31,360 grt with 1,320 passenger cabin berths and carrying 550 cars on their car decks. They were completed by Seebeck Werft at Bremerhaven, with Princess Seaways launched on 30th November 1985 as Peter Pan for TT-Linie service from Travemunde to Trelleborg. She then travelled to Tasmania for the Melbourne to Devonport service across the Bass Strait as Spirit of Tasmania, before becoming Spir for a Norwegian service, and then sailing from the Tyne to Norway as Fjord Norway for Fjord Line, and Princess of Norway, becoming Princess Seaways in 2011. King Seaways, her sister, was launched as Nils Holgersson by Seebeck Werft at Bremerhaven as the second ferry for the Travemunde to Trelleborg route, and was sold in 1993 to Brittany Ferries and renamed Val de Loire, and then sold to DFDS in late 2005 for the Newcastle to Ijmuiden route as King of Scandinavia, becoming King Seaways in 2011.
International visitors had flocked to the Tyne in 1986 and again in 1983 for the 'Tall Ships Races' across the North Sea to Scandinavian ports. A large fleet of sixty or more large and small sailing ships were moored at Newcastle Quay for the celebrations lasting a week. All of the Tyne tug fleet was required when the day of the race came round after celebrations ashore had finished, as the big barques such as the Russian Sedov and Kruzenshtern and the Polish Dar Mlodziezy could not turn round in the restricted turning circle at Newcastle Quay, and required a tow out of the port from the piers. The starting line for the races was a point a few miles out to sea towards Whitley Bay and Blyth, and once across the line, the much greater sail areas of the big barques quickly came into play, making them pull away from the rest of the big fleet.
In 1999, the first cruise ship to dock at the Northumbrian Quay, later renamed the Tyne Cruise Terminal, was the cruise ship Royal Viking Sun, completed in May 1988 by Wartsila Marine at Turku in Finland with luxury accommodation for 851 guests. The Tyne cruise trade is mostly to the Norwegian coasts and North Cape and to the Baltic capitals, with occasional cruises to the Canary Islands, and has been built up over twenty years by many cruise lines including Fred. Olsen Cruises (from 2006), Tui Cruises, Holland America Line, Marella Cruises, Aida Cruises, and Cruise & Maritime Voyages until they were declared bankrupt in May 2020. The terminal achieved a record total of 52 cruise ships in 2018 bringing in 120,000 cruise passengers, with passengers taking shore excursions to Alnwick Castle with a connection to the Harry Potter books, Hadrian's Roman Wall and the Metrocentre in Gateshead.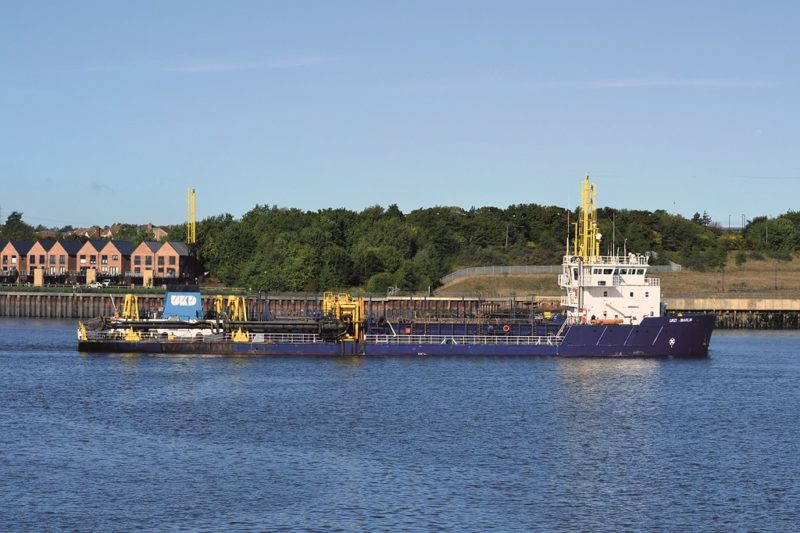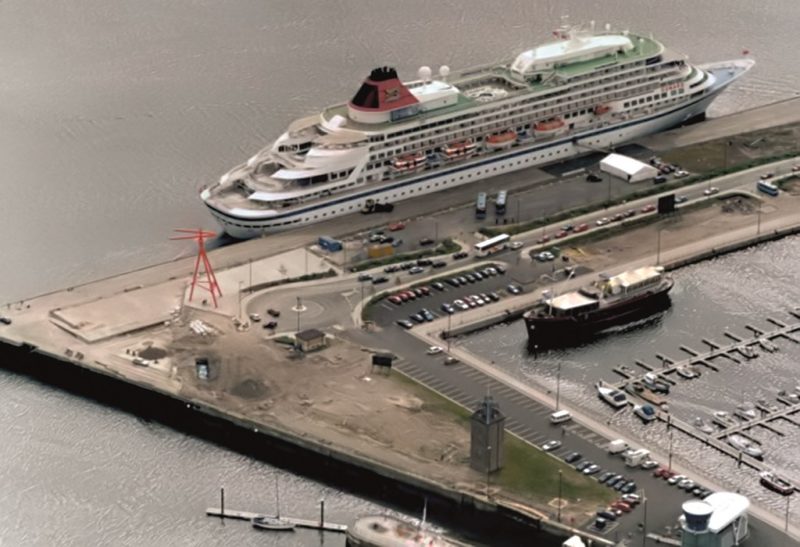 CARGO TRAFFIC
In 1974, the Iron Quay was renamed as Riverside Quay and was used for general cargo imports and exports as well as for the import of iron ore, this quay was later extended in 1983 and again in 1992. The Consett Iron Co. Ltd. closed down in 1980, with huge unemployment then caused in this small North West Durham town, from which it hardly ever recovered. Iron ore was unloaded directly from ship to wagons on the quayside, and hauled by diesel locos pulling long trains of iron ore wagons up the steep hills to the town 22 miles away for the first time in 1963 instead of steam locos. Some of the last iron ore cargoes arrived in the ore carriers of Uglands Rederi A/S of Norway such as the sisters Senorita and Livanita of 29,250 dwt completed in 1962/63 by the South Bank yard of Smith's Dock Co. Ltd. on the Tees, as well as Vivita of 29,510 dwt completed in 1963 at Nakskov in Denmark. The similar sized ore carriers, Victore of Mavroleon Brothers of London, and Welsh Voyager of Gibbs of Cardiff, also imported many cargoes of iron ore during the closing years.
Exports of scrap metal began in 1980 from Riverside Quay, as the crushing machines of the car dismantlers quickly reduced a car to a small neat squashed one metre metal cube, and then were stored on a large conical heap until the next big cargo was ready for export in a bulker, with over 40,000 to 50,000 tonnes of scrap exported to North America, Mediterranean countries, India and Pakistan, China and the Far East in a single cargo. European Metal Recycling (EMR) has invested £1 million in its quayside site and its 30 staff work closely with port stevedores. The perimeter road of Tyne Dock also changed around 1980 in that the famous six 'Tyne Dock Arches' dating from Victorian times were demolished, leaving only a modern strengthened rail bridge for locos pulling 36 very long wagons called 'merry go rounds'.
During the years 1985 to 1997, shipments of coal were running at three to four million tonnes per annum from the new Tyne Coal Terminal, built at a cost of £11.5 million and opened in 1985. When added to the three million tonnes of imports and exports of general cargo, total Tyne cargo traffic was running at six to seven million tonnes per year. The tonnage figures for 1987 were total exports and imports of 6.023 million tonnes, exports of 4.295 million tonnes and imports of 1.728 million tonnes. Coal and coke exports were 3.831 million tonnes, oil and chemicals of 845,000 tonnes, dredged aggregates of 536,000 tonnes, and timber and forestry products at 293,000 tonnes, most of the latter carried in Ahlmark Line vessels. K/S Nor-Cargo A/S of Norway also operated a weekly ro-ro service to Norway for forestry products, containers, flats, trailers, shuttle wagons and palletised cargo.
'Super collieries' each producing over one million tonnes of coal per year in the North East supplied most of their output to the new terminal. Canadian Great Lakes bulkers owned by Canadian Steamships Ltd. such as Atlantic Superior of 38,510 dwt frequently loaded coal at the terminal for power stations in Portugal and Spain, they were known as 'salties' rather than 'lakers' as they had narrow beams to suit the locks of the St. Lawrence Seaway but only carried bulk international cargoes on the salty waters of the Atlantic when the Seaway was closed during the winter.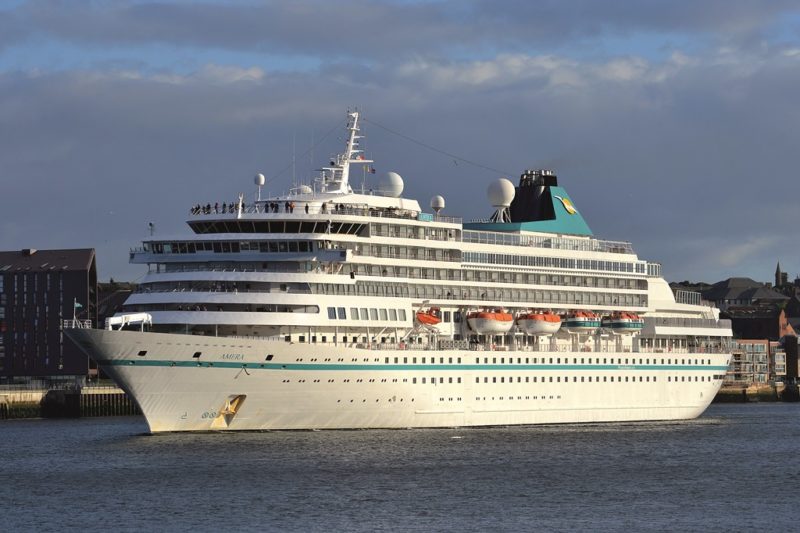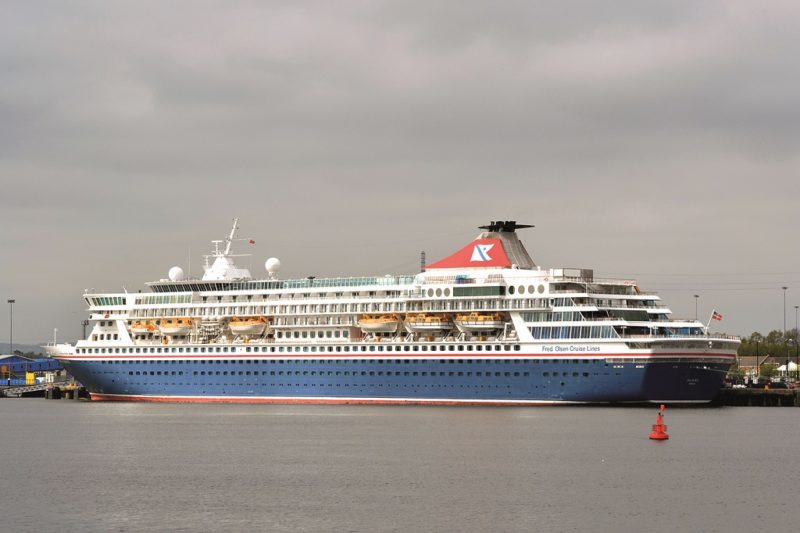 A trio of 'super-colliers', each of 22,000 dwt, were the main ships loading at the new Tyne Coal Terminal. This trio had been built at Govan on the Clyde at a total cost of £28 million for the Central Electricity Generating Board to serve the coal fired power stations at Tilbury, West Thurrock and Kingsnorth on the Isle of Grain. They were named Sir Charles Parsons, Lord Citrine and Lord Hinton after the great inventors and personalities of the electricity industry. The trio also transhipped coal unloaded from giant bulkers at Rotterdam to the Thames. The Tyne Coal Terminal sent away its last cargo of coal on 2nd March 1998 in Lord Citrine after only twelve years of operation. However, the terminal was then used for exporting limestone and larger shipments of grain, and by reversing the conveyor belts, for the unloading of biomass into large hoppers dropping onto the conveyor belts and taken to large new dry silos.
In July of Millennium year, the Port of Tyne celebrated its 150th Anniversary with a month of celebrations. The Authority had spent over £20 million over the last three decades on new facilities, and had recently begun its own Port of Tyne Logistics Services with a big fleet of branded lorries. Port total import and export tonnage figures were 5.0 million tonnes in 2006, and 5.3 million tonnes in 2011. The Italian bulker Maddalena d'Amato of 74,700 dwt and built in 2001 had imported a full cargo of coal for Drax Power Station in 2005, coal exports having ceased in 1998. Coal imports in 2005 were 650,000 tonnes, in 2006 a figure of 1.38 million tonnes was achieved, and in 2007 this doubled to 2.75 million tonnes, with all of the coal leaving the port by rail.
In 2010, the river was dredged at a cost of £5 million to a deeper depth by contract suction dredgers at which Panamax bulk carriers could safely negotiate the river to the Tyne Bulk Terminal. Wood pellets known as biomass began to be imported from 2009, with a record cargo of 75,000 tonnes of biomass arriving on 4th August 2011 in the Malaysian bulk carrier Alam Penting, followed by the same size of cargo in her sister Alam Pesona in 2012. The Port of Tyne became the largest handler of imported biomass in Europe by 2013, and together with imported coal from Poland transported by Polish bulk carriers, saw bulk traffic at the port increase by 40% to 5 million tonnes per annum in 2013. Total cargo traffic by 2019 was running at 4.4 million tonnes, with biomass for Drax Power Station near Selby and Lynemouth Power Station in Northumberland keeping cargo traffic at a high level.
Three large silos of total capacity of 75,000 tonnes were constructed at Tyne Dock and paid for by the Lynemouth Power Ltd. on the dock estate, the power station having previously worked in conjunction with the nearby Alcan aluminium producing plant that had closed down. The total cost of the project to supply biomass was £38 million, with wood pellet biomass unloaded using three tall ecohoppers onto 1,364 metres of conveyor belts to the silos for storage, and then taken by rail to LPL using a rapid rail loader. The Port of Tyne financed a 125 metre long expansion to the East Quay of Riverside Quay as well as rail lines and two new ecohoppers, each costing £4 million. Imports of coal, mainly from Poland, had ceased in 2016.
Nissan car exports have averaged around 600,000 cars per annum from their dedicated car terminal at Jarrow since it was opened in 1994, with the car carrier City of Sunderland taking away the first cars, and followed in service by her sisters of City of Amsterdam, City of Paris, City of Barcelona, and City of Rome of 650 car capacity. VW imports thirteen different brands and marks of their cars from seven countries, with their factories near Emden providing 85% of their imports, into their North Tyneside operation behind Whitehill Point Quay. Pre-delivery inspection with minor repairs and added value activities take place near the car parks for over 25,000 cars. The exports of cars, Komatsu diggers, buses, lorries, and import of train carriages for the new Azuma locos built at Newton Aycliffe for the East Coast Main Line to London, keep both car hubs very busy. Large Mitsui car carriers and a monthly liner PCTC (Pure Car and Truck Carrier) service by Hoegh Autoliners with capacity for up to 6,600 cars and combination of cars, trucks and other wheeled traffic, are the biggest ships to use the terminals.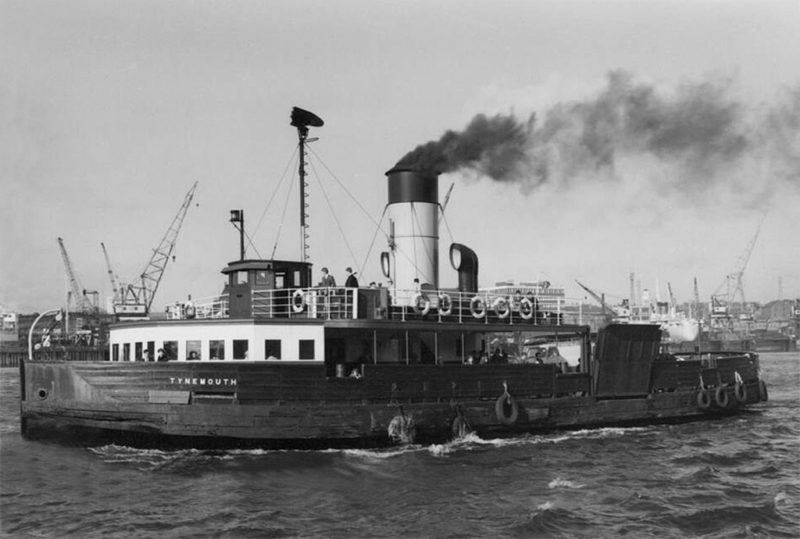 Breakbulk cargo in the form of forestry products, metals, newsprint, construction materials and equipment, machine tools and heavy machinery are handled every week. The port is the northern hub for the import of plywood from Asia, South America and the Baltic for International Plywood Ltd. for storage and onward distribution from Tyne Dock. Inter Terminals have 57,000 m2 of tank storage for oils and liquid bulks, with 62 tanks ranging in size from small 56 m2 tanks to large 5,000 m2 tanks. The Jarrow site uses rail to suit the fuel needs of its different customers.
Tyne Container Terminal handles 62,000 TEU of containers per annum for customers as diverse as Tetley Tea (since 2006), Ringtons Tea, Keith Spicer Tea, Argos and JML Consumer Products, Nissan imported car parts, Komatsu imported digger parts, Formica plastics and laminates, and several other North East businesses. The port handles 40% of the U.K. raw tea imports, and there is a container storage area behind the Container Terminal, with the large Warehouse 20 and Warehouse 21, each of 50,000 m2, for customer storage. These warehouses are approved by Customs & Excise and supported by computerised picking systems. BG Freight Line has been using the Tyne Container Terminal since 2013 with large feeder container ships such as BG Rotterdam on fixed schedule feeder services from Felixstowe and Rotterdam. The export container trade of autoparts, recovered materials, and other products continues to grow.
The Port of Tyne was awarded the accolade of Port of the Year for 2014 in the National Transport Awards. An Innovation Hub was established at the Tyne Dock complex, which has many business tenants in addition to the Port of Tyne Headquarters Office at Maritime House located not far from the port security gates. The Tyne Dock location is 55°01′ North, 1°25′ West, with normal working hours from 0800 to 1700, with 24 hour working on seven days of the week also available by special arrangement. The Chief Executive Officer is supported by the Chief Financial Officer, Chief Operations Officer, Head of Engineering, Technology and Transformation Officer, and the Harbour Master.
The port has good road and rail access with an Intermodal Rail Terminal accommodating all Channel Tunnel trains. The cranage and equipment consists of four Liebherr 320 mobile heavy lift cranes (100 tonnes at 17 metres outreach), one 40 tonne container gantry crane, two Gottwald mobile cranes of 100 tonne capacity at 23 metres outreach, two mobile cranes of 15 tonne capacity, four eco hoppers, grabs, shovels, excavators, dust control equipment, conveyor belts, weighbridges and several rail mounted cranes of 15 tonne capacity. All of the cranes are linked to an overhead conveyor system for bulk cargoes. There are 26 large forklifts of maximum capacity of 42 tonnes, two linkspans of 160 tonne maximum capacity for the ro-ro berths, and three pontoon berths for stern shipment of cars, and one taking side ports for loading of cars. A full range of waste disposal of noxious oil liquids, hazardous waste, slops, sewage and garbage is provided.
The current estates and docks of the Port of Tyne comprise 30 hectares of land at North Shields and 70 hectares of land at Tyne Dock at South Shields, with the Headquarters Office of Maritime House at Tyne Dock situated around two miles from the North Pier and South Pier entrance to the port. The Port of Tyne in 2021 has 402 employees reporting to the Chief Executive Officer of Matt Beeton, who joined the Trust Port in January 2019, with a cargo throughput of 3.0 million tonnes, a container throughput of 62,000 TEU, and a car import and export figure of 440,000 cars. The passenger traffic on the important DFDS link from North Shields to Ijmuiden was 748,000, cruise passenger numbers in 2019 were 140,000, and the annual revenue of the port was £57.5 million in 2018. The jurisdiction of the port is from the Tyne Piers to the tidal limit of the Tyne at Wylam. The Channel Depth is 10.0 metres, and the Swing Area of the port has a diameter of 1,200 feet in an area at Jarrow Slake. The facilities and berths of the modern port are as follows:-
TYNE DOCK ENTERPRISE ZONE
Nissan Car Storage Area (Opened in April 1994).
Bulk Stocking Area (Opened in 1985).
Intermodal Rail Terminal (Opened in March 1999) at a cost of £1.3 million for the export of Nissan cars.
Tyne Car Terminal with three jetties (Opened in April 1994) with non-wheeled traffic placed onboard using mafi roll trailers.
Tyne Bulk Terminal for bulk carriers up to Kamsarmax size of 82,500 dwt, and opened on 7th November 1985 as the Tyne Coal Terminal. H.M. The Queen Mother used the same silver lever that she had used in 1936 to open Jarrow Staiths 49 years earlier.
Tyne Container Terminal (Opened in 1991) with current regular daily service provided by BG Freight Line from and to Felixstowe and Rotterdam in feeder container ships such as BG Rotterdam.
Tyne Grain Terminal (Opened in 1994) with Tynegrain being a wholly owned co-operative of 115 arable farmer members in the North East for the drying and storage of grain at the end of the summer growing season. Tynegrain has been exporting grain from the Tyne for over 30 years to European and International markets. A quarter of a million tonnes of wheat and barley is exported annually to fifty countries, some in bulkers such as Rosco Poplar loading 60,000 tonnes of barley in seven days in 2015 for Saudi Arabia, while the Wilson Line ship Wilson North took the more usual shipment size of 8,334 tonnes of wheat on 10th October 2015.
Riverside Quay of overall length 243.0 metres with an alongside depth of 13.0 metres and comprising East and West Berths for all types of cargo. The quay was extended during 2018/19 by Southbay Civil Engineering.
Tyne Clean Energy Park with an Operations and Maintenance Base for the largest offshore wind farm in the world at Dogger Bank Offshore Wind Farm Phases A, B, and C, and employing over 200 new personnel. This includes land formerly occupied by the shipyard of John Readhead & Sons Ltd., with 7.1 hectares of land cleared during 2018/19 for the provision of 550 metres of five new quays and helicopter facilities for offshore work. This clearance work and the provision of new access roads has been conducted in three phases, and was concurrent with the infill of the water area of Tyne Dock that had begun a decade earlier. The Forewind Consortium (Norwegian oil major Equinor, formerly Statoil, SSE Renewables, NPower Renewables and Statkraft), the owners of the project, sold a combined 20% stake in Phases A and B to Italian oil firm ENI for £405 million in December 2020.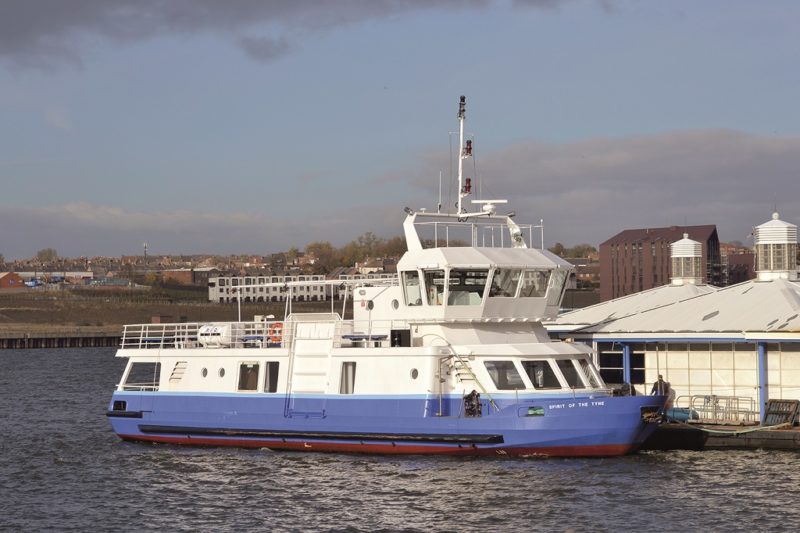 DOGGER BANK OFFSHORE WIND FARM
Three of the largest offshore vessels in the world are being used to build the Dogger Bank Offshore Wind Farm of up to 600 wind turbines of 4.8 gigawatts of power and lying between 78 and 180 miles off the coast in the Dogger Sea Zone. These are:-
Offshore Heavy Transport won the contract to install the turbine monopile foundations using its new Alfa Lift vessel of 48,000 dwt. The vessel is of overall length 216.0 metres and is equipped with a 3,000 tonne crane to transport and install ten monopiles and ten Transition Pieces in one load out. The vessel was completed in early 2021 by the Jiangsu yard of China Merchants Heavy Industries.
The Jan de Nul owned Voltaire, named after the 18th century French writer and philosopher, with a payload of 14,000 tonnes and a main crane of over 3,000 tonnes lifting capacity, a DP2 dynamic positioning system, and with accommodation for 110 personnel, will be employed on the turbine erection. She was completed in late 2022 fat the Nantong shipyard of COSCO Shipbuilding, construction having started on 26th May 2020.
The inter-array cables between each turbine and the main export cables of the three A, B, and C phases of the project will be laid by one of the largest cable-laying and installation vessels in the world. This is the DEME owned vessel Living Stone built in 2018 for service under the Dutch flag with two cable holds, each of 5,000 tonnes capacity, and a hold capacity of 1,200 m3 for rock used in foundation strengthening. Living Stone has an overall length of 161.0 metres and moulded beam of 32.2 metres, with a service speed of 14 knots from diesel electric engines of 15,810 kilowatts power. The cables from the A and B Phases of the project come ashore on the Yorkshire coast, while the cable from the C Phase comes ashore at Teesside.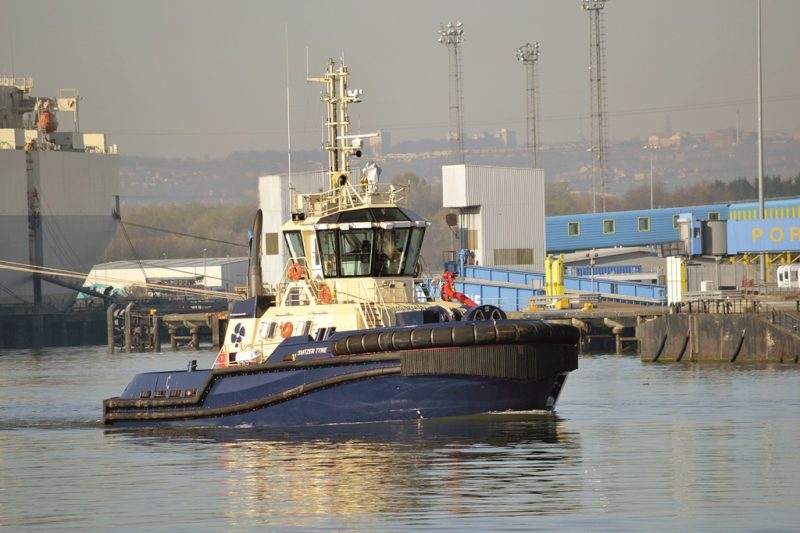 POSTSCRIPT
The Port of Tyne celebrated its 50th Anniversary on 31st July 2018, with a record of over 600,000 passengers on the DFDS route to Ijmuiden in Holland during the previous year. The Trust Port had supported during the year over 600 organisations, and reached 620,000 people across its customer, community, business, government and employee stakeholder groups. The port has a good future as an Operations and Maintenance Base for Offshore Wind Farms in the North Sea and for offshore engineering of all types, as well as continuing with the new areas of import and export that it has pioneered during the last twenty years.                           The Tyne also flourished two thousand years ago with a major supply base at South Shields for the Roman Army called Arbeia Fort, founded in AD160, and which lasted for three hundred years. Some 600 troops and the Emperor Severus (died AD235) guarded the main sea route into the Tyne

However, this is far removed from the golden years on the Tyne in the 1960s with the major imports and exports of coal, timber, and iron ore, and the huge shipbuilding and shiprepair industries.