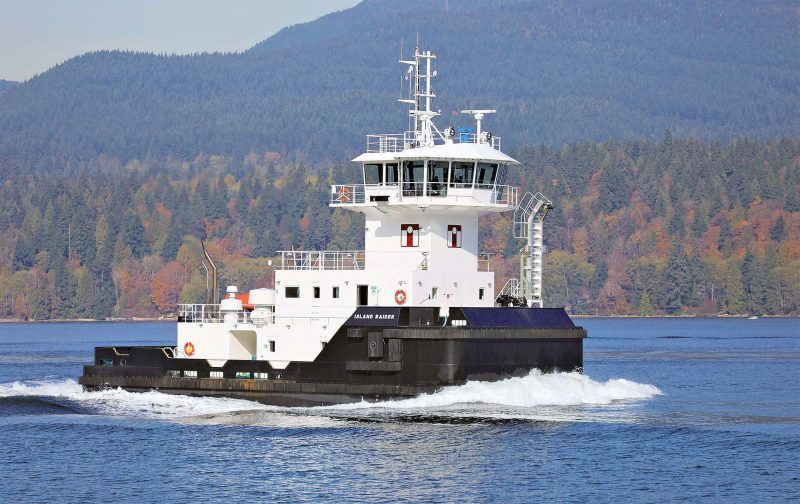 The Newbuild of the Month features highlight a wide selection of vessels as they take their place in the 21st century shipping scene from Pilot Launches and Tugs to Subsea Rock Installation Vessels and mega Cruise Ships. Some often overlooked types are included and this month is no exception as another unassuming workhorse, a Pusher Tug (also known as a Push Tug), takes centre stage. With an overall length of 24.90m, a beam of 12.50m and a draught of 3.30m, the Island Raider is one of two sister ATB Tugs (Articulated Tug Barge) built for Island Tug & Barge of Burnaby, British Columbia, Canada, a subsidiary of Tidewater Canada Inc. The new series of tugs was designed by Robert Allan Ltd. of Vancouver, British Columbia, Canada. This world-renowned business was founded in 1930 when Robert Allan commenced private practice as a consulting Naval Architect after serving as Technical Manager of a local major shipyard. A 1907 graduate naval architect from the University of Glasgow, he was responsible for numerous enduring designs produced for the growing British Columbia fishing fleet and coastal ferry services, among others. Robert F. (Bob) Allan joined his father in the practice in 1945. The business grew steadily and was instrumental in the development of specialised tugs and barges for the forestry and mining industries along the B.C. coast, and for many unique shallow-draught vessels for Canada's remote Northland. Incorporated as Robert Allan Ltd. in 1962, the company continued to expand and achieved international recognition for the high standards and performance of its many unique designs. In 1973, Robert G. (Rob) Allan joined the company, following the family tradition and succeeded his father in 1981 as President, leading the company into a new generation of computer-based design technology. The expanding firm created a wide range of distinctive designs including modern high-performance ship-assist and escort tugs, icebreakers, government service vessels, and fast craft. With significant growth since the mid 1990's the firm has established itself as an international force in commercial working craft design.

The Owner of the ATB Tugs is Island Tug and Barge Ltd., a company that can trace its roots back to 1958 by way of cable-laying operations in B.C.'s Gulf Islands. In 1962 the assets of Coal Island Ltd. were purchased and, due to the inadequacy of existing services, a tug and barge combination was purchased in 1964. This acquisition somewhat accidentally resulted in a towboat business being established by then company Owner Peter Shields. The following year Shields Navigation Ltd. was created to take over marine operations with Coal Island Ltd. remaining as the parent company.
The company later became Shields Navigation and Standard Towing and in the period 1970s-1990s a series of barges were built, managed by third parties, to serve companies wishing to control their own transportation requirements. Shields Navigation was one such third party with ownership of the barges passing to the company in the 1990s when the priorities of Oil Companies changed.

Subscribe today to read the full article!
Simply click below to subscribe and not only read the full article instantly, but gain unparalleled access to the specialist magazine for shipping enthusiasts.