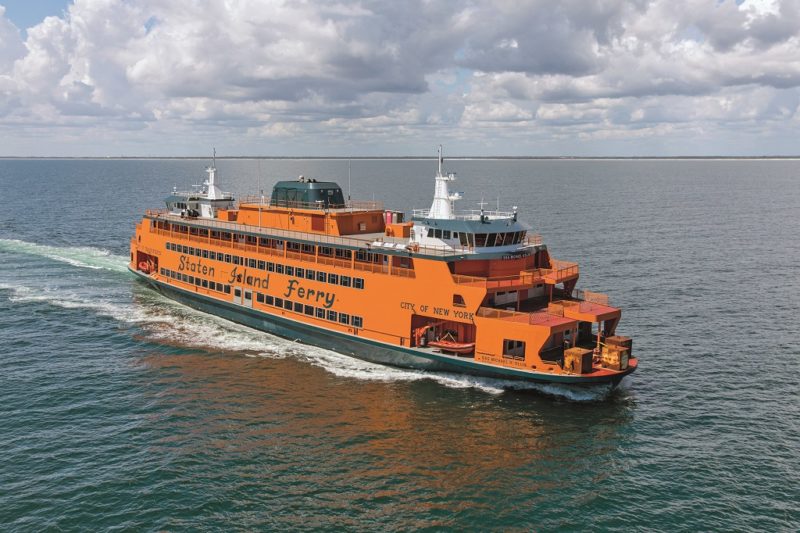 There are many famous harbours and rivers across the globe that are traversed by equally famous passenger ferries including the Hythe Ferry, Gosport Ferry, Woolwich Ferry, Mersey Ferry, Manly Ferry, Star Ferry and New York's Staten Island Ferry. The latter was founded in 1817 and links the Whitehall Terminal on Manhattan Island (Lower Manhattan, NYC) with the St. George Terminal on Staten Island, a route with a distance of 5.2 miles (8.4km/4.5-nautical miles). The Staten Island Ferry is free, generally employs 8 or 9 passenger vessels and transports around 22 million passengers a year between the two locations. The most recent figures available for the link show that 25.20 million passengers were carried in 2019. On a normal weekday that offers 117 ferry crossings with 4 ferries in service, this iconic operation is used by a staggering 70,000 people and has been described as one of the last remaining vestiges of an entire ferry system in New York City that transported people to/from Manhattan before the bridges were built. The 22-minute crossing, which is free of charge, also doubles as an excellent sightseeing service for tourists. Over 40,000 ferry crossings are made annually with weekend schedules usually providing 3 ferries and around 96 trips per day.
The ferries ply their trade day and night, 24 hours a day, 7 days a week and are owned and maintained by the New York City Department of Transport.
The ferry fleet consists of several generations of vessel. Although subject to change as newbuilds are delivered, the 2021 operational fleet list read as follows:-
Alice Austen – Austen Class – 500gt/built 1986/1,280 passengers. Named after an American photographer
John Noble – Austen Class – 500gt/built 1986/1,280 passengers. Named after a renowned maritime artist
John F. Kennedy – 2,109gt/built 1965/3,500 passengers. Named after John Fitzgerald Kennedy

Andrew J. Barberi – Barberi Class – 3,335gt/built 1981/6,000 passengers. Named after a Curtis High School football coach of the 1950s-1970s
Samuel I. Newhouse – Barberi Class – 4,570gt/built 1981/4,500 passengers. Named after a Jewish-American broadcasting businessman, magazine and newspaper publisher, born in 1895
Guy V. Molinari – Molinari Class – 3,200gt/built 2003/4,400 passengers. Named after a Representative from New York, born in New York City, 1928
Senator John J. Marchi – Molinari Class – 3,200gt/built 2004/4,400 passengers. Named after a 1921-born New York State Senator who represented Staten Island for a record 50 years
Spirit of America-God Bless America! – Molinari Class – 3,200gt/built 2004/4,400 passengers. Entered service April 2006 and the keel was built with steel from The World Trade Centre Towers. She was named to honour the Spirit and Unity of America after the 9/11 attacks.
The Staten Island Ferry originally provided a limited car ferry service but this was discontinued. Of the large vessels in the present fleet, the three Molinari Class ferries and the John F. Kennedy have the capability to convey vehicles, while the two Barberi Class ferries were built without this function. The service provides a passenger-only service, with bicycles permitted to be wheeled aboard via the lower gangway to the Main Deck. Fifteen years passed before the next Staten Island Ferry newbuild graced the waters of New York Harbour and this evolved class of vessel is the subject of the newbuild feature.
New Class for a New Era
The latest generation of Staten Island Ferry is the Ollis-Class trio of newbuilds with work on these beginning back in August 2014 following a study into the future of the ferry fleet that concluded the most economical option was to construct new ships instead of rebuilding existing members of the fleet. The Elliott Bay Design Group was awarded a contract to design the new ferries, intended to succeed the John F. Kennedy and the Andrew J. Barberi. This would result in one additional ship joining the fleet overall. In September 2014 the funding for the project, covering the construction of two of the new trio, was secured with a $191.6m federal grant from the Hurricane Sandy relief bill.

Subscribe today to read the full article!
Simply click below to subscribe and not only read the full article instantly, but gain unparalleled access to the specialist magazine for shipping enthusiasts.