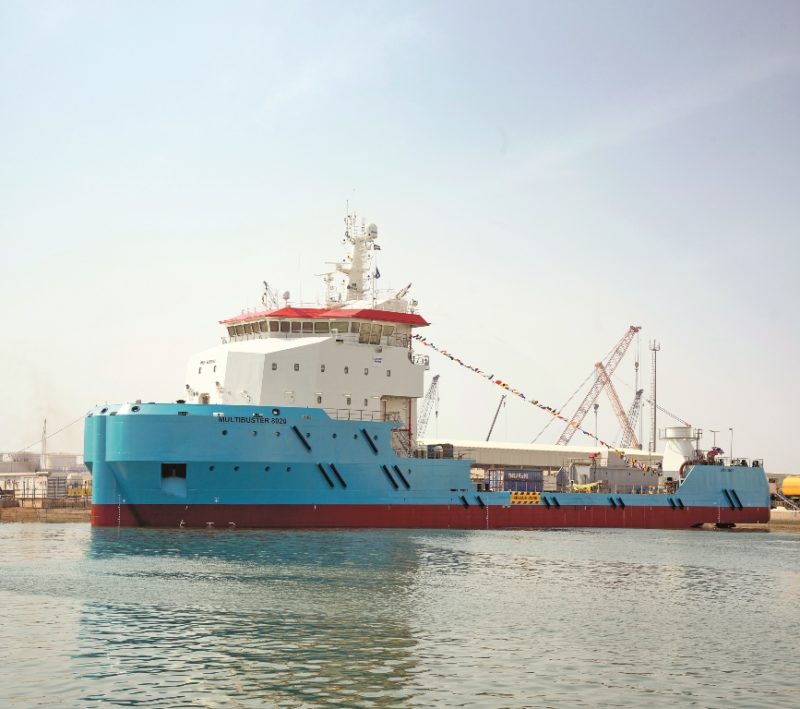 New designs are coming to the fore on a regular basis nowadays as Ship Designers and Shipyards strive to produce the ultimate tool for the job across the numerous sectors of shipping. The Damen Group is just one such company that is forever looking for new options and versions of designs and classes of ship. This Newbuild of the Month was so new at the time of writing that the subject had not been given a name, nor had delivery to Damen been confirmed. However, the selection of this vessel as a subject became necessary as deadlines loomed but long-awaited information from other sources did not. The essential detail for the all-new Damen Multibuster 8020 landed in the Writer's inbox at the right time, so the snap decision was made!
Blank Canvas or Maritime Swiss Army Knife
On 8th September Damen Group announced that this all-new multi-role vessel had been launched and was being fitted out prior to delivery to the company as a demonstrator and stock item for immediate purchase or delivery to a shipping company. Albwardy Damen shipyard is based at Hamriyah Free Zone, plot HD 22, Sharjah in the United Arab Emirates, the third largest emirate in the UAE with a coastline on both the Persian Gulf and the Gulf of Oman. The yard entered the Middle Eastern Market in 1969, has built over 200 vessels for Damen Group since the joint venture was established in 2008 (operations in Dubai, Fujairah and Sharjah) and has state-of-the-art facilities for the construction of all types of modern and complex vessels. The company employs over 1,300 highly experienced and skilled professionals from 26 different nationalities and has an extensive engineering section devoted to repairing and construction of vessels to the highest technical and environmental standards. It is also certified by LRQA for ISO 9001:2015, ISO 14001, OHSAS 18001 as well as API Q1. The Damen Shipyards Group needs no introduction to regular readers of Newbuild of the Month, a global company offering a vast range of newbuild designs whilst its family routes remain firmly in The Netherlands, being founded in 1927 in Hardinxveld-Giessendam by Jan and Marinus Damen. This location is just 10km from the present-day headquarters. Following the keel laying on 14th January 2021, the hull and superstructure of the new Multibuster 8020 were constructed on site before being united to become one entity outside the building hall. Once completed, the vessel was transported to the yard's ship lift and gently lowered into the water to complete fitting out, trials and to begin her working life. This multi-role vessel is suitable for nearshore and offshore activities thanks to her unique shallow draught and DP2 capabilities. The 3, 759gt 8020 is 80.38m long overall with a loadline length of 77.18m, a beam of 20m, a hull depth of 5.50m and a minimal operational draught of 3.00m. The design and summer draught figures are 3.50m and 4.50m respectively. The deadweight capability at a 3.00m draught is 618t and this rises to 2,365t with a 4.20m draught. This unique, almost go-anywhere vessel also addresses growing industry demand for safety and comfort, and includes uncluttered working areas and a high standard of accommodation., all of which is located forward in the robust looking deckhouse on the main deck, bridge deck and Decks A,B,C & D in between. The wheelhouse is 18.80m above the ship's baseline. On the main deck can be found a variety of stores including dry/cold/reefer, a treatment room, the ship's galley and, on the port side, the 30-seater mess room. Outboard on A Deck are 7 double cabins on either side with this deck also being where the ship's office, prayer room and meeting room are situated. Along either side of B Deck are 3 double cabins and a single cabin with another double cabin facing forward on each side. Above on C Deck are the Captain and Chief Engineer en-suite cabins (overlooking the bow) with another single cabin aft of each of these rooms. Along the port side are a further 3 double cabins with 2 more on the starboard side. The aft area of C Deck offers day rooms for both the Crew and Technicians. D Deck is a technical space with the Bridge Deck and spacious 360-degree visibility wheelhouse sitting above this. Both deck operations and navigational operations are undertaken/managed from here. In total there are 27 double berth cabins with other facilities including a deck workshop, deck stores, FRC store, paint store, boatswain's store, waste store, change room, laundry, luggage store, ship's office, gym, mission control room and services room. The ship has a crew of 14 and can also accommodate 36 Technicians and/or Workers, depending on the ship's role. This capacity makes the ship ideal for project teams and wind farm contractors. As mentioned above, the Multibuster is designed to perform a wide variety of operational tasks across a number of different markets. The characteristics required for this versatile profile have been incorporated into the design from the outset. The result is a flexible, stable and capable platform that can be rapidly and easily adapted to diverse tasks by means of modular applications. This makes this working vessel design the ideal on-site option for projects. Mobilisation costs are significantly reduced, as this one workhorse does it all and does it well. The nearshore shallow draught capability is possible thanks to the propulsion installation not extending below the base line. Furthermore, the hull bottom is strengthened and the vessel's cooling system is adapted to allow for beached operations where the Multibuster can still work in tidal locations whilst high and dry.

The design adopts a diesel-electric propulsion system, adaptable to varying operational load profiles, reducing both emissions and fuel costs. The flexibility of the vessel therefore allows it to be continually adapted to new markets, making it pretty much future-proof. The standard set-up includes azimuthing propulsion for excellent manoeuvrability and operation at sea, a DP2 system, a FiFi-1 firefighting system and a knuckle-telescopic boom crane. The latter is situated aft on the port side and has a short boom capacity of 65 tonnes at an outreach of 9.60m. The safe working load at the maximum outreach of 30m is 13.5t. A smaller, secondary deck crane can handle 18.90 tonnes at an outreach of 4.70m and 6.40 tonnes at the maximum outreach of 12.60m. If additional customisation is required, the vessel can be fitted out with daughter craft, an A-frame, FiFi 2, an Anchor Handling tug winch, stern rollers or a 4-point mooring system. Operational tasks that the 8020 can handle are numerous and include, walk-to-work and offshore access, accommodation support, cable inspection, repair and cable laying, trenching, ROV support, supply duties for floating and fixed offshore assets, SBM support, dive support, installation and maintenance support, decommissioning support and rock dumping. All this makes the multi-tasking Multibuster a very attractive proposition for the Renewables, Oil and gas, Marine Contracting and Dredging sectors, hence the earlier comparison of the ship to a Swiss Army Knife!
Sign-up today to read the full article!
Simply click below to sign-up and read the full article, as well as many others, instantly!