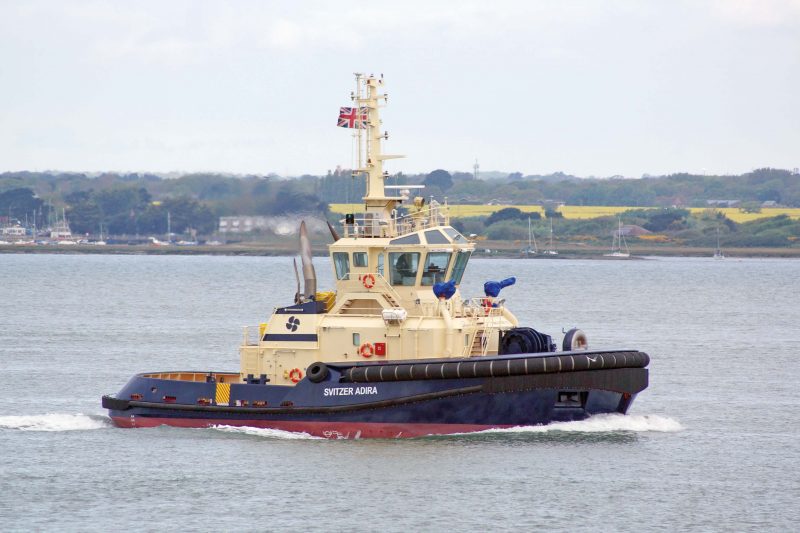 The Port of Southampton has seen many changes in its towage fleets over the past 20 years or so. The principle tug operators had included Alexandra Towing and Red Funnel Towage with the former being taken over by the Australian Howard Smith Group in 1994. In 2001 the towage operation of Howard Smith was acquired by Adstream Marine Ltd. and renamed Adstream Towage Ltd.
The following year Red Funnel Towage was also sold to Adstream Towage Limited (a subsidiary of Adsteam Marine Ltd., based in Australia). Just four years later the process to acquire Adsteam Marine Ltd was embarked upon by Svitzer Wijsmuller A/S (now Svitzer Towage), a wholly owned subsidiary of A.P. Møller-Mærsk A/S. Adsteam UK Ltd. had recorded a turnover in the 2005 financial year of £46 million. Once the takeover was complete, Svitzer became a household name at the south coast port and a fleet modernisation programme commenced with the resident tugs disappearing one by one. Solent Towage joined the scene in 1993 when, as a UK subsidiary of the Norwegian shipping company Østensjø Rederi AS, the operation was created to take on a ship-handling and escort towage contract at the then Esso Fawley marine terminal on Southampton Water having successfully competed in the tender process against former operator Red Funnel. Smaller towage tasks in the area are handled by Itchen Marine and Williams Shipping. From spring 2017 Southampton also has another big name from the world of towage, Kotug Smit Towage, to handle Mitsui O.S.K. Lines (MOL) operated ships. The story of the salvage company Em. Z. Svitzers Bjergningsentreprise (Svitzer) began in 1833. The founder Emil Zeuthen Svitzer was an entrepreneural tradesman who saw the potential of establishing a salvage business on the basis of the many unfortunate losses occurring on trade routes to and from Denmark. The company has been part of the Maersk Group since 1979 and boasts over 180 years of running a towage and salvage company with operations all over the world including across Europe, South America, Mexico, U.S.A, Canada, Angola, Australia, Singapore and Oman. Overall the company has in excess of 430 vessels operating from over 100 locations and around 20 oil terminals across the globe.
Versatility Boost

Until May 2017 the revamped Svitzer Fleet at Southampton had consisted of the Svitzer Bargate (2014/299gt), Svitzer Ferriby (207gt/2005), Svitzer Eston (299gt/2014), Svitzer Alma (369gt/1996), Svitzer Sarah (364gt/1991) and, temporarily, the 294gt/2015 built hybrid trials vessel Svitzer Experience. The order for a new RAstar 2800 Class ASD Escort tug with 80t bollard pull was announced by Svitzer on 22nd March as the Southampton fleet lacked a tug with such capabilities. This development was also no doubt in response to Kotug Smit Towage transferring four of its vessels to Southampton in the form of the Smit Tiger (484gt/2009), ZP Boxer (299gt/2012), SD Salvor (490gt/2010) and SD Shark (483gt/2008) in connection with a new contract with MOL. The new tug was originally ordered on 27th November 2014, the keel laying took place on 29th August 2015 and the launch followed on 9th April 2016. According to the vessel's history notes, delivery took place on 25th July 2016 when the tug was named Sanmar Terminal XIV for use within Sanmar's own tug fleet. The Sanmar-built and Robert Allandesigned RAstar 2800 Class ASD Escort vessel was specifically chosen for her manoeuvrability and reliability. The tug's name, Svitzer Adira, was selected as it has connotations of strength and power. The RAstar 2800 design is principally intended to provide significantly enhanced escort towing and is configured for demanding escort operations and maximum efficiency in handling large vessels in confined spaces. The five Southampton based tugs in the Svitzer fleet offer a varied bollard pull ranging from 60t to 80t and consist of a number of different propulsions including ASD (Azimuth Stern Drive), ATT (All Terrain Tug) and Voith Schneider.
The Svitzer Adira, renamed from Sanmar Terminal XIV in  April, adds extra flexibility and versatility to Svitzer's operation and replaces the eldest tug, the Svitzer Sarah. The fleet is specifically geared to the port of Southampton with short powerful tugs required to manoeuvre the large vessels within the tight layout of the port. What was to become Southampton's latest tug was constructed by the Sanmar Shipyard in Tuzla, Turkey. The company has been in operation since 1990 and the Tuzla site is Sanmar's purpose built tug building yard, dominated by a 144m x 16m x 23m clear height construction hall, measuring 2,725m2 overall, which allows six tugs to be constructed at any one time. A further three units can be fitted out at adjacent floating jetties. On average, some 20 or more tugs per annum can be completed with bollard pulls ranging from 30 to 100 tonnes plus a number of special purpose workboats. Sanmar has a second facility at Altinova and has now constructed over 150 Robert Allan Ltd. designed tugs in addition to other vessels built. The 150th RA tug was the 461gt/2017 built RAstar 2800 class terminal support/escort tug Svitzer Chirripo, one of the Silver Bullet Project vessels destined for Western Australia, and completed in March. The co-operation between Robert Allan Ltd. and Sanmar began in 1995, with a series of small 18m tugs designed and built for Sanmar's own fleet. Their collaboration has since grown to include several classes of tug, from the high performance RAstar escort tugs, through to the workhorse RAmparts class and the innovative VectRA VSP tug design. Ranging in size from 15m to 34m, these tugs have been delivered all over the world, from Australia to Canada to Europe, the Middle East and all points between. Sanmar has delivered a total of 8 vessels to Svitzer since 2015.

Pulling Power
The Svitzer Adira departed from Tuzla in Turkey during the first week of April on her delivery voyage from the Sanmar Shipyard to the Port of Southampton. On the morning of 2nd May the vessel ambled past The Needles, guarding the western approach of the Solent, and traversed the western Solent and Southampton Water until she reached her new home. The RAstar 2800 design has a length of 28.20m, a moulded beam of 12.60m, an extreme draught of 5.70m, a hull depth of 5.30m and a gross tonnage of 461gt. The tug is powered by two 4SA V16 cylinder Caterpillar type 3516C-HD EPA Marine Tier 2, IMO Tier II marine engines, each with an output of 2,525kW at 1,800rpm. These 78 litre units have a 170mm bore and a 215mm stroke. Each is aspirated via twin turbochargers with aftercooled governor and protection. The exhaust system consists of dry gas-tight manifolds with thermolaminated heat shields. The turbochargers also have thermolaminated heat shields and watercooled bearing housings. Propulsion is provided by two Rolls Royce US255 controllable pitch azimuthing thrusters, making her an ASD tug. These have an input power of up to 2,470kW, an input speed of 750-1800rpm and each propeller has a diameter of 2,800mm. The stem length of each thruster is 3,800kW and a US255 unit weighs 28t. Auxiliary power is provided by two Caterpillar C4.4 86ekW generators. Being of a multipurpose escort, port and terminal design, the RAstar 2800 tugs feature foil-shaped escort skegs and a sponsoned hull form, which together have been proven in both model and full-scale testing to provide significantly enhanced escort towing and seakeeping performance. Roll motions and accelerations are significantly less than those of comparable sized standard tug hulls. The power of these vessels generates a bollard pull ahead of approximately 80t plus an astern bollard pull of circa 78t. The service speed ahead is 14 knots and 13 knots astern. A hydraulically driven render/recovery type escort winch is located in the bow, equipped with an adjustable brake tension with a maximum capacity of 250 tonnes. Located aft is a hydraulic single drum towing winch with approximately 21 tonnes pulling power at 65m per minute. The brake capacity is 230t plus a 700m long and 52mm diameter towing wire can also be accommodated here.
A 130t SWL stern roller is integrated into the aft deck plus the RAstar 2800 also carries a data hydraulic DTH 75-135P or DTH 90-135P towing hook. The deck crane comes in the form of a Palfinger 15500 marine grade hydraulic, knuckle-boom/folding boom type with a maximum lift of 6t at 2m outreach and 1t at the maximum 12m outreach. The Svitzer Adira's firefighting capability is to Fi-Fi 1 standard and the main fire pumps are driven through clutched flexible couplings on the front of each main engine. The pumping capacity of each is 1,400m3/hour and the two FFS foam/water monitors, remotely operated, are located on either side of the wheelhouse. The RAstar 2800 class vessels are arranged and outfitted to a high standard with eight crew berths in total. The Officer's cabins are located on the main deck and three private double crew cabins are located on the lower accommodation deck along with two single Officer's cabins, the Bosun's & Engineer's stores, the Linen Locker and the switchboard room. A fully appointed mess/lounge and a modern fullyequipped galley are also located on the main deck along with a locker room. The wheelhouse is designed for maximum all-round visibility with a forward control station providing maximum visibility to both fore and aft deck working areas. The tug's all-important heavy duty rubber fender system consists of 800 OD x 400 ID cylindrical fendering whilst the stem, sides and stern has the W type, D type and W type respectively.
The Svitzer Adira entered service at Southampton after trials in May 2017 and her first official public engagement saw her escort the 2017 Southampton Sailing Week Parade of Sail from Dock Head to the entrance of the River Hamble on 27th May. The vessel made a splendid sight in characteristic Bank Holiday weather with her firefighting monitors creating a fine water display. It was perhaps unfortunate that the parade of sail itself was poorly supported with probably fewer than 25 craft between the leading tug and the S.S. Shieldhall bringing up the rear. The event saw the Svitzer Adira "rubbing shoulders" with her near sister Lomax of Solent Towage. The latter 426gt tug was built in 2012 by Sanmar and began her working life as the Sanmar Terminal VII.
Elsewhere in the world of Svitzer, the company has ordered four ASD tugs from Sanmar Shipyards to service the recently awarded TMSA, Tanger Med 2 Port contract in the Kingdom of Morocco.
Svitzer won a 20-year concession to provide terminal towage services to the Tanger Med 2, a contract valued at several hundred million U.S. Dollars requiring a total of nine vessels by the end of the concession. The four newbuildings will be 90 tonnes bollard pull RAstar 2900 SX terminal tugs with escort ability and accommodation space for eight crew members. Delivery is expected to take place in the autumn of 2018. The Tanger Med port complex is located on Africa's northwest coast on the Strait of Gibraltar and is the second-busiest container port on the African continent.

Special thanks must go to Ernst Schneider of Robert Allen Ltd. for the invaluable assistance with information and diagrams
TECHNICAL SPECIFICATIONS
| | |
| --- | --- |
| Originally Ordered | 27th November 2014 |
| Keel Laying | 29th August 2015 |
| Launched | 9th April 2016 |
| Initial Delivery | 25th July 2016 |
| Entered Service | July 2016 as the Sanmar Terminal XIV |
| Renamed | April 2017 |
| Shipyard | Sanmar Denizcilik Mak. ve Ticaret AS |
| Location | Tuzla, Turkey |
| Owner | Svitzer Euromed BV, Westerduinweg 3, 1976 BV Ijmuiden, The Netherlands. |
| Operator | Svitzer Euromed BV, Westerduinweg 3, 1976 BV Ijmuiden, The Netherlands. |
| IMO | 9788112 |
| Classification | ABS, A1, Towing Vessel, Fi-Fi 1, AMS, ABCU, Unrestricted, UWILD |
| Length Overall | 28.20m |
| Beam (moulded) | 12.60m |
| Draught (extreme) | 5.70m |
| Draught (hull) | 4.09m |
| Depth (moulded) | 5.30m |
| Gross Tonnage | 461 |
| Deadweight | 153 |
| Bollard Pull (Ahead) | Approx 80 tons |
| Bollard Pull (Astern) | Approx 78 tons |
| Speed (Ahead) | 14.0 knots |
| Speed (Astern) | 13.0 knots |
| Main Engines | 2 x Caterpillar 3516 C HD |
| Main Engine Power | 2 x 2525 kW @ 1800 rpm |
| Azimuthing Thrusters | Rolls Royce US255 CP |
| Propeller Diameter | 2800 mm |
| Nozzles | Mild Steel |
| Shaft Drives | Solid Shafts |
| Resilient Mount | Vulkan T60 |
| Auxiliary Engines | 2 x Caterpillar C4.4 86 ekW units |
| Tank Capacities |   |
| Fuel oil | 119.00m3 |
| Fresh water | 12.90m3 |
| Foam | 12.00m3 |
| Black Water | 11.00m3 |
| Grey Water | 11.00m3 |
| Oily Water | 5.00m3 |
| Ballast Water | 86.60m3 |