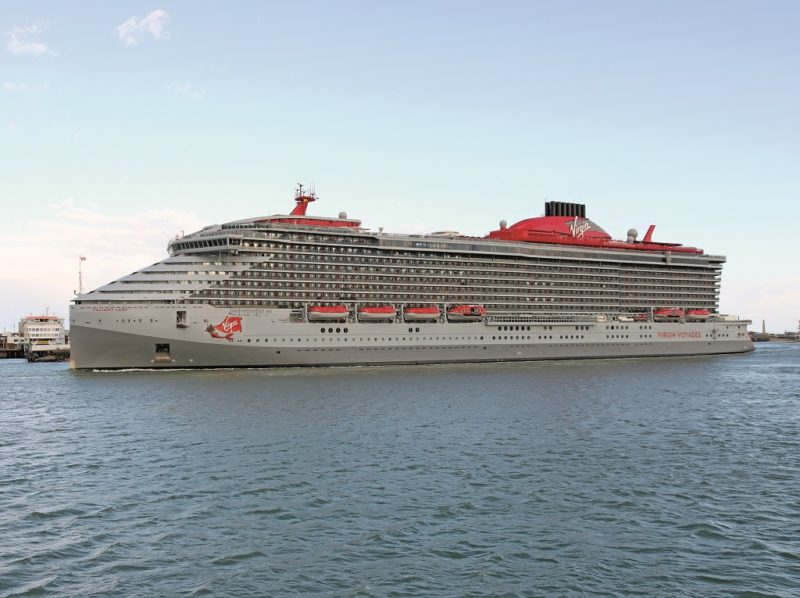 It was back on 4th December 2014 that Virgin Group founder Richard Branson announced plans to form Virgin Cruises, with the financial backing of Bain Capital, and revealed plans to build two new cruise ships that broke the mould of traditional cruising. On 23rd June 2015 Virgin Cruises announced that it had signed a letter of intent with Italy's Fincantieri Shipyard for the construction of a trio of new ships (an investment of around $2.55 billion) with accommodation for approximately 2,800 guests. The plan was to deploy the vessels on 7-day itineraries to the Caribbean. The contract for the ships was formally signed on 18th October 2016 and, on this same day, Virgin Cruises rebranded as Virgin Voyages.

On 31st October 2017 Yard No. 6287, Scarlet Lady, had her keel laying ceremony and the ship was delivered on 14th February 2020. The new company's debut and inaugural festivities were all impacted by the rapid spread of the virus COVID-19, which subsequently became a global pandemic. What followed was an almost unthinkable worst-case scenario for any start-up cruise line. The 108,192gt/2020-built Scarlet Lady began her career by hosting media and travel industry representatives during showcase events at Dover and Liverpool. The ship then continued her re-positioning voyage to the USA ahead of preview events in New York, but these were cancelled due to the pandemic, with the ship proceeding to Miami to lay up in March 2020. Originally, the Scarlet Lady was scheduled to perform two pre-inaugural voyages in late-March 2020. On 12th March 2020 Virgin Voyages announced an initial postponement of the ship's inaugural season, with the pre-inaugural sailings rescheduled for 15th July onwards. However, with the pandemic meaning a suspension of all cruise operations worldwide, these were cancelled in May 2020. The maiden voyage on 1st April was deferred to 7th August, then 16th October 2020 but the cruising pause continued into 2021.
During her period of inactivity, it was decided to relocate the Scarlet Lady from Miami back to Genoa, where she arrived at the Ponte dei Mille on 6th July 2020. Having been launched by Fincantieri's Sestri Ponente shipyard, the ship was back in her region of birth for some post-delivery work to various components, fixtures and fittings. The ship then remained off the Italian coast until a new maiden season was announced for August 2021. The ship arrived at Portsmouth for the first time on 21st June 2021 and made several visits to the port before her maiden (MerMaiden) revenue earning passenger voyage on 6th August. Due to the pandemic, like other companies that had resumed from Southampton, the Scarlet Lady offered cruises to nowhere, 3-night weekend and 4-night weekday itineraries at sea before departing for Miami on 4th September 2021 to finally begin her intended Caribbean itineraries. The official full MerMaiden cruise departure from PortMiami sailed on 6th October 2021. At the time of writing, the official naming ceremony, deferred from 19th March 2020, still did not appear to have taken place.

Second Lady Ship
Subscribe today to read the full article!
Simply click below to subscribe and not only read the full article instantly, but gain unparalleled access to the specialist magazine for shipping enthusiasts.