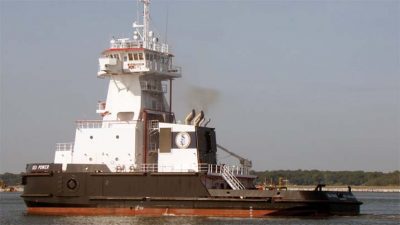 BAE Systems delivered a new tug, the 1,317gt Sea Power (above), to Seabulk Tankers in August, built at BAE Systems' Jacksonville, Florida. The Sea Power is a 12,000-brake horsepower, twin-screw tug that will work in tandem with a high-specification, 30,000dwt chemical tank barge as an articulated tug and barge unit. BAE Systems and Guido Perla & Associates, Inc., of Seattle, Washington, designed the vessel.

Rickmers Maritime worried spooked Singapore investors on 14th September by admitting that it is close to liquidation unless creditors come to its rescue. The listed shipping trust has told creditors it needs to defer $253 million of debt. The company also admitted that it is unable to repay $179.7 million of bonds due in March 2017 and the interest and principal on S$100 million ($73.3 million) of notes due in May 2017. Rickmers Maritime has 16 panamax containerships, ranging in size from 3,450 TEU to 5,060 TEU.
Sign-up today to read the full article!
Simply click below to sign-up and read the full article, as well as many others, instantly!